Wilco AG Ground Squirrel Bait 1ea/20 lb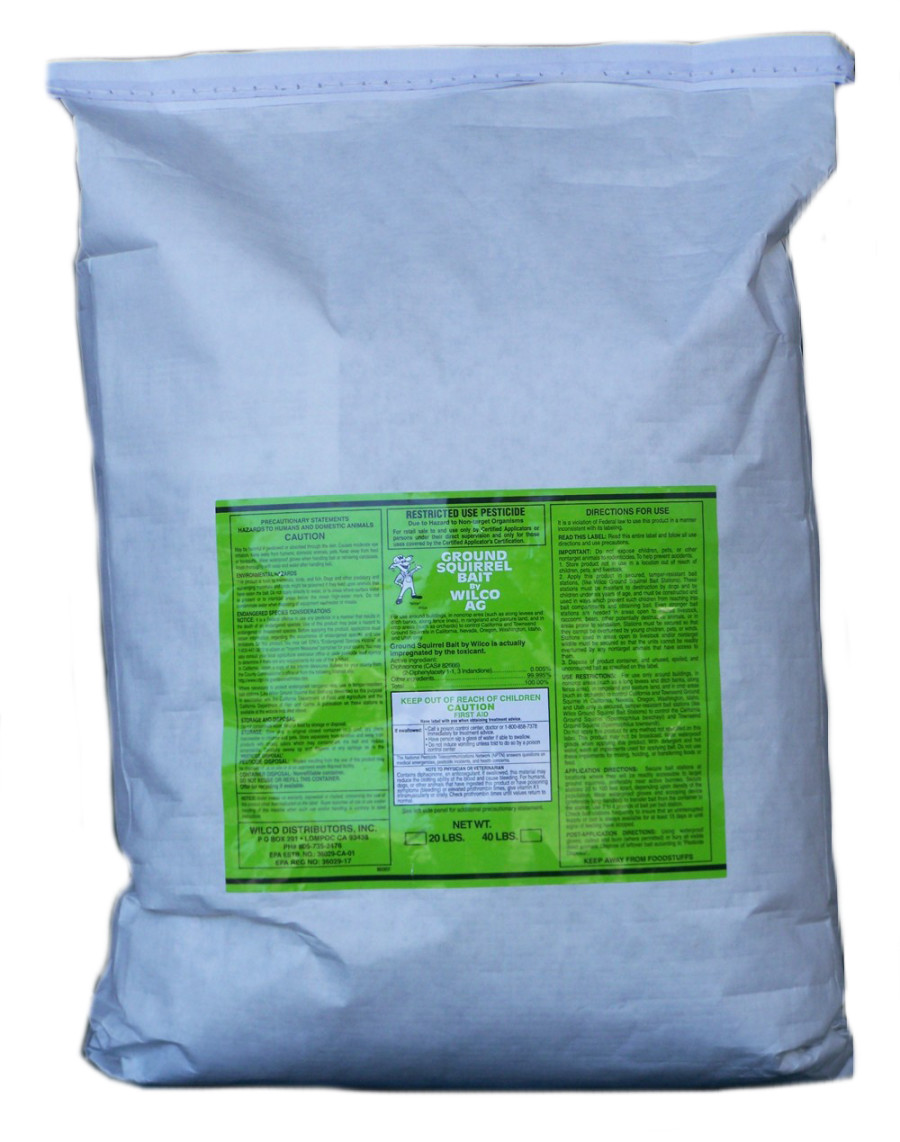 Form:

Pellet

Manufacturer:

WILCO DISTRIBUTORS INC

Pet Safe:

No

Private Label:

No

Size:

20 Pounds

Target Pests:

Ground Squirrel

Usage Sites:

Lawn
Permit required to purchase. Used where ground squirrels are present to eliminate them. It is highly palatable to ground squirrels that come in large pellets with an anti-coagulant active ingredient to encourage them to eat and not store bait. There is no pre-baiting required. Must be placed in ground squirrel bait station.
Additional Features
Ingredients
Instructions
Safety
SDS
Other Documents
Product Gross Weight:

23.0 lb

Product Net Weight:

23.0 lb

Product Height:

3.0 in

Product Length:

26.0 in

Product Width:

13.0 in

Environment:

Indoor; Outdoor

Follow-up:

Wearing waterproof gloves, collect and dispose of all dead animals and leftover bait properly.
Use Instructions:

Use 2 to 4 pounds of bait per bait station. Check bait stations frequently to insure that an uninterrupted supply of bait is always available for at least 15 days or until signs of feeding have stopped.

Storage Instructions:

Store only in original closed container in a cool, dry place inaccessible to children and pets. Store separately from fertilizer and away from products with strong odors which may contaminate the bait and reduce acceptability.
Caution:

Keep away from humans, domestic animals, pets. Keep away from feed or foodstuffs.

First Aid Measures:

If Swallowed: Call a poison control center, doctor or 1-800-858-7378 immediately for treatment advice. Have person sip a glass of water if able to swallow. Do not induce vomiting unless told to do so by a poison control center or doctor.

Safety Warnings:

Wear waterproof gloves when handling bait or retrieving carcasses. Wash thoroughly with soap and water after handling bait.