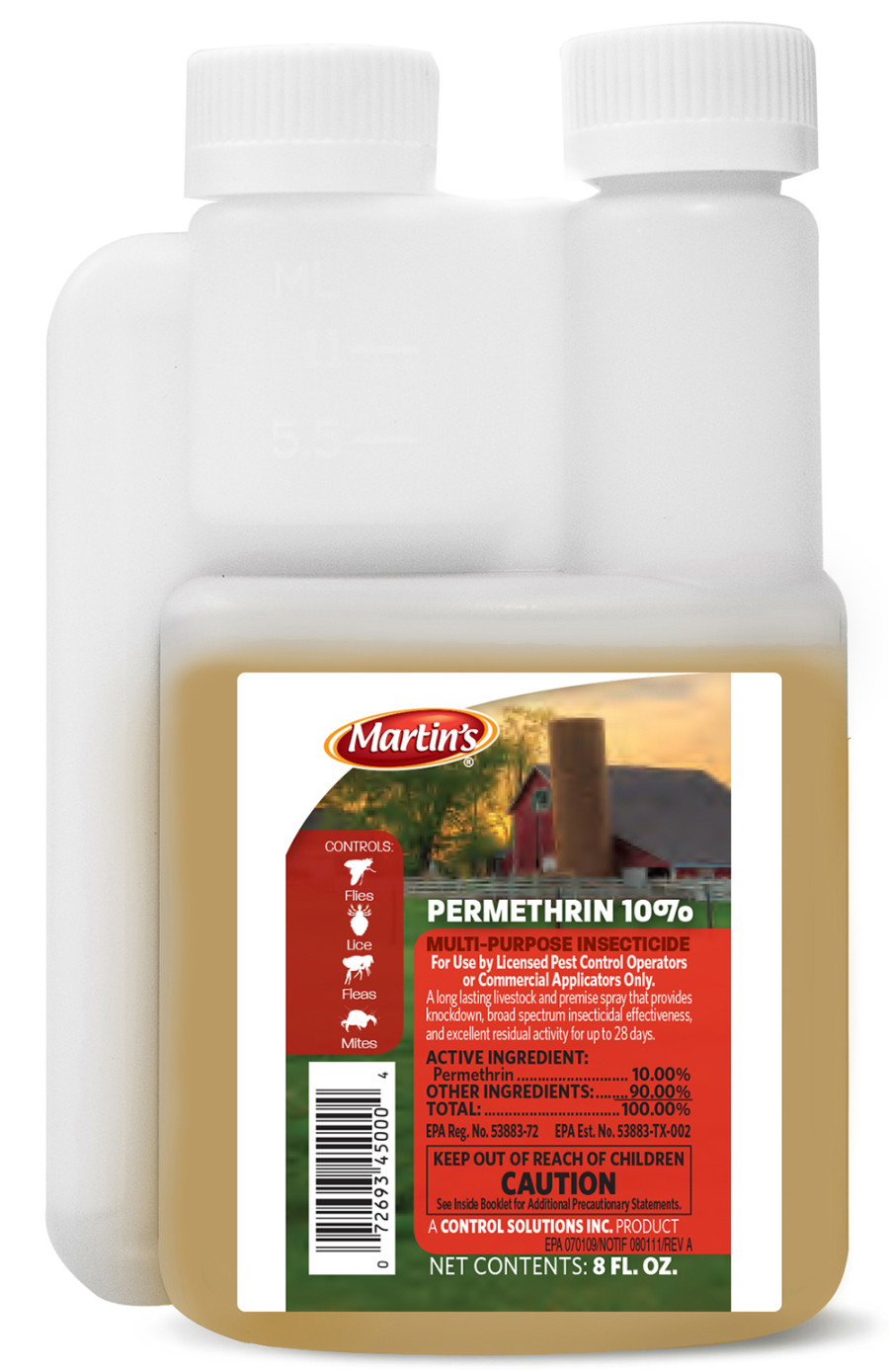 Manufacturer:

CONTROL SOLUTIONS INC

Private Label:

No

Size:

8 Ounces

Target Pests:

Flies, Keds, Lice
Use on animals and livestock facilities. Can be use on beef cattle, dairy cattle, horses, dogs, swine, poultry, and sheep. Can be used indoor and outdoor in residential areas.
Additional Features
Ingredients
Instructions
Safety
Warranty
SDS
Product Gross Weight:

0.625 lb

Product Net Weight:

0.620 lb

Product Height:

6.000 in

Product Length:

3.750 in

Product Width:

1.250 in

Recommended For:

Beef; Cattle; Dairy Cattle; Dogs; Horse; Poultry; Sheep; Swine
Application Method:

Spray-On

Use Instructions:

Lactating and Non-lactating Dairy Cattle, Beef Cattle and Calves: Dosage: Apply ½ fl. oz. (15 cc) per 100 pounds of body weight of animal up to a maximum of 5 fl. ozs. for any one animal.Pour-On: Pour correct dose along back and down face.Ready-To-Use Spray: Use undiluted in a mist sprayer to apply correct dose. Apply directly to neck, face, back, legs and ears.Back Rubber Use: Mix one pint per gallon #2 diesel or mineral oil. Keep rubbing device charged. Results improved by daily forced use.Sheep: Pour Along Back: Apply ¼ fl. oz. (7.5 cc) per 50 pounds body weight of animal, up to a maximum of 3 fl. ozs. for any one animal. For optimum control, all animals in the flock should be treated after shearing.Premises-in and around Horse, Beef, Dairy, Swine, Sheep and Poultry premises, Animal Hospital Pens and Kennels and outside Meat Processing Premises: For use as a ready-to-use spot spray or premise spray, use undiluted in a mist sprayer. Apply directly to surface to leave a residual insecticidal coating, paying particular attention to areas where insects crawl or alight. One gallon will treat approximately 7,300 square feet.

Storage Instructions:

Store away from heat or open flame.
Caution:

Keep out of the reach of children

First Aid Measures:

If in Eyes: Hold eye open and rinse slowly and gently with water for 15-20 minutes. Remove contact lenses, if present, after the first 5 minutes, then continue rinsing eye. Call a poison control center or doctor for treatment advice.If on Skin or Clothing: Take off contaminated clothing. Rinse skin immediately with plenty of water for 15-20 minutes. Call a poison control center or doctor for treatment advice.If Inhaled: Move person to fresh air. If person is not breathing, call 911 or an ambulance, then give artificial respiration, preferably by mouth-to-mouth, if possible. Call a poison control center or doctor for treatment advice.If Swallowed: Immediately call a poison control center or doctor. Do not induce vomiting unless told to do so by a poison control center or doctor. Do not give any liquid to the person. Do not give anything by mouth to an unconscious person.

Safety Warnings:

Avoid contact with skin, eyes and clothing. Harmful if swallowed or absorbed through skin. Prolonged or frequently repeated skin contact may cause allergic reactions in some individuals. Wash thoroughly with soap and water after handling.
Warranty Description:

Control Solutions, Inc. warrants that this Product conforms to the chemical description on the label and is reasonably fit for the purposes stated on the label when used in accordance with the directions for use. It is impossible to eliminate all risks inherently associated with the use of this product. Ineffectiveness, or other unintended consequences may result because of such factors as weather conditions, Presence of other Materials, or the Manner of Application, All of which are beyond the Control Of Control Solutions, Inc. In no case shall Control Solutions, Inc. Be Liable for Consequential, Special or Indirect Damages resulting from the use or handling of this Product. All such risks shall be assumed by the buyer.