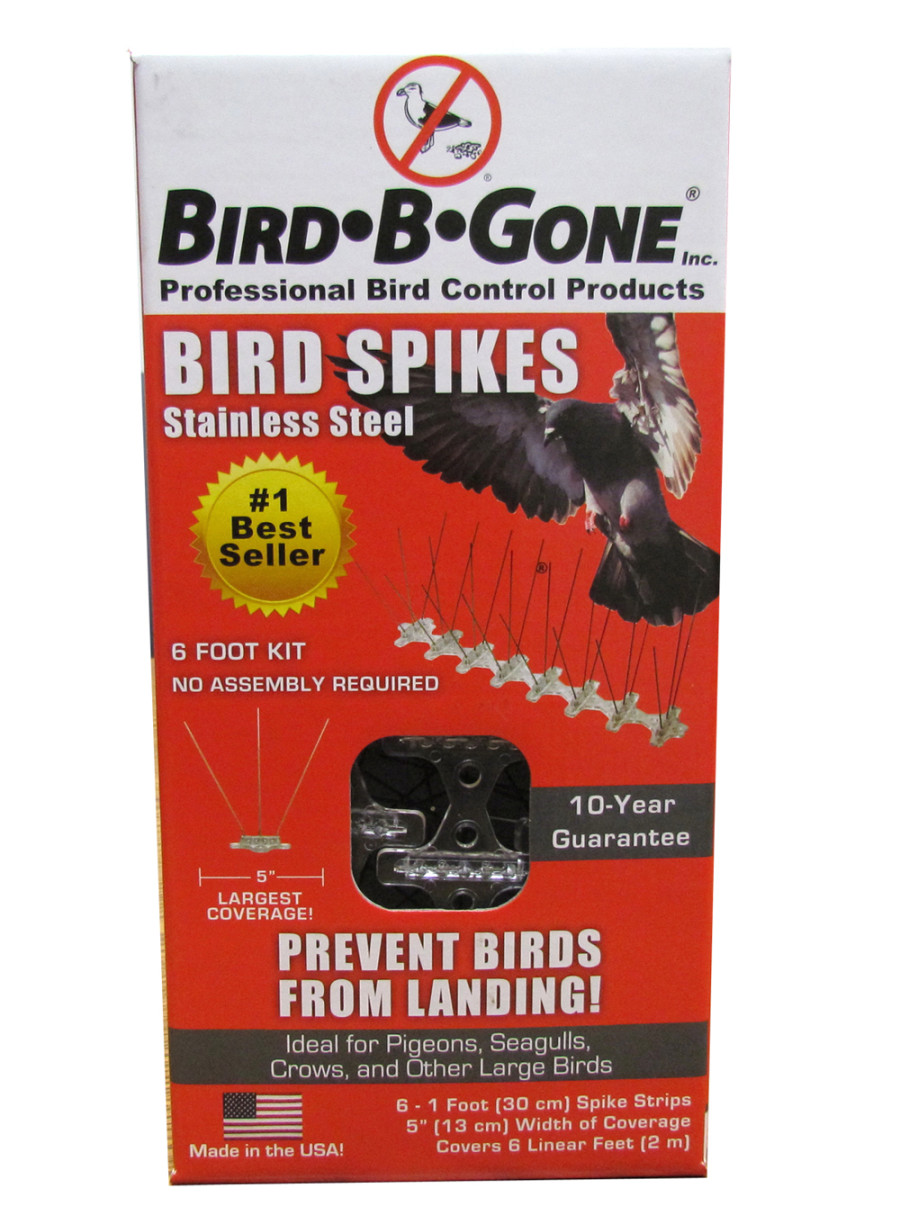 Color:

Clear

Made in USA?:

Yes

Manufacturer:

BIRD B GONE INC

Pet Safe:

No

Primary Materials:

Stainless Steel

Private Label:

No

Product Type:

Spikes

Size:

6 Feet

Target Pests:

Crows, Pigeons, Seagulls

Usage Sites:

Around The Home
Bird Spikes are physical bird deterrents used to humanely block large birds from landing. Bird Spikes are not designed to harm birds. They simply create an uneven surface that birds cannot land on.Bird Spikes are designed for large birds such as pigeons, crows, and gulls and are ideal for preventing birds from landing on window sills, roof lines, ledges, fences, under eaves and other areas. The spikes come in 1' strips and can easily glue or screw down to most surfaces. Bird-B-Gone spikes carry industry leading guarantees and are made in the USA. The spikes are available in stainless steel or plastic and can be glued, screwed, or tied down to most surfaces.
Additional Features
Instructions
Safety
Other Documents
Product Gross Weight:

1.830 lb

Product Net Weight:

1.350 lb

Product Height:

14.600 in

Product Length:

6.700 in

Product Width:

5.600 in

Environment:

Outdoor

Recommended For:

Roofs; Ledges; Fences; Under Eaves
Assembly Required?:

No

Use Instructions:

Surface should be clean and dry before installation. Select width of bird spike based on the surface to be covered leaving no more than 1" on either side for birds to land. Glue, screw or tie down to the surface.
Caution:

Keep out of the reach of children and pets

Safety Warnings:

Wear gloves and safety eye wear.