Pennington Pennleaf Hybrid Pearl Millet 1ea/50 lb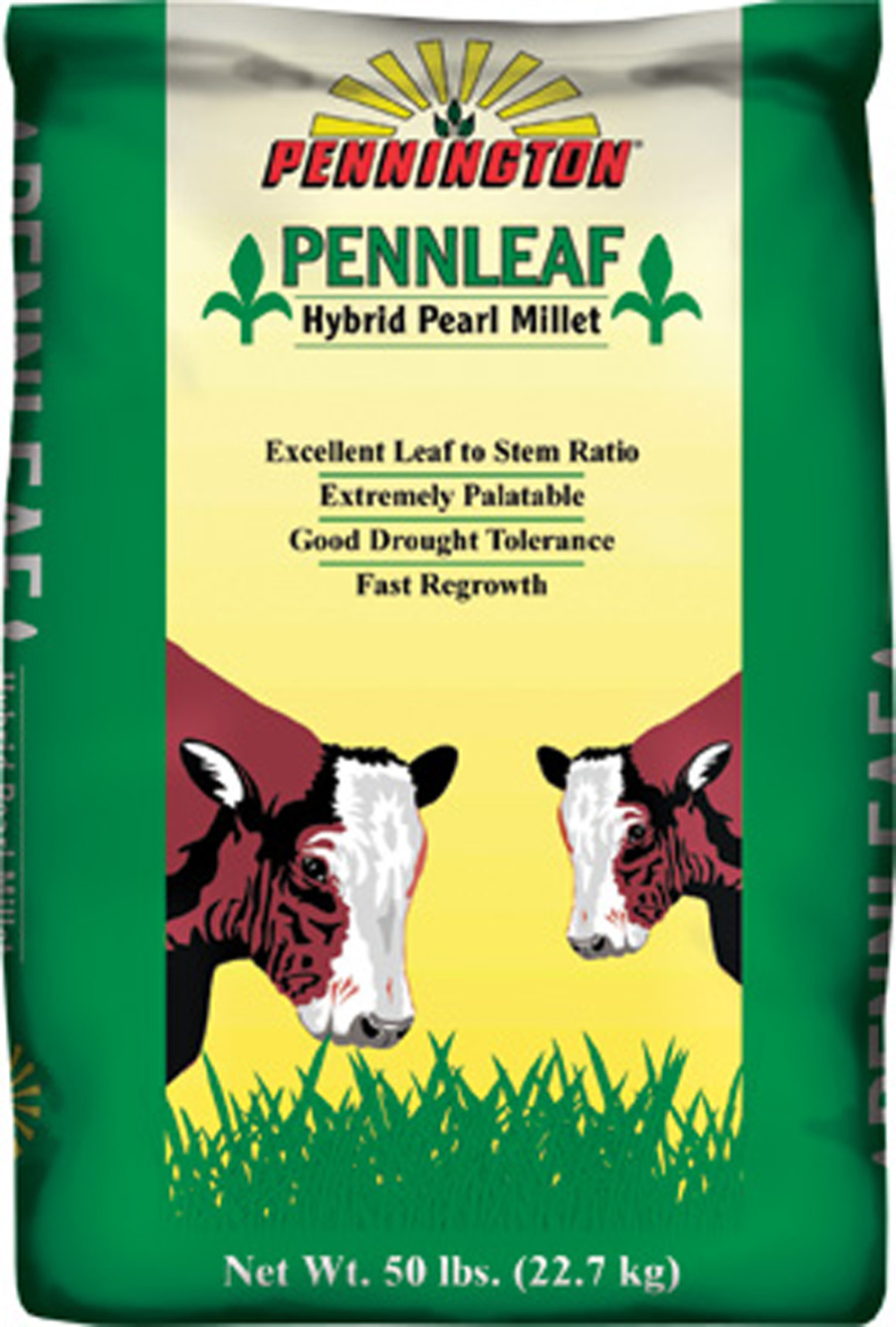 Manufacturer:

Central Garden and Pet

Planting Season:

Cool Season, Warm Season

Private Label:

No

Size:

50 Pounds
Pennleaf is an improved hybrid pearl millet with excellent leaf to stem ratio. Pennleaf has a high sugar content and improved rust tolerance. Can produce high leaf yields per acre when managed properly. Excellent emergency forage.
Additional Features
Ingredients
Instructions
Planting Specifications
Product Gross Weight:

50.931 lb

Product Net Weight:

50.000 lb

Product Height:

24.000 in

Product Length:

5.000 in

Product Width:

16.000 in

Plant Life Cycle:

Annual

Seeding Depth:

1/4 in - 1/2 in

Seeding Rate:

Overseeding Rate: 10 - 25 lbs. per acreSeeding Rate 25 - 30 lbs. per acre
Ingredients:

Pearl Millet
Use Instructions:

Prepare a good seedbed by turning and smoothing the soil, as for corn or peanuts. Seed at a rate of 10 lbs. per acre. For 36 inch rows, sow 15 lbs. per acre. For 24 inch rows, use 25 lbs. The 24 and 36 in. row plantings require cultivation or an application of 3/4 lb per acre of atrazine after plants reach 2 or 3 leaf stage. Maximum yields have been obtained from late April or early May plantings. Earlier plantings gain little because pearl millet makes little growth when temperatures are below 70 degrees fahrenheit.Although Pearl Millet will make more growth than most other crops on infertile sandy soil, fertilizing will generally pay off. Fertilization will increase yield and heavy fertilization will also increase protein and vitamin A content. Phosphorus and potassium requirements for Tifleaf 3 can usually be met by applying 250 pounds of 0-10-20 for every 100 lbs. of N applied.Pearl Millet can be grazed rotationally. Graze Pearl Millet plantings when they are 15 to 18 in. tall and grazing continually at a stocking rate to leave about 9 to 12 in. of stubble. Pearl Millet does not contain the prussic acid glucoside that can sometimes break down and poison cattle that are grazing Sorghum-Sudangrass hybrids. Thus Pearl Millet can be safely grazed at any stage of growth and during droughts that usually increase the risk associated with grazing Sorghum-Sudangrass hybrids.Hybrid Millet can make good quality hay if cut when it is 2 to 3 feet tall. The stems are coarse, and a hay conditioner that crushes the stems will facilitate drying. However, Hybrid Millet cut at the suggested growth stage will still require two to three times as long as Coastal Bermudagrass to cure enough to be baled.Apply 50 - 60 lbs. of nitrogen per acre at planting. Leave a minimum of 6 in. at harvest for re-growth (avoid grazing to the ground).
Drought Tolerance:

Medium