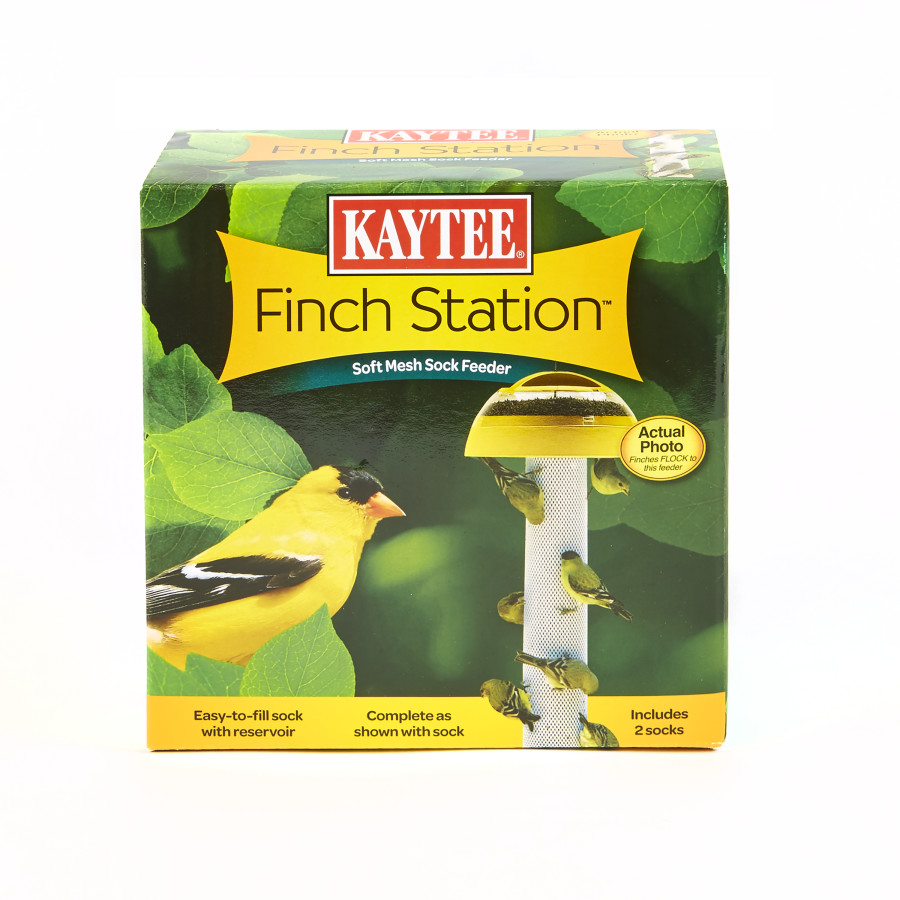 Animal Category:

Wild Bird

Animal Life Stage:

All Life Stages

Animal Size Category:

Small

Color:

Yellow

Form:

Cake

Manufacturer:

Central Garden and Pet

Primary Materials:

Plastic

Private Label:

No

Professional:

No

Size:

2 Socks

Water Resistant:

Yes
Makes attracting and feeding easier than ever! Finches adore soft mesh socks and prefer them over traditional tube feeders. The unique, Squiggle Sock design provides more surface area that enables finches to perch wherever they want, and allows for numerous birds to eat at one time. Finches easily extract seeds through the soft mesh of the sock, making the KAYTEE Finch Station their favorite place to eat. Enjoy more bird watching opportunities with fewer refills thanks to the weather-resistant dome reservoir which holds extra seed, automatically keeping the sock filled longer. Each KAYTEE Finch Station comes with one sock for initial use and one for replacement.
Additional Features
Product Label
Instructions
Warranty
Product Gross Weight:

0.765 lb

Product Net Weight:

0.290 lb

Product Height:

6.250 in

Product Length:

3.500 in

Product Width:

6.250 in

Capacity:

Capacity varies
Battery Required:

No

Batteries Included?:

No

Use Instructions:

Turn dome reservoir upside-down. Stretch circular elastic band of the sock aroundthe seed port, hooking it over the tabs. Tug lightly to ensure the sock is secure. Hang Finch Station at least four feet above the ground on a shepherd hook or sturdy branch. Twist cover on top of dome reservoir counter-clockwise and move up along the cable; the cover will stay up. Pour KAYTEE® Nyjer® Seed or KAYTEE Wild Finch Blend into the open dome; seed will begin filling the sock and then fill the dome. Slide cover down the cable and twist it back in place,locking the reservoir. Wash dome reservoir periodically for top performance. Dome reservoir and sock can bewashed in warm sudsy water. Replace sock as needed.

Storage Instructions:

Reseal package and store in a cool dry place, preferably in a sealed container. This will protect against insect infestation that can naturally occur with any whole grain seed product.
Warranty Description:

SATISFACTION GUARANTEE: If you are not completely satisfied, simply return the unused portion with your invoice to: KAYTEE Guarantee 521 Clay Street, Chilton, WI 53014