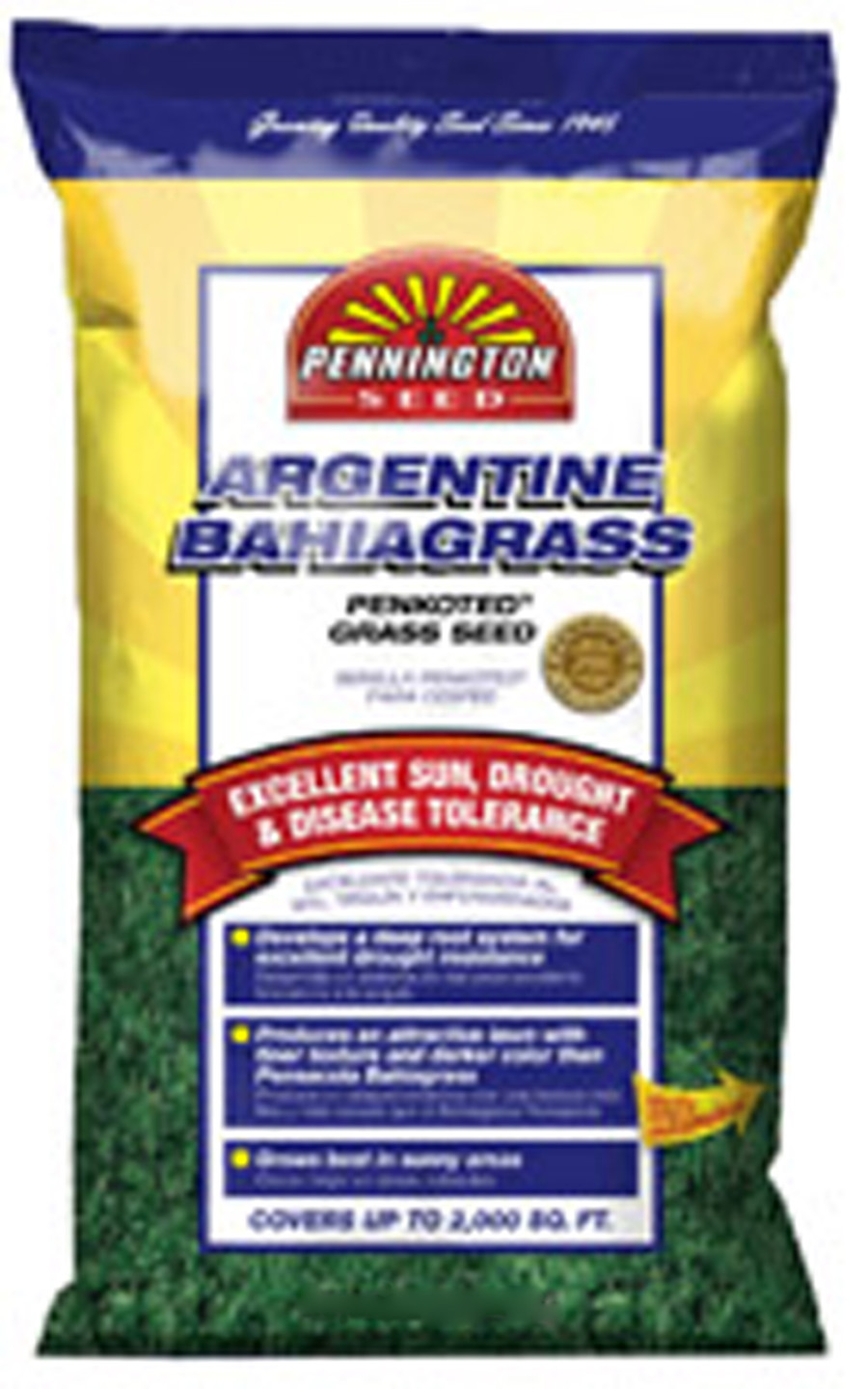 Animal Category:

Equine

Manufacturer:

Central Garden and Pet

Planting Region:

Transition

Planting Season:

Spring, Summer

Private Label:

No

Professional:

Yes

Size:

40 Pounds
Tifton 9 Bahia grass is considered a very durable pasture grass for horses. Tifon 9 bahia grows faster than regular Pensacola Bahia grass, provides more drought tolerance and better frost resistance. Tifton-9 is an improved Pensacola Bahiagrass variety that was bred and developed by Dr. Glen Burton, Agricultural Research Service, U.S.D.A., and the Georgia Coastal Plain Experiment Station. It has several improved characteristics. Tifton-9 produces 30 to 40% more forage per year than the old Pensacola variety from which it was developed.
Additional Features
Ingredients
Instructions
Planting Specifications
Product Gross Weight:

40.545 lb

Product Net Weight:

40.000 lb

Product Height:

34.000 in

Product Length:

4.500 in

Product Width:

17.500 in

Plant Life Cycle:

Perennial

Seeding Depth:

1/4 in - 1/2 in

Seeding Rate:

Overseeding Rate: 10 - 25lbs per acreBroadcast: 20 - 40lbs per acreDrilling: 10 - 20lbs per acre
Use Instructions:

Land preparation and planting:An ideal site on which to plant Tifton 9 would be new ground, or areas where Bahiagrass has never been planted. Next would be fields that have been in row crops, or have been cultivated for several years. These sites should have almost no Bahiagrass plants and relatively low populations of Bahiagrass seed in the soil. This should result in a fairly pure stand of Tifton 9 plants. Old pastures that need to be renovated are a great option for Tifton 9. These may have been planted to Bahiagrass, or have been infested with Bahiagrass through movement of seed by animals from one area to another. The end result is that something needs to be done to eliminate the Bahiagrass plants present, and also reduce the population of seed in the soil. In order to convert an old Bahiagrass pasture to Tifton 9, the following land preparation and planting procedures are suggested:Plow with a moldboard plow. This will bury much of the surface weed seed too deep to germinate.Plant an annual forage crop, such as Pearl Millet or Sorghum-Sudangrass, during the warm season, and a small Grain, Ryegrass, or Clover, during the cool season. The growing of annual crops with associated cultivation helps to eliminate any remaining Bahiagrass plants and reduces the population of Bahiagrass seed near the soil surface.Bahiagrass can be planted from February through July in most areas of Florida. Plantings made from late March through May can be lost due to drought, especially in South Central Florida. Thus it may be wise to avoid planting during this time period. Plant on a clean-tilled seedbed that has been prepared by using a heavy cutting disc, or other suitable tillage tool, plus a finishing disc that leaves a smooth surface free of trash.If possible, use a cultipacker-type seeder or some other precision seeder in order to place all of the seed at a uniform depth. Seed should be planted at 1/2 to 3/4 inch deep.Fertilizing for establishment:The soil should be limed to a pH of 5.0 to 5.5 before planting. On land that has been cropped in the past, it may be more efficient to apply the major fertilizer elements after planting. Apply fertilizer when the Bahiagrass seedlings have emerged from the soil. Apply 30 to 40 lbs. of nitrogen per acre, along with phosphorus and potash (according to a soil test recommendation). When the Bahiagrass plants are large enough to start spreading, apply an additional 40 to 50 lbs. of nitrogen.Weed control during establishment:No herbicide is available for use at planting and while plants are young and immature. Therefore be sure to start with a clean-tilled seedbed. Use mowing to control broadleaf weeds. No control is available for grassy weeds, such as seedling Bermudagrass, Crabgrass, and the old Bahiagrass seed that might germinate. Once the grass is well-established, the phenoxy-type herbicides, such as 2, 4-D and Banvel?can be used to control broadleaf weeds.
Drought Tolerance:

Medium