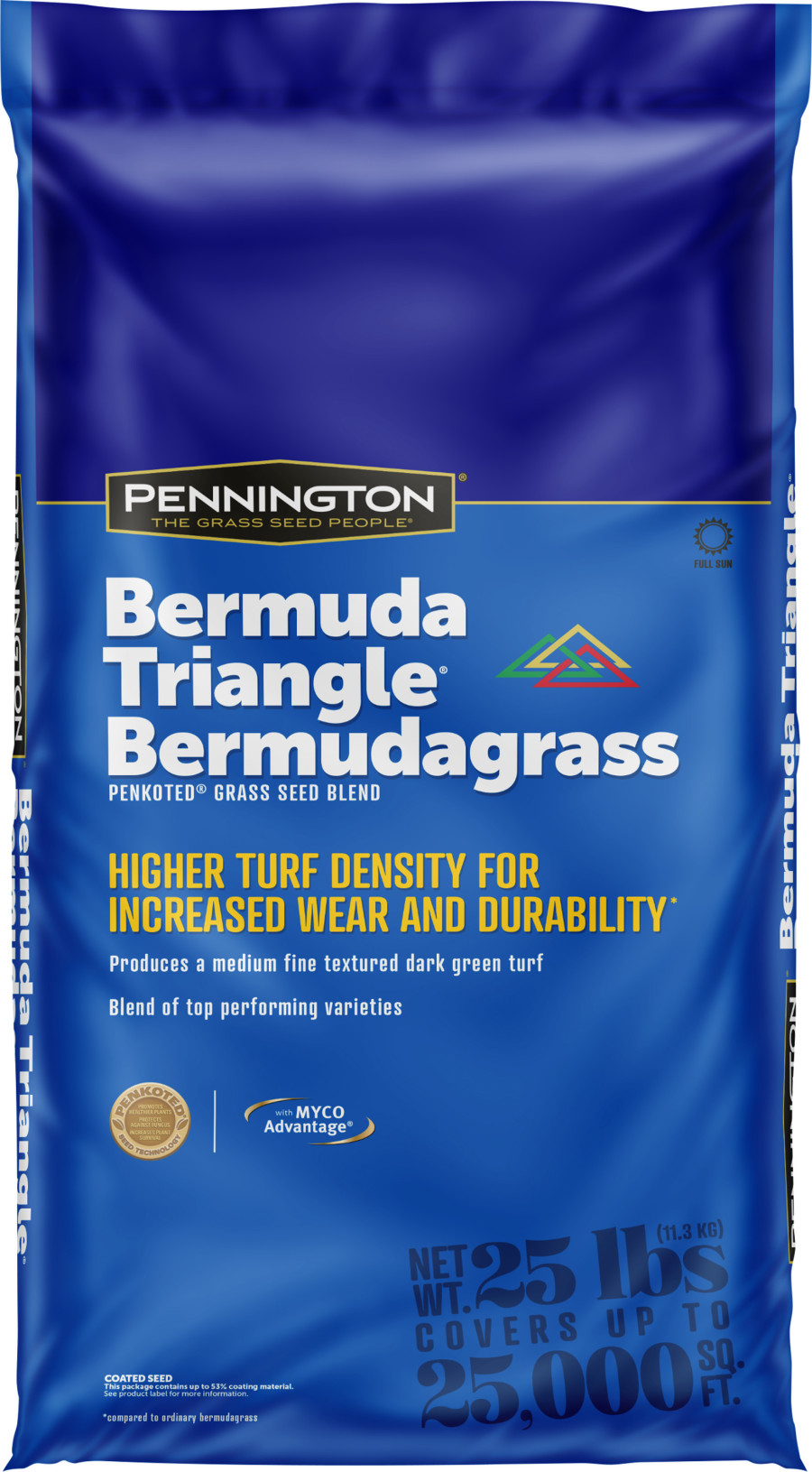 Grass Type:

Bermudagrass

Made in USA?:

Yes

Manufacturer:

Central Garden and Pet

Max Coverage Area:

25000

Planting Climate Zones:

10, 11, 6, 7, 8, 9

Planting Season:

Spring

Private Label:

No

Professional:

Yes

Size:

25 Pounds
The Bermuda Triangle is not a mystery anymore! Three of our best seed varieties, Mohawk, Sultan, and Sydney turf-type, have been blended together to provide an excellent turf with wide adaptation. These top performing varieties have improved turf density, color and moderate cold tolerance. For turf that stands up to the demands of today's turf professionals and the best of the best, seed Bermuda Triangle Blend. This seed has excellent drought tolerance and a lush dark green color.
Additional Features
Ingredients
Instructions
Planting Specifications
Other Documents
Product Gross Weight:

27.900 lb

Product Net Weight:

25.000 lb

Product Height:

26.000 in

Product Length:

4.000 in

Product Width:

11.000 in

Seeding Depth:

No deeper than 1/16 in

Seeding Rate:

New Turf Applications - 2-3 lbs/1000 sq ft (1-2 kg/100 sq meters)Repairs of Existing Turf (depending on existing turf Coverage) – ½ - 1 lb/1000 sq ft (¼ - ½ kg/100 sq meters)

Recommended For:

Bermudagrass
Ingredients:

Bermudagrass
Use Instructions:

Establishment & Maintenance: Bermuda Triangle Blend should be planted when soil temperatures are consistently above 65° F (18° C) in full sun on well-drained soil. Care must be taken not to cover seed with too much soil – no more than ¼ inch (1.91 cm) covering the seed is recommended. Under ideal conditions, germination may begin within 10 to 14 days; allow 14 to 18 days for completion. Full coverage may be attained in 4 to 6 weeks, when planting early or late in the season, more time may be needed for establishment. Mowing may begin when grass is 1/3 taller than desired mowing height. It is recommended that no more than 1/3 of leaf blade be removed per mowing. Dormant bermudagrass may be overseeded for year round color, but is not generally recommended on turf less than 6 to 8 months old. Immature turf may be damaged by the vertical cutting and scalping process leaving it unable to compete with the overseeded species during the spring transition.