Pennington Supergraze Annual Forage Seed Mixture Winter 1ea/50 lb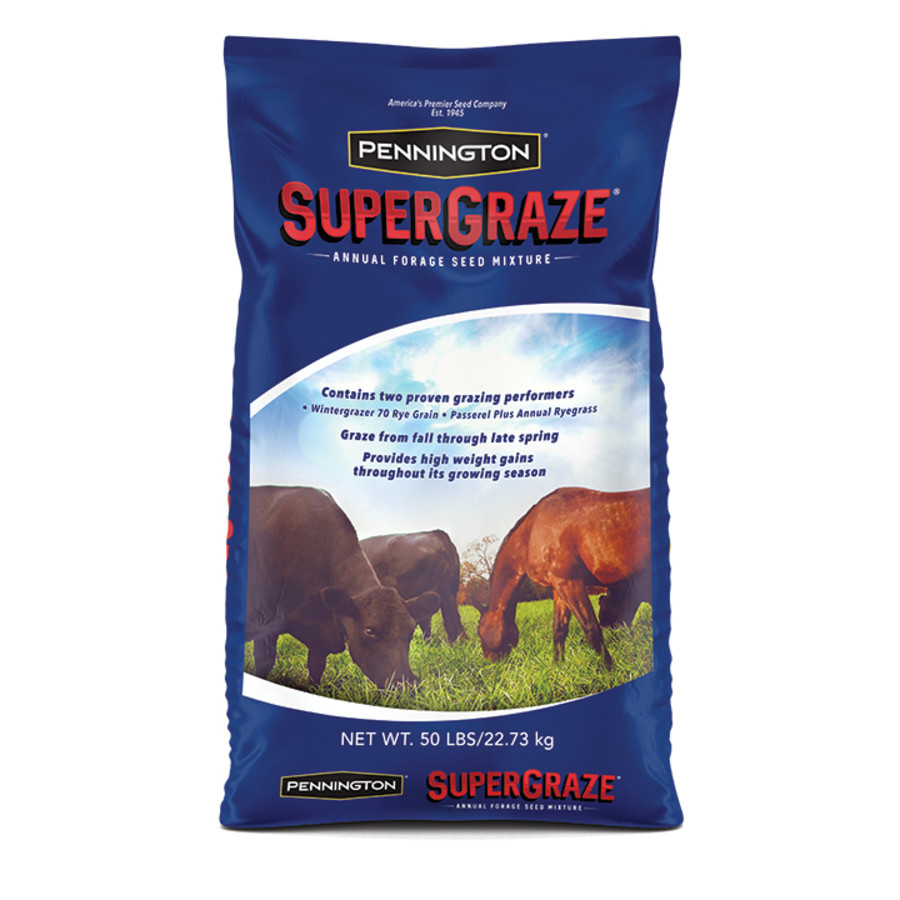 Animal Category:

Cattle

Manufacturer:

Central Garden and Pet

Planting Season:

Warm Season

Private Label:

No

Size:

50 Pounds
High digestiblility and protein content make this an excellent forage for use in stocker operations or creep grazing systems. Extends the grazing season because it grows at a lower winter temperature than other cool season grasses. Under favorable growing conditions will establish and provide grazing in 45 days after planting.
Additional Features
Ingredients
Instructions
Planting Specifications
Product Gross Weight:

50.931 lb

Product Net Weight:

50.0 lb

Product Height:

36.0 in

Product Length:

5.0 in

Product Width:

17.0 in

Plant Life Cycle:

Perennial

Seeding Depth:

1/2 in - 3/4 in

Seeding Rate:

100 lbs./acre drilled or 125 lbs./acre broadcast
Ingredients:

Bermudagrass blend
Use Instructions:

Method: Drill seed into a well-prepared and firm seedbed or use a no-till drill to overseed it into closely clipped or grazed perennial pastures. Seed may also be broadcast over a prepared seedbed and lightly disked in. Planting too deep or too shallow can result in poor stand emergence. In southern regions, SuperGraze can be mixed with an annual legume such as AU Sunrise crimson clover to add forage quality. If planted in a mixture with annual clover, do not plant deeper than 1/2.ManagementFertilization: Supergraze responds well to high rates of nitrogen fertilizer. Apply 60 – 80 lbs./A nitrogen as a side-dress application in late winter. Grazing: Grazing can begin in the fall when forage growth reaches 6-8 inches in height and roots are fully anchored in the ground. (Note: Grazing on wet, poorly drained soils can result in plant damage and reduced spring growth.) Do not graze below a height of 4" in the fall and winter. Allow re-growth to reach a height of 6 to 10 inches before grazing again. Use light rotational grazing in the fall and winter with heavier rotational or continuous grazing from early through late spring. Cautionary Note: Provide animal access to high magnesium mineral to reduce incidence of grass tetany.Hay or silage: Harvest at the boot stage of maturity for highest quality.
Days to Maturity:

35-45 days