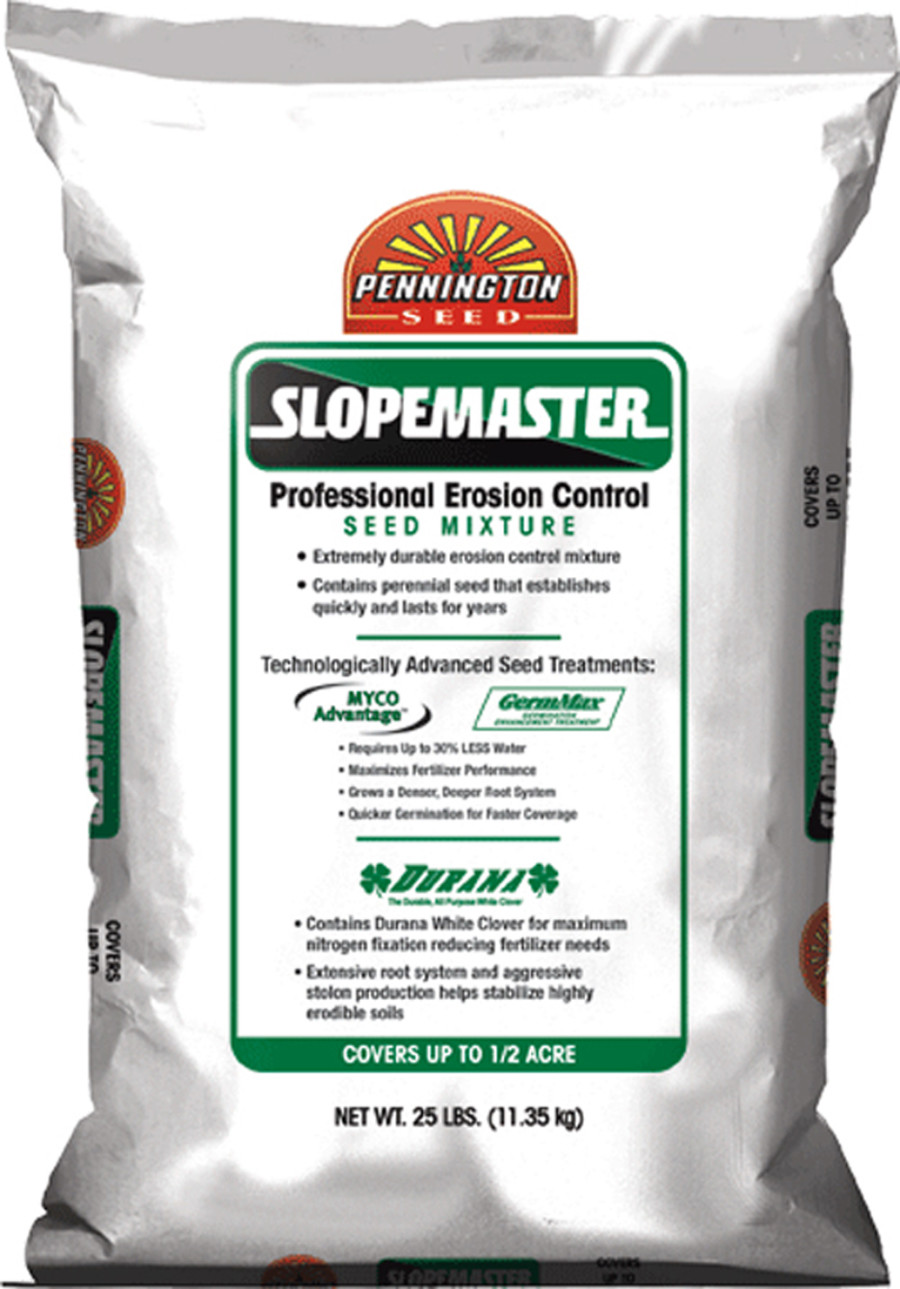 Grass Type:

Kentucky Bluegrass, Tall Fescue

Manufacturer:

Central Garden and Pet

Max Coverage Area:

21780

Planting Region:

Mideast Central, Southeast

Planting Season:

Cool Season, Warm Season

Private Label:

No

Professional:

Yes

Size:

25 Pounds

Style:

Coastal Summer
This is a seed mixture specifically designed for erosion control where rapid establishment is a necessity with little follow up maintenance. Slopemaster features the durable white clover Durana which is a medium-leafed, intermediate type white clover containing as many as 97 stolons per sq. foot which will secure most erodable soils. The Nitrogen fixation by Durana will provide enrichment to a stand of low maintenance cool & warm season turfgrass. SLOPEMASTER is also treated with Pennington's exclusive GermMax technology for enhanced establishment. Mixed to accommodate spring/summer growth and climate.
Additional Features
Ingredients
Instructions
Product Gross Weight:

25.51 lb

Product Net Weight:

25.0 lb

Product Height:

22.75 in

Product Length:

3.0 in

Product Width:

15.0 in

Insect Resistance:

Medium

Plant Life Cycle:

Perennial

Seeding Depth:

No more than 1/4 in

Seeding Rate:

50-200 lbs / acre (22.7-90.80 kgs / hectare)

Recommended For:

Erosion Control; Tall Fescue; Bermudagrass
Ingredients:

White Clover
Use Instructions:

SLOPEMASTER can be planted by drilling, broadcasting, or hydraulic seeding. Planting can be made throughout the year when mixed with companion grasses that are suitable with planting dates, i.e. tall fescue in the fall or bermudagrass in the spring. Planting depth should be no more than ¼ inch (6.35 mm) for many stand failures result from planting to deep. Liming to a pH of 6.0 and providing adequate potassium and phosphorus are necessary to ensure a productive stand. Soil testing is highly recommended.