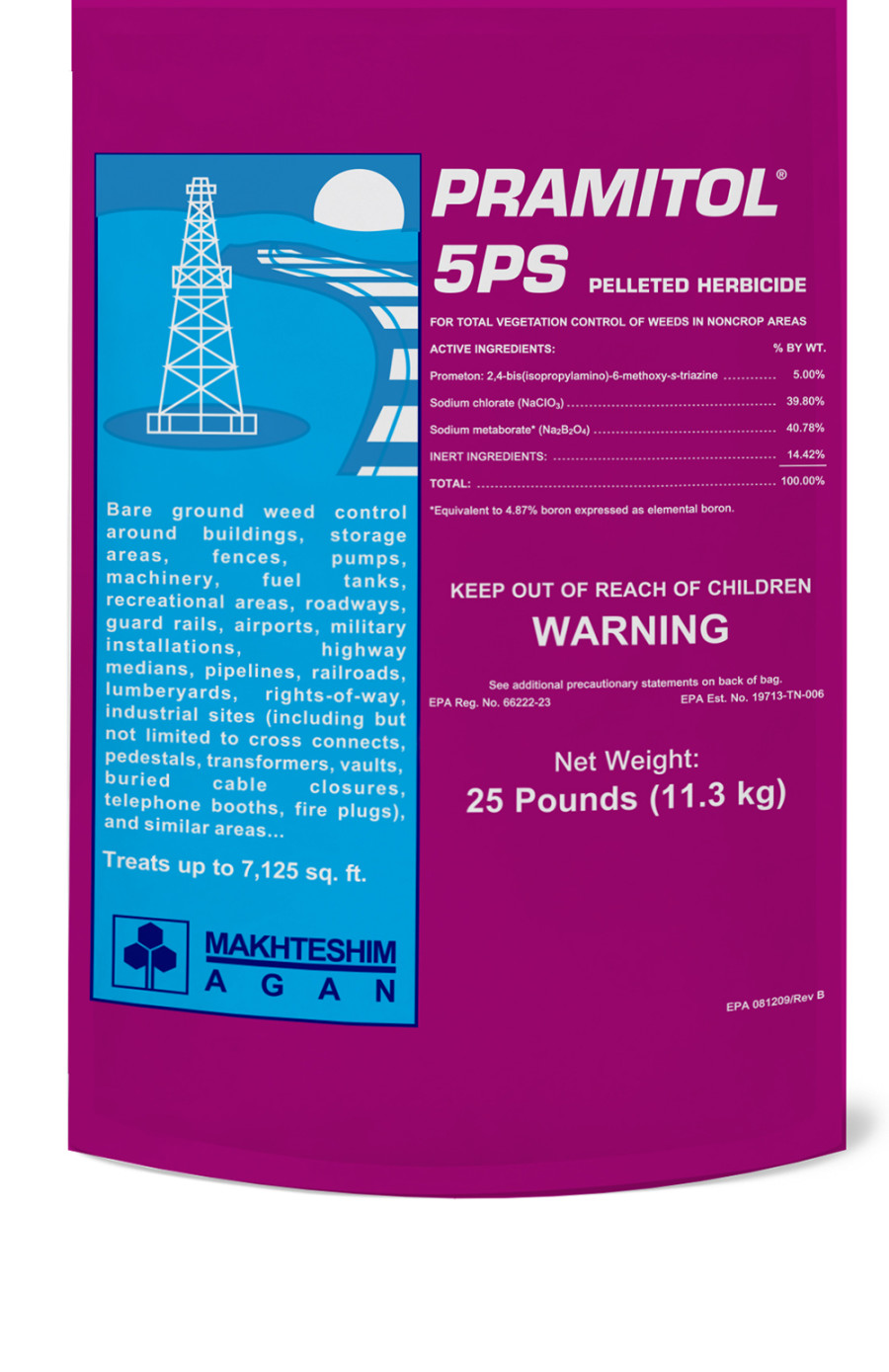 Form:

Pellet

Manufacturer:

CONTROL SOLUTIONS INC

Max Coverage Area:

570

Pet Safe:

No

Private Label:

No

Size:

25 Pounds

Weed Type:

Annual Broadleaf Weed, Perennial Broadleaf Weed
Pramitol is a bare ground herbicide. Can be used around buildings, fences, fuel tanks, roadways, airport, pipelines, and similar areas.
Additional Features
Ingredients
Instructions
Safety
SDS
Product Gross Weight:

27.000 lb

Product Net Weight:

27.000 lb

Product Height:

22.500 in

Product Length:

14.000 in

Product Width:

1.500 in

Packaging Type:

Packet
Ingredients:

Prometon

Active Ingredients:

2,4-bis (isopropylamino)-6-methoxy-s-triazine; 2-chloro-4,6-bis (ethylamino)-s-triazine; Sodium chlorate (NaCIO3); Sodium metaborate (Na2B2O4)
Primary Usage:

Kills Johnson Grass, Bindweed

Use Instructions:

It is a violation of federal law to use this product in a manner inconsistent with its labelling. Pramitol 5PS is a nonselective herbicide that can be applied before or after plant growth begins. Since Pramitol 5PS enters plants through their roots, its effectiveness is dependent on rainfall to move the chemical into the root zone. Very dry soil conditions and lack of rainfall may result in poor weed control.

Storage Instructions:

Store in dry area.
First Aid Measures:

If in Eyes: Hold eye open and rinse slowly and gently with water for 15-20 minutes. Remove contact lenses, if present, after the first 5 minutes, then continue rinsing eye. Call a poison control center or doctor for treatment advice. Call a poison control center or doctor immediately for treatment advice.If Swallowed: Have person sip a glass of water if able to swallow. Do not induce vomiting unless told to do so by a poison control center or doctor. Do not give anything by mouth to an unconscious personIf on Skin or Clothing: Take off contaminated clothing. Rinse skin immediately with plenty of water for 15-20 minutes. Call a poison control center or doctor for treatment advice.If Inhaled: Move person to fresh air. If person is not breathing, call 911 or an ambulance, then give artificial respiration, preferably mouth-to-mouth if possible. Call a poison control center or doctor for further treatment advice

Safety Warnings:

Causes substantial but temporary eye injury. Harmful if swallowed, inhaled, or absorbed through skin. Do not get in eyes or on clothing. Avoid contact with skin. Avoid breathing dust. Wear protective eyewear (goggles, face shield, or safety glasses). Wash thoroughly with soap and water after handling. Remove and wash contaminated clothing after reuse.