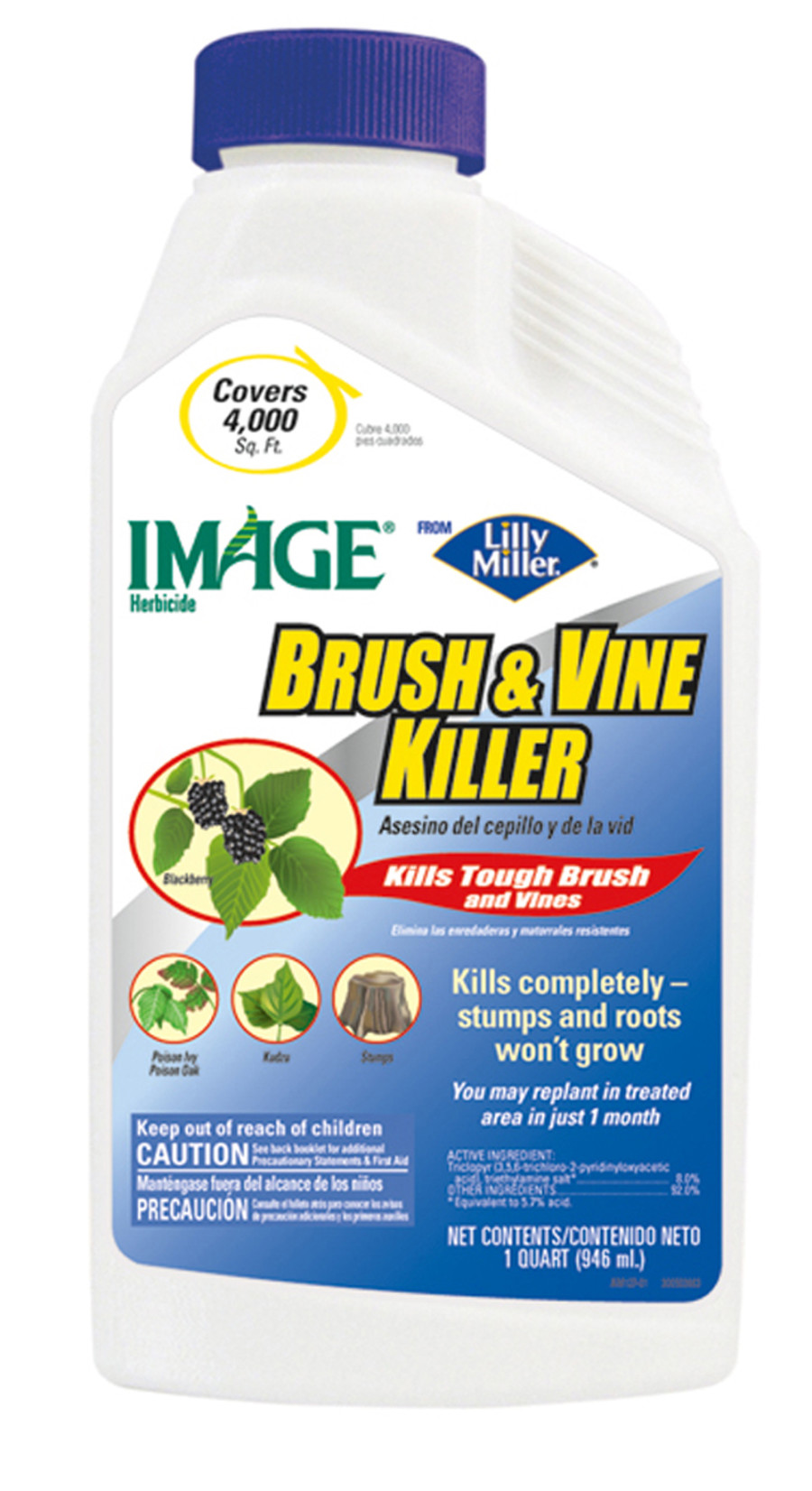 Form:

Liquid Concentrate

Manufacturer:

Central Garden and Pet

Max Coverage Area:

4000

Private Label:

No

Professional:

No

Size:

32 Ounces
This brush and vine killer kills completely - stumps and roots won't regrow. Kills blackberries, kudzu, poison oak, poison ivy, sumac and most other woody plants. You may replant in treated area in just 1 month. Covers 4,000 square feet.
Additional Features
Ingredients
Instructions
Safety
Product Gross Weight:

2.340 lb

Product Net Weight:

2.000 lb

Product Height:

9.000 in

Product Length:

2.500 in

Product Width:

4.500 in

Packaging Type:

Bottle
Primary Usage:

Postemergent, non-selective herbicide for use on unwanted brush and vines

Application Method:

Spray

Application Season:

Spring; Summer

Use Instructions:

Mix with water and spray using a pump sprayer or a hose-end sprayer.Shake well before using.Follow the mixing instructions below. Use the higher amounts when conditions are especially dry and on mature or hard to kill brush (such as ash, blackgum, chokeberry, elm, maple, oak, pine or winged elm), to prevent resprouting. Use this amount of Brush & Vine Killer in this amount of water to cover this area:½ - 1 cup (4 - 8 fl. oz.) - 1 gallon - 500 sq. ft.1 - 2 cups (8 - 16 fl. oz.) - 2 gallons - 1,000 sq. ft.1½ - 3 cups (12 - 24 fl. oz.) - 3 gallons - 1,500 sq. ft. For stump treatment: Right after the tree or bush has been cut down, apply this product to the stump. Use the product straight from the bottle; do not add water. Use a paint brush or small sprayer to completely cover the freshly cut surface.

Storage Instructions:

Store this product in its original container and keepout of reach of children and domestic animals.
Caution:

Avoid contact with eyes, skin or clothing during and after application. When applying this product, wear a long-sleeved shirt, long pants, shoes and socks, and waterproof gloves. Wash thoroughly with soap and water after handling and before eating, drinking, chewing gum, using tobacco, or using the toilet.

First Aid Measures:

If swallowed:Call a poison control center or doctor immediately fortreatment advice. Have person sip a glass of water if ableto swallow. Do not induce vomiting unless told to do so bya poison control center or doctor. Do not give anything bymouth to an unconscious person.; If on skin or on clothing:Take off contaminated clothing. Rinse skin immediatelywith plenty of water for 15-20 minutes. Call a poison control center or doctor for treatment advice.; If in eyes: Hold eye open and rinse slowly and gently with water for 15-20 minutes. Remove contact lenses, if present, after the first 5 minutes, then continue rinsing eye. Call a poison control center or doctor for treatment advice.

Safety Warnings:

Harmful if swallowed or absorbed through the skin. Avoid contact with eyes, skin or clothing during and after application. When applying this product, wear a long-sleeved shirt, long pants, shoes and socks, and waterproof gloves. Wash thoroughly with soap and water after handling and before eating, drinking, chewing gum, using tobacco, or using the toilet