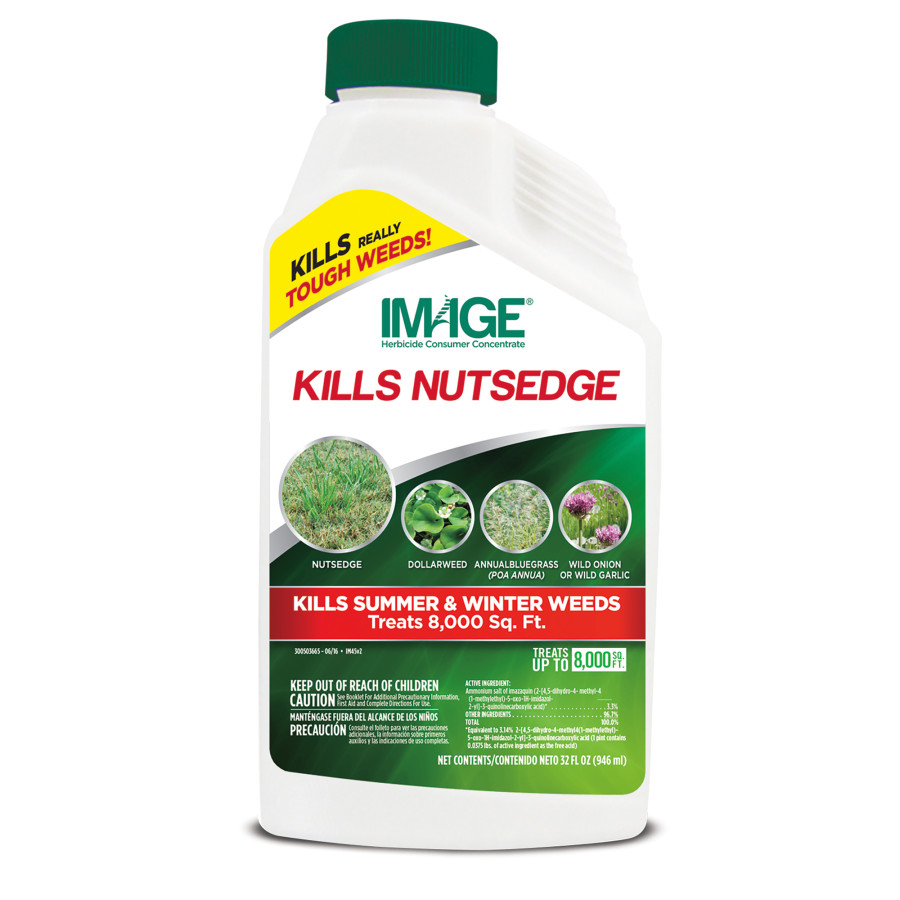 Form:

Liquid Concentrate

Grass Type:

Bermudagrass, Centipede Grass, Zoysia Grass

Lawn Type:

Southern Turfgrass

Manufacturer:

Central Garden and Pet

Max Coverage Area:

6000

Private Label:

No

Professional:

No

Size:

24 Ounces

Weed Type:

Annual Bluegrass, Dollarweed, Nutsedge, Sandbur, Wild Onion
Use IMAGE Kills Nutsedge Concentrate to give your lawn the look you've always wanted without the weeds. It is a post-emergent, selective weed killer for use in southern turf grass and selected ornamentals. IMAGE herbicide targets the toughest southern weeds, including yellow and purple nutsedge, dollar weed, wild onion and annual blue grass. Contains a patented ingredient that starves weeds to death. Kills nutsedge in warm season grasses. Kills tough weeds, including nutsedge, dollarweed, wild onion, sandbur, and annual bluegrass. Can be used safely on most southern grasses, see label for specifics.. Concentrate Treats 6000 sq. ft
Additional Features
Product Label
Ingredients
Instructions
Safety
SDS
Product Gross Weight:

1.740 lb

Product Net Weight:

1.600 lb

Product Height:

9.000 in

Product Length:

2.500 in

Product Width:

4.500 in

Packaging Type:

Bottle
Primary Usage:

A selective herbicide that kills yellow & purple nutsedge, sandbur, dollarweed and other hard to kill grassy weeds in warm season grasses.

Application Method:

Spray

Use Instructions:

Applying IMAGE® Herbicide Using a Hand-trigger or Pump-up Sprayer:Mix 2.5 fl. oz. of Image (5 Tbsp.) per gallon of water.Spray lawn until wet. Uniformly spray over coverage area.Will cover approximately 6,000 square feet.Water-in at a rate of 1/2 inch within 1 to 7 days to wash IMAGE into the root zone where the greatest weed control activity occurs. A second application can be made in 6 weeks.

Storage Instructions:

KEEP FROM FREEZING. Do not store below 32°F. Store in a cool, dry place inaccessible to children or pets.
Caution:

Do NOT apply to St. Augustine lawns for winter weed control. Do not apply during the cooler winter months when turf and weeds are not actively growing. Do not apply just prior to or during transition or during periods of very slow turf growth or severe discoloration could occur.

First Aid Measures:

If Inhaled: Move person to fresh air. If person is not breathing, call 911 or an ambulance, then give artificial respiration, preferably mouth-to-mouth, if possible. Call a poison control center or doctor for further treatment advice.; If on Skin or Clothing: Take off contaminated clothing. Rinse skin immediately with plenty of waterfor 15-20 minutes. Call a Poison Control Center or doctor for treatment advice.; If in Eyes: Hold eye open and rinse slowly and gently with water for 15-20 minutes. Remove contact lenses, if present, after the first 5 minutes, then continue rinsing eye. Call a poison control center or doctor for treatment advice.

Safety Warnings:

Harmful if inhaled or absorbed through skin. Avoid breathing spray mist. Avoid contact with skin, eyes orclothing. Wash thoroughly with soap and water after handling. Remove contaminated clothing and wash before reuse. Keep children and pets out of the treated area until sprays have dried.