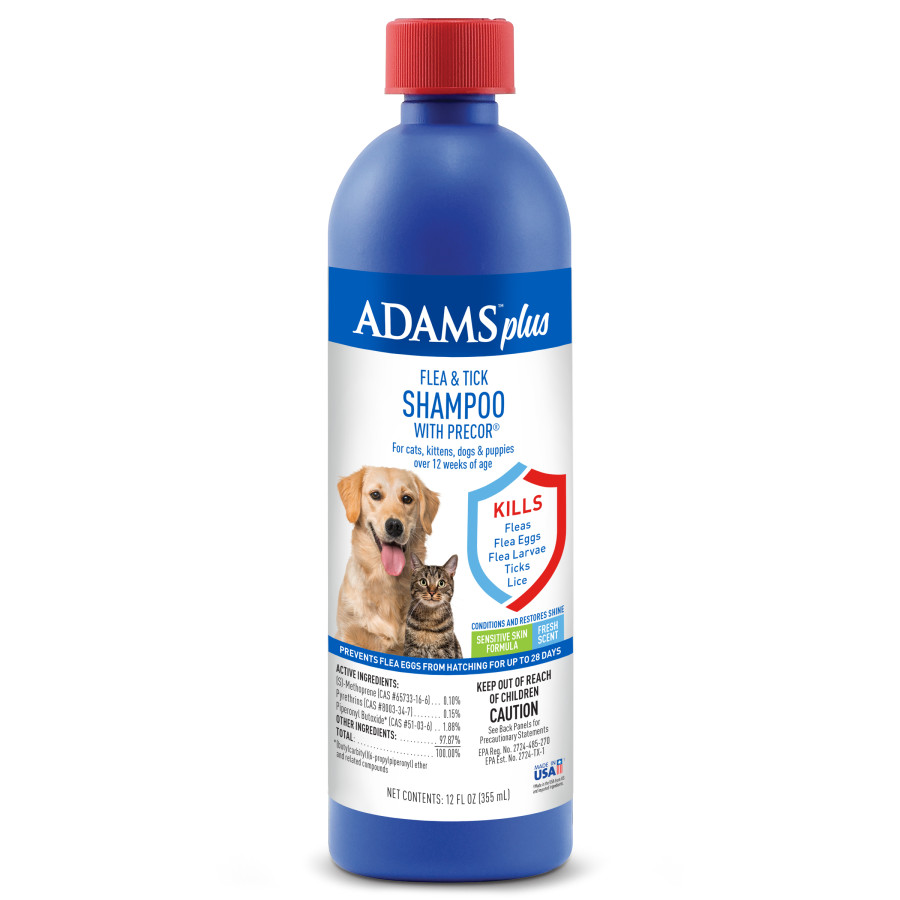 Animal Category:

Dog

Animal Life Stage:

Adult, Puppy, Senior

Made in USA?:

Yes

Manufacturer:

Central Garden and Pet

Private Label:

No

Professional:

No

Size:

12 Fluid Ounces
Kills fleas, ticks, lice and flea eggs. Contains Precor Insect Growth Regulator. Contains soothing aloe, lanolin & oatmeal. For cats, kittens, dogs and puppies
Contains soothing aloe, lanolin and oatmeal.
Additional Features
Product Label
Ingredients
Instructions
Safety
Warranty
Specifications
Product Gross Weight:

0.86 lb

Product Net Weight:

0.805 lb

Product Height:

7.08 in

Product Length:

2.26 in

Product Width:

2.26 in

Packaging Type:

Bottle
Ingredients:

(S)-Methoprene: 0.10%, Pyrethrins: 0.15%, Piperonyl Butoxide*: 1.88%, Other Ingredients 97.87%*(butylcarbityl)(6-propylpiperonyl) ether and related compounds
Battery Required:

No

Batteries Included?:

No

Use Instructions:

DO NOT USE ON DOGS OR CATS LESS THAN 12 WEEKS OLD. Wet pet's coat thoroughly with water, then pump shampoo onto pet and rub shampoo into coat starting with head and working back and down. Use about 1 1/3 tablespoons for each 5 lbs. of pet's weight. Do not apply shampoo around eyes. Continue to work lather in over the whole pet for 3 to 5 minutes (this is an important part of the grooming procedure). Rinse pet with warm water and towel dry. For extremely dirty or scaly animals, the above procedure may be repeated. Repeat every 7 to 10 days (if necessary) for adult flea relief. Flea egg hatch inhibition will last for 28 days.

Storage Instructions:

Store in a cool area.
Safety Warnings:

Consult a veterinarian before using this product on debilitated, aged, animals on medication, or pregnant or nursing animals. Sensitivities may occur after using ANY pesticide product for pets. If signs of sensitivity occur, bathe your pet with mild soap and rinse with large amounts of water. If signs continue, consult a veterinarian immediately.
Warranty Description:

Seller warrants this this product complies with the specifications expressed in this label. To the extent consistent with applicable law, Seller makes no other warranties, and disclaims all other warranties, expressed or implied, including but not limited to warranties of merchantability and fitness for the intended purpose. To the extent consistent with applicable law, Seller's liability or default, breach, or failure under this label shall be limited to the amount of the purchase price. To the extent consistent with applicable law, Seller shall have no liability for consequential damage.
Maximum Weight Capacity:

0 Pounds

Occasion:

Flea & Tick Treatment