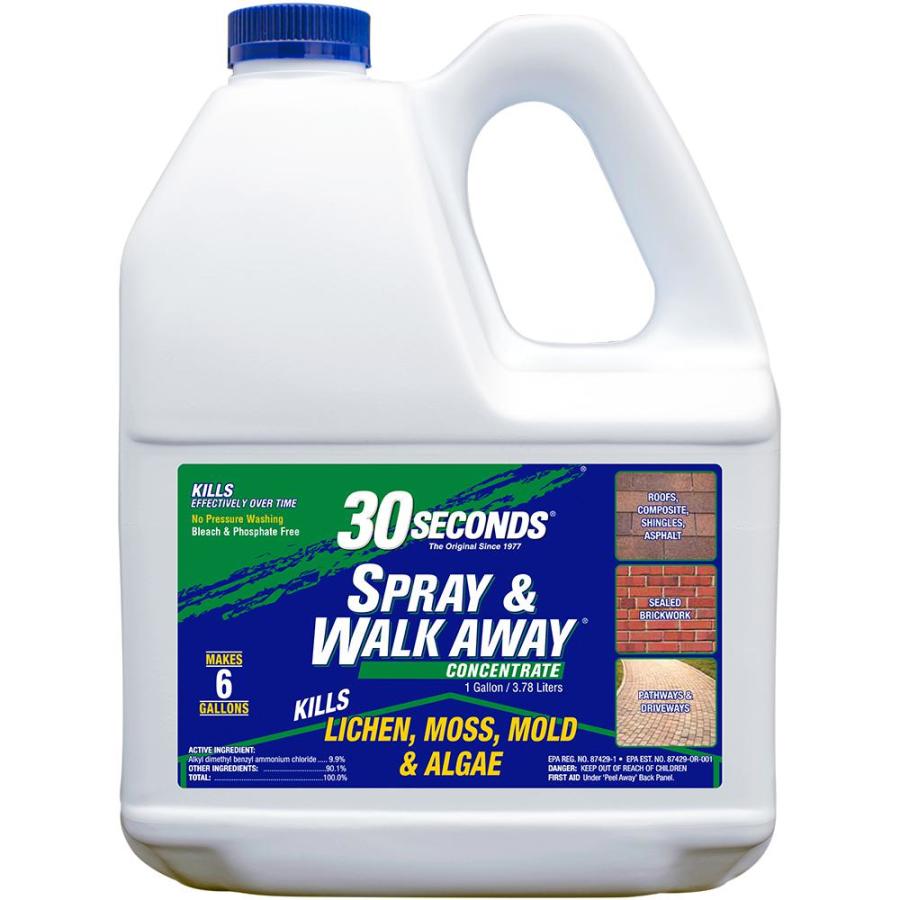 Form:

Liquid Concentrate

Made in USA?:

Yes

Manufacturer:

COLLIER MANUFACTURING LLC

Private Label:

No

Size:

1 Gallon

Usage Sites:

Landscape
30 SECONDS Spray & Walk Away KILLS Lichen, Moss, Mold and Algae in one easy step. Simply Spray & Walk Away. 30 SECONDS Spray & Walk Away is a slow release formula that works over time. Mother Nature does the work for you, eroding the treated matter, while it decays over several weeks. Perfect for those LARGE surface areas that you can Spray & Walk Away, such as roofs, walkways and walls. And best of all, it saves water, time and money, not having to pressure wash or rinse off.
Concentrate
Dilute or use with hose-end attachment
Additional Features
Product Label
Ingredients
Instructions
Safety
Product Gross Weight:

9.000 lb

Product Net Weight:

9.000 lb

Product Height:

11.000 in

Product Length:

4.500 in

Product Width:

8.000 in

Packaging Type:

Bottle

Recommended For:

Aluminum Siding; Composite; Glazed Tile; Pathways; Roofs; Sealed Brickwork; Shingles; Sealed concrete; Vinyl Siding; Wood Decks
Ingredients:

Alkyl dimethul benzyl ammonium chloride

Active Ingredients:

Alkyl Dimethyl Benzyl Ammonium Chloride 9.9%; Other Ingredients 90.1%
Application Method:

Spray

Use Instructions:

Mix one part of 30 SECONDS SPRAY& WALK AWAY to five parts water (1:5 mix ratio). Use a backpack or pump up tank sprayer to apply. Spray surface to be treated When surface is dry and rain is not predicted tor 12 hours or longer. Thoroughly saturate surfaces to be treated.
Caution:

Keep out of the reach of children