Pennington Sprayable U-Maxx 47-0-0 1ea/50 lb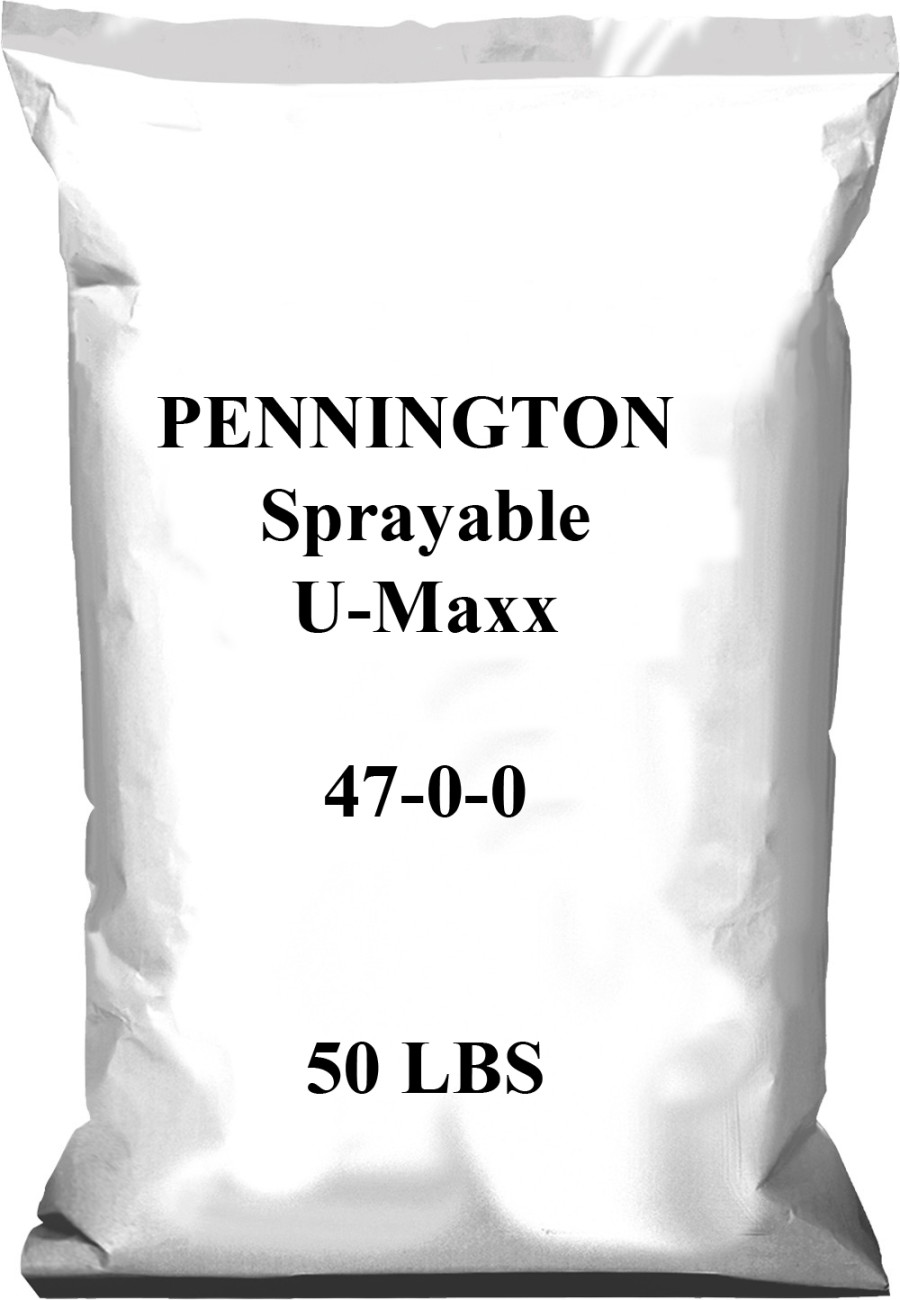 Form:

Granules

Manufacturer:

Central Garden and Pet

Max Coverage Area:

50000

Pet Safe:

Yes

Private Label:

No

Professional:

No

Size:

50 Pounds
UMAXX® is a premium stabilized nitrogen fertilizer formulated specifically for the turf and ornamental markets where repeat application may not be feasible nor desirable. It delivers our longest-lasting source of nitrogen for cost-effective applications.
Additional Features
Ingredients
Instructions
Safety
Product Gross Weight:

51.000 lb

Product Net Weight:

50.000 lb

Product Height:

24.000 in

Product Length:

5.000 in

Product Width:

17.000 in

Packaging Type:

Bag

Recommended For:

Turf; Ornamental
Nitrogen (N) Content:

47

Phosphorus (P) Content:

0

Potassium (K) Content:

0
Use Instructions:

Direction for Use in Soluable Fertilizer ProgramsPounds of UMAXX per 100 GallonsDelivery Rate: 2, Coverage (Sq.Ft): 50,000, 1#N/M: 106, .75#N/M: 80, .5#N/M: 53, .25#N/M: 27, .1#N/M: 11Delivery Rate: 2.5, Coverage (Sq.Ft): 40,000, 1#N/M: 86, .75#N/M: 64, .5#N/M: 43, .25#N/M: 21, .1#N/M: 9Delivery Rate: 3, Coverage (Sq.Ft): 33,000, 1#N/M: 70, .75#N/M: 53, .5#N/M: 35, .25#N/M: 18, .1#N/M: 7Delivery Rate: 3.5, Coverage (Sq.Ft): 28,750, 1#N/M: 61, .75#N/M: 46, .5#N/M: 31, .25#N/M: 15, .1#N/M: 6Delivery Rate: 4, Coverage (Sq.Ft): 25,000, 1#N/M: 53, .75#N/M: 40, .5#N/M: 27, .25#N/M: 13, .1#N/M: 5Delivery Rate = Gallons/1000 sq.ft

Storage Instructions:

Store in a dry area.
Caution:

Keep out of the reach of children

First Aid Measures:

Inhalation: If inhaled, remove to fresh air. If not breathing, give artificial respiration. If breathing is difficult, give oxygen. Call a physician.Skin Contact: If irritation occurs wash thoroughly with soap and water immediately. Get medical attention if irritation persists.Eye Contact: In cases of contact, immediately flush eyes with plenty of water for at least 15 minutes. Call a physician if irritation continues.Ingestion: If swallowed, drink 1 or 2 glasses of water. Immediately call a physician or a Poison Control Center and follow their advice. Do not induce vomiting or give anything by mouth to an unconscious person.

Safety Warnings:

Use rubber gloves, if skin irritation is observed. Wear safety glasses or goggles, when appropriate, to prevent contact with eyes. Use long sleeves or other clothing to avoid excessive contact.