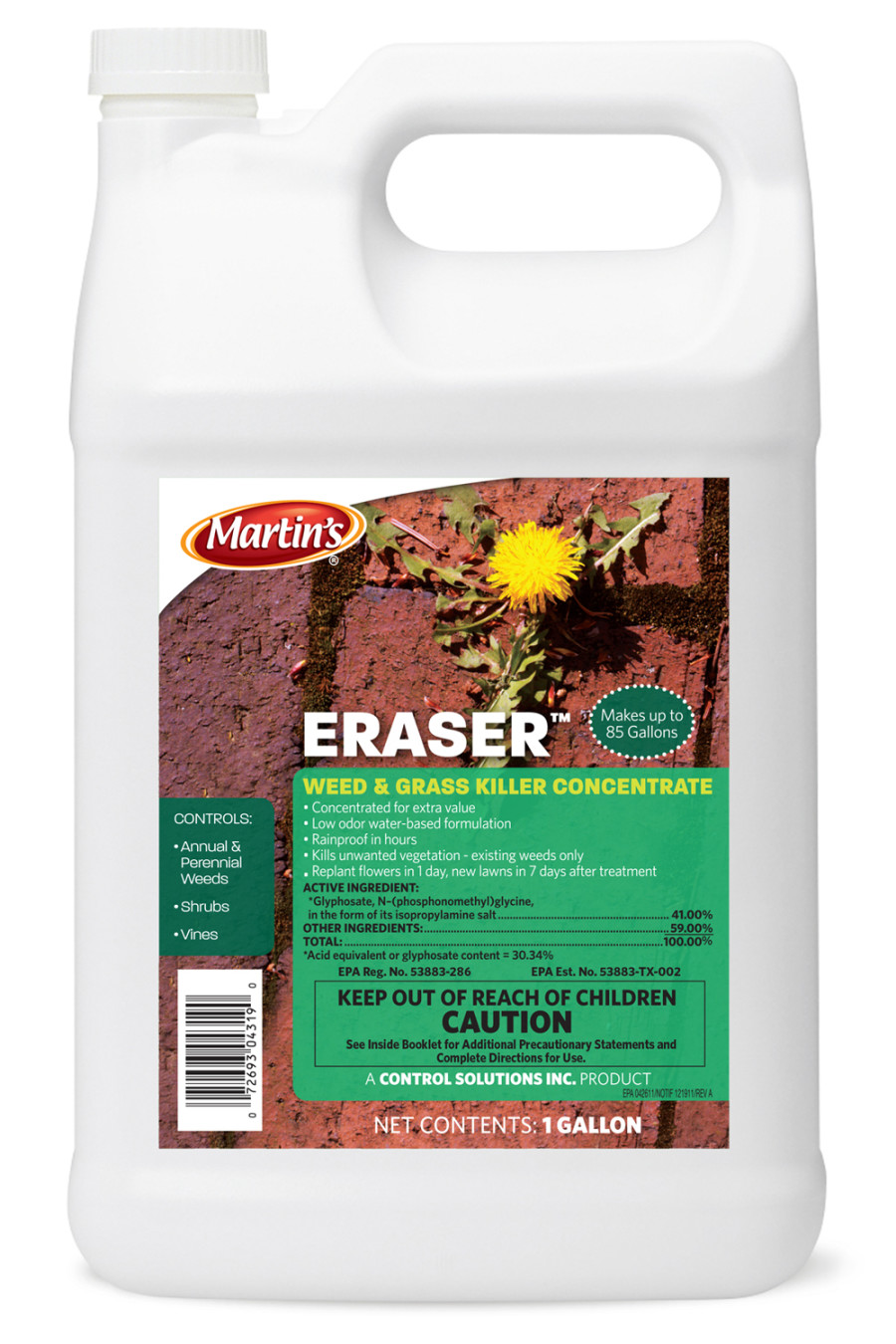 Form:

Liquid Concentrate

Grass Type:

Bermudagrass, Centipede Grass, Kentucky Bluegrass, Perennial Ryegrass

Manufacturer:

CONTROL SOLUTIONS INC

Pet Safe:

No

Private Label:

No

Size:

1 Gallon

Weed Type:

BeggarWeed, Cheeseweed, ChickWeed, Common Ragweed, Creeping Beggarweed, Field Bindweed, Horseweed/Marestail, Ironweed, KnotWeed, Mayweed, Mouseear Chickweed, Pennsylvania Smartweed, Pigweed, Ragweed, Redroot Pigweed, Smartweed, Smooth Pigweed, Teaweed, Weeds
Concentrated for extra value. Low odor water-based formulation. Rainproof in hours. Kills unwanted vegetation - existing weeds only. Replant flower in 1 day, new lawns in 7 days after treatment.
Additional Features
Ingredients
Instructions
Safety
SDS
Product Gross Weight:

10.5 lb

Product Net Weight:

10.5 lb

Product Height:

11.75 in

Product Length:

6.75 in

Product Width:

4.0 in

Packaging Type:

Can

Recommended For:

Annual Bluegrass; Annual Grass; Annual Ryegrass; Barnyard Grass; Bahiagrass; Barnyard Grass; Bentgrass; Bermudagrass; Bluegrass; Bromegrass; Crabgrass; Centipede Grass; Cogongrass; Creeping Bentgrass; Diffuse Lovegrass; Goose Grass; Guineagrass; Hairy Crabgrass; Johnsongrass; Kentucky Bluegrass; Kikuyugrass; Nutgrass; Orchardgrass; Pampas grass; Perennial Ryegrass; Quackgrass; Smooth Bromegrass; Torpedograss; Yellow Nutgrass; Witchgrass
Ingredients:

Glyphosate; N-(phosphonomethyl) glysine

Active Ingredients:

Glyphosate, [N-(phosphonomethyl) glycine]
Primary Usage:

Controls Annual Weed, Perennial Weed, Shrubs, Vine

Application Method:

Spray

Use Instructions:

This product is formulated for "spot" treatment of individual weeds and grasses or for treatment of large areas as, instructed on this label (see specific site areas below). Apply with a plastic, aluminum or stainless steel tank-type sprayer. Use a tank-type sprayer with a coarse spray nozzle for spot treatments. Use the ORTHO Dial 'n Spray to treat large areas such as for lawn renovation or to prepare sites for planting flower beds or vegetable gardens. Apply to evenly and thoroughly wet weeds and grasses.

Storage Instructions:

Store at room temperature.
First Aid Measures:

If in Eyes: Hold eye open and rinse slowly and gently with water for 15-20 minutes. Remove contact lenses, if present, after the first 5 minutes, then continue rinsing eye. Call a poison control center or doctor for treatment advice.If on Skin : Take off contaminated clothing. Rinse skin immediately with plenty of water for 15-20 minutes. Call a poison control center or doctor for treatment advice.

Safety Warnings:

Harmful if absorbed through the skin. Causes moderate eye irritation. Avoid contact with eyes, skin or clothing. Wash thoroughly with soap and water after handling. Keep children and pets away from treated areas until spray has dried. Avoid contamination of food. Do not contaminate water supplies.