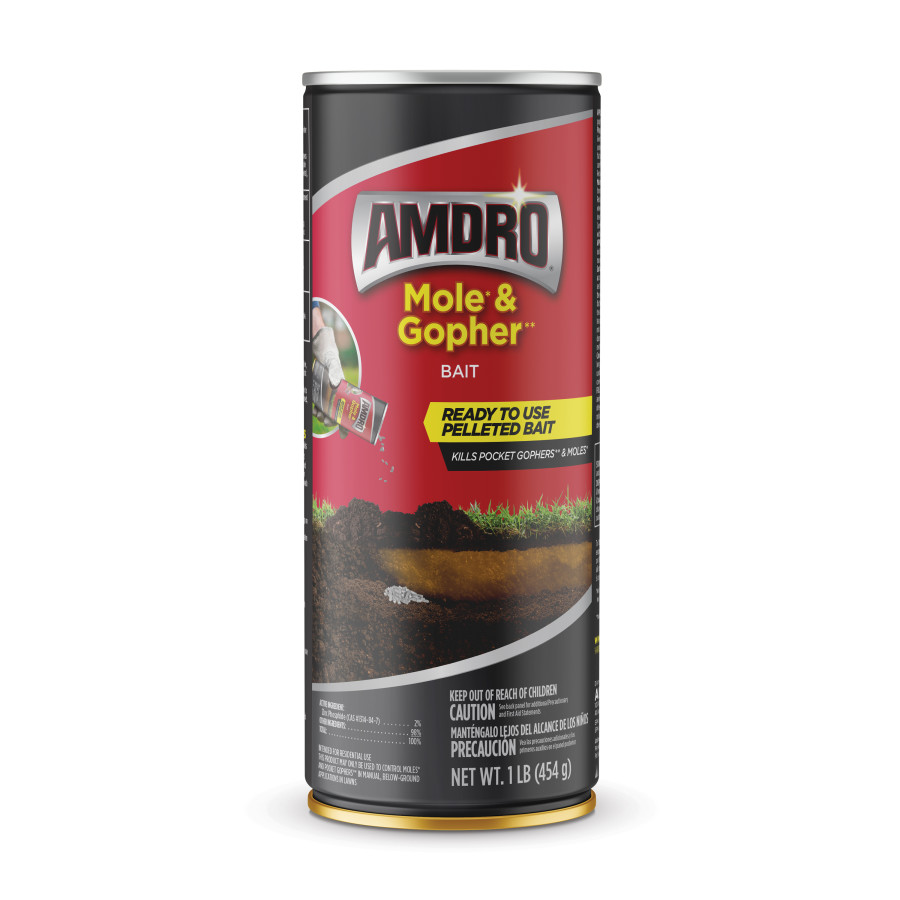 Form:

Pellet

Made in USA?:

Yes

Manufacturer:

Central Garden and Pet

Private Label:

No

Professional:

No

Size:

1 Pound

Target Pests:

gophers, Moles (Not For Use On Moles In Ca In Or Nc)
AMDRO®Mole* & Gopher Bait lets you take back your lawn from damaging moles and gophers. This pelletized. bait is highly effective and easy-to-apply with the convenient shaker canister. *Not for use on moles in CA, IN or NC
Additional Features
Ingredients
Instructions
Safety
SDS
Product Gross Weight:

1.250 lb

Product Net Weight:

1.000 lb

Product Height:

8.000 in

Product Length:

3.000 in

Product Width:

3.000 in

Environment:

Outdoor

Packaging Type:

Canister
Ingredients:

Zinc Phospide
Use Instructions:

See label for instructions.

Storage Instructions:

Store only in original container in a dry place inaccessible to children and pets.
Caution:

Keep out of reach of children.

First Aid Measures:

IF IN EYES: Flush with cool water for at least 15 minutes. If irritation develops, obtain medical assistance.; IF ON SKIN: Wash with soap and water.; IF SWALLOWED: Call a physician or Poison Control Center immediately. Do not give anything by mouth or induce vomiting unless instructed by physician.; IF INHALED: Remove victim to fresh air.

Safety Warnings:

Harmful if swallowed. Harmful if absorbed through the skin. Avoid contact with eyes. Avoid breathing dust. Wear long-sleeved shirt and long pants, shoes plus socks and waterproof gloves. Wash hands thoroughly with soap and water before eating, drinking, chewing gum, using tobacco, or using the toilet. Remove contaminated clothing and wash before reuse. Any person who retrieves carcasses or unused bait following application of this product must wear waterproof gloves.