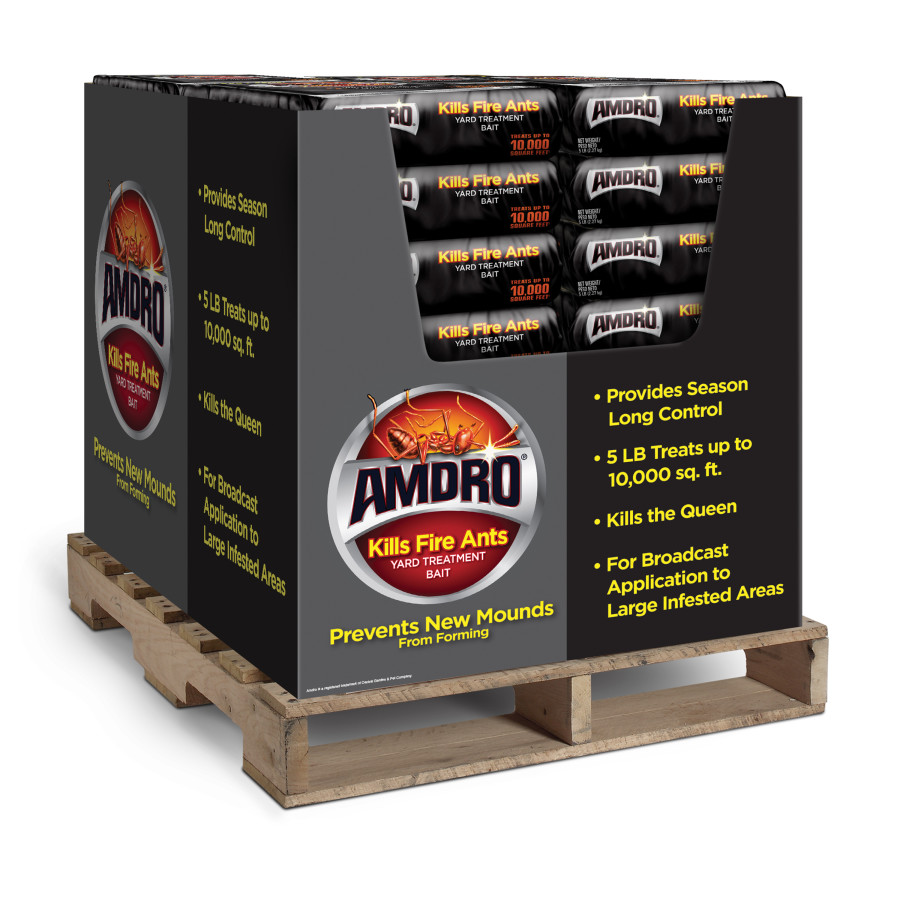 Form:

Granules

Made in USA?:

Yes

Manufacturer:

Central Garden and Pet

Max Coverage Area:

10000

Private Label:

No

Professional:

No

Retail Display:

Pallet

Size:

5 Pounds

Target Pests:

Bigheaded Ants, Fire Ants (Imported and Native), Harvester Ants

Usage Sites:

Landscape, Lawn
Rid your yard of fire ants with AMDRO Fire Ant Yard Treatment Bait Granules. Made for broadcast application, this product lasts all season and a 5 lb. bag covers up to 10,000 square feet. Once spread, worker fire ants from visible and hidden mounds will take it back to the queen to share. Once the queen and other ants eat it, the whole mound dies. 5 lb. bag covers up to 10,000 Square feet and lasts all season. Destroys visible and hidden mounds and stops new mounds from forming.
Provides season-long fire ant control
Destroys existing mounds and prevents new mounds
Applies easily with a lawn spreader
Additional Features
Ingredients
Instructions
Safety
SDS
Other Documents
Product Gross Weight:

5.250 lb

Product Net Weight:

5.000 lb

Product Height:

18.000 in

Product Length:

4.000 in

Product Width:

11.000 in

Packaging Type:

Bag
Ingredients:

Hydramethylnon; Methoprene
Primary Usage:

Controls imported and native fire ants and other ants (except Carpenter and Pharaoh's ants), such as harvester ants and bigheaded ants.

Application Method:

Granular

Battery Required:

No

Batteries Included?:

No

Use Instructions:

FOR LARGE INFESTED AREAS:Using a rotary broadcast spreader or handheld granular spreader, broadcast this product at 5 lb. per 5,000 square feet (for heavy infestations) to 10,000 square feet (for light infestations).Repeat as necessary, but do not exceed three applications per season.

Storage Instructions:

Store in cool, dry, secure place and keep container closed.
Caution:

Avoid contact with skin, eyes, and clothing. Wash hands thoroughly with soap and water after handling. Prolonged contact or frequently repeated skin contact may cause allergic reactions in some individuals. Do not apply this product in a way that will contact any person or pet, either directly or through drift. Keep people and pets out of the area during application. This product is not for use on vegetable or other food crops, timber or plants grown for sale or other commercialsuse, or for commercial seed production, or for research purposes.

First Aid Measures:

If on skin or clothing: Take off contaminated clothing. Rinse skin immediately with plenty of water for 15-20 minutes. Call a poison control center or doctor for treatment advice.

Safety Warnings:

Store container away from children and pets.