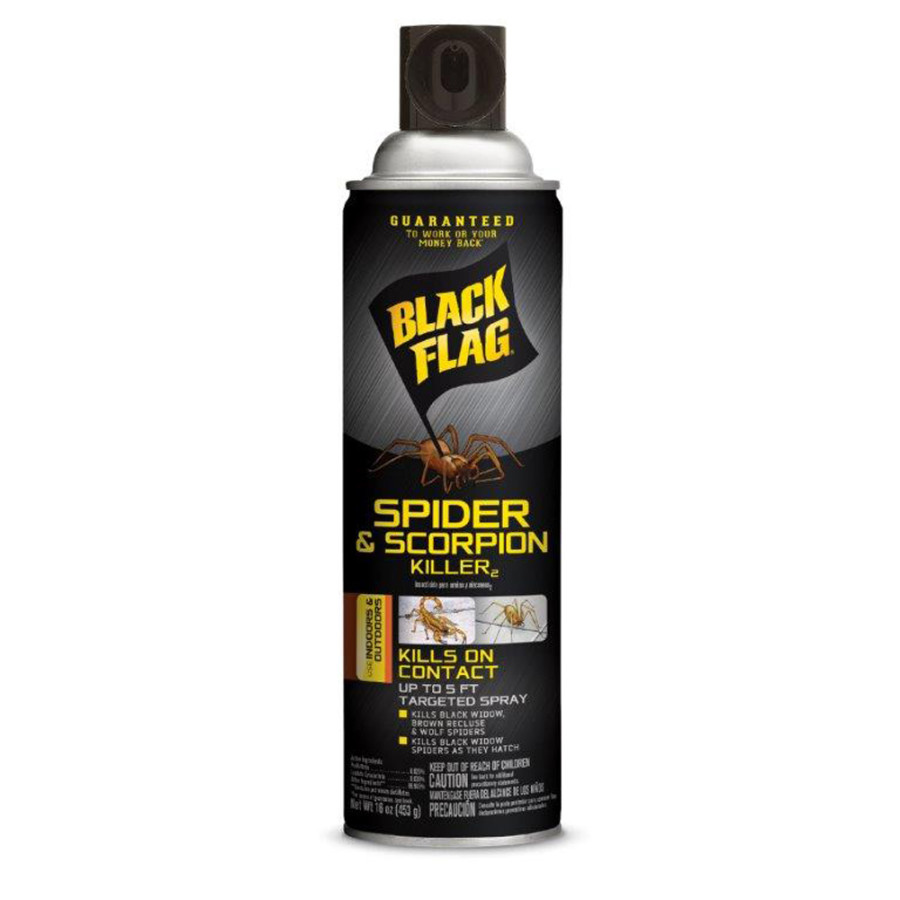 Form:

Liquid

Made in USA?:

Yes

Manufacturer:

UNITED INDUSTRIES CORPORATION

Pet Safe:

No

Private Label:

No

Size:

16 Ounces

Target Pests:

Black Widow, Brown Recluse, Scorpions, Spiders
Kills on contact. Kills for up to 16 weeks. Use indoor and outdoors. Kills black widow, brown recluse and wolf spider.
Additional Features
Ingredients
Instructions
Safety
Warranty
SDS
Product Gross Weight:

1.260 lb

Product Net Weight:

1.260 lb

Product Height:

9.750 in

Product Length:

2.620 in

Product Width:

2.620 in

Packaging Type:

Bottle

Recommended For:

Behind Stoves; Cracks; Dark Corners; Food Storage Areas; Hidden Surfaces Under Sinks; Refrigerators
Ingredients:

Prallethrin; Lambda Cyhalothrin

Active Ingredients:

Lambda-Cyhalothrin; Prallethrin
Primary Usage:

Kills Scorpion, Spider

Application Method:

Spray

Use Instructions:

Spray spiders and their webs directly. Pay special attention to cracks, dark corners, hidden surfaces under sinks, behind stoves and refrigerators, food storage areas and wherever these pests are suspected. To kill spiders and prevent them from entering your home, spray around door and window frames, inside and outside. Spray upward to treat active spiderwebs. Do not remove spiderwebs and eggs sacs until spray has dried. For scorpions, stand at a safe distance and completely cover the pests. Scorpions must be contacted by the spray to be killed. Thoroughly spray infested weeds or bushy non-crop areas.

Storage Instructions:

Store in cool, dry area
Caution:

Keep out of the reach of children

First Aid Measures:

If on Skin or Clothing: Take off contaminated clothing. Rinse skin immediately with plenty of water for 15-20 minutes. Call a Poison Control Center or doctor for treatment advice. Have the product container with you when calling a Poison Control Center or doctor, or going for treatment.If Swallowed: Immediately call a Poison Control Center or doctor. Do not induce vomiting unless told to do so by a Poison Control Center or doctor. Do not give any liquid to the person. Do not give anything by mouth to an unconscious person.

Safety Warnings:

Avoid contact with skin, eyes or clothing. Avoid breathing vapor or mist. Use only with adequate ventilation. Store and use away from heat, sparks, open flame or any other ignition source. Use explosion-proof electrical equipment. Use only nonsparking tools. Empty containers retain product residue and can be hazardous. Protect from sunlight and do not expose to temperatures exceeding 50°C (122°F). Do not pierce or burn, even after use. Do not ingest.
Warranty Description:

Money Back Guarantee