UFLEXX Stabilized Nitrogen 46-0-0 Sprayable 1ea/50 lb
UFLEXX Stabilized Nitrogen 46-0-0 Sprayable 1ea/50 lb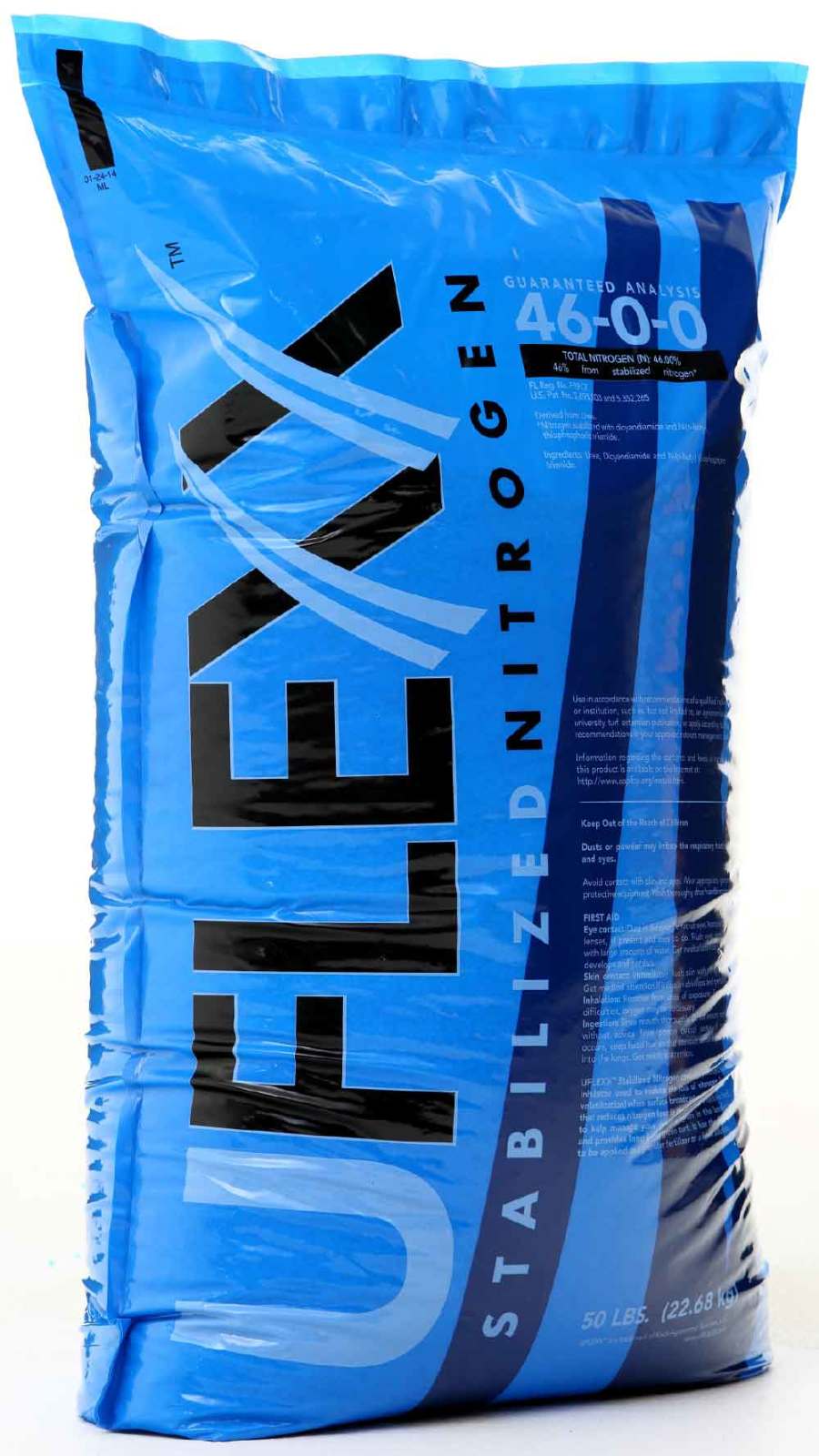 Form:

Granules

Manufacturer:

KOCH AGRONOMIC SERVICES

Private Label:

No

Professional:

Yes

Size:

50 Pounds
UFLEXX™ provides quick green-up and steady, even growth, along with a distinctive dark green color lasting up to eight weeks. Its dual-inhibitor technology protects against nitrogen loss due to volatilization, leaching and denitrification, keeping nutrients readily available and sustaining a healthy appearance between feedings. It is equally effective sprayed or spread. A low burn potential compared to urea and predictable performance results in fewer call backs and more satisfied customers. Its highly efficient technology saves you time and money. The result is profitability and peace of mind, thanks to the ability of UFLEXX™ to consistently provide exceptional, cost-effective green.
Additional Features
Ingredients
Instructions
Safety
SDS
Other Documents
Product Gross Weight:

50.25 lb

Product Net Weight:

50.0 lb

Product Height:

27.0 in

Product Length:

4.0 in

Product Width:

17.0 in

Packaging Type:

Bag
Ingredients:

Urea Nitrogen

Nitrogen (N) Content:

46

Phosphorus (P) Content:

0

Potassium (K) Content:

0
Storage Instructions:

Store in a cool, dry, well-ventilated place. Keep container tightly closed.
First Aid Measures:

If in Eyes: Dust in the eyes: Do not rub eyes. Immediately flush with plenty of water for at least 15 minutes. If easy to do, remove contact lenses. Get medical attention if irritation persists after washing. If Inhaled: Move to fresh air. Get medical attention if any discomfort continues. If on Skin: Wash contact areas with soap and water. Get medical attention if irritation develops and persists. If ingested: Rinse mouth thoroughly. Get medical attention if any discomfort continues.

Safety Warnings:

Observe good industrial hygiene practices. Wash hands after handling.