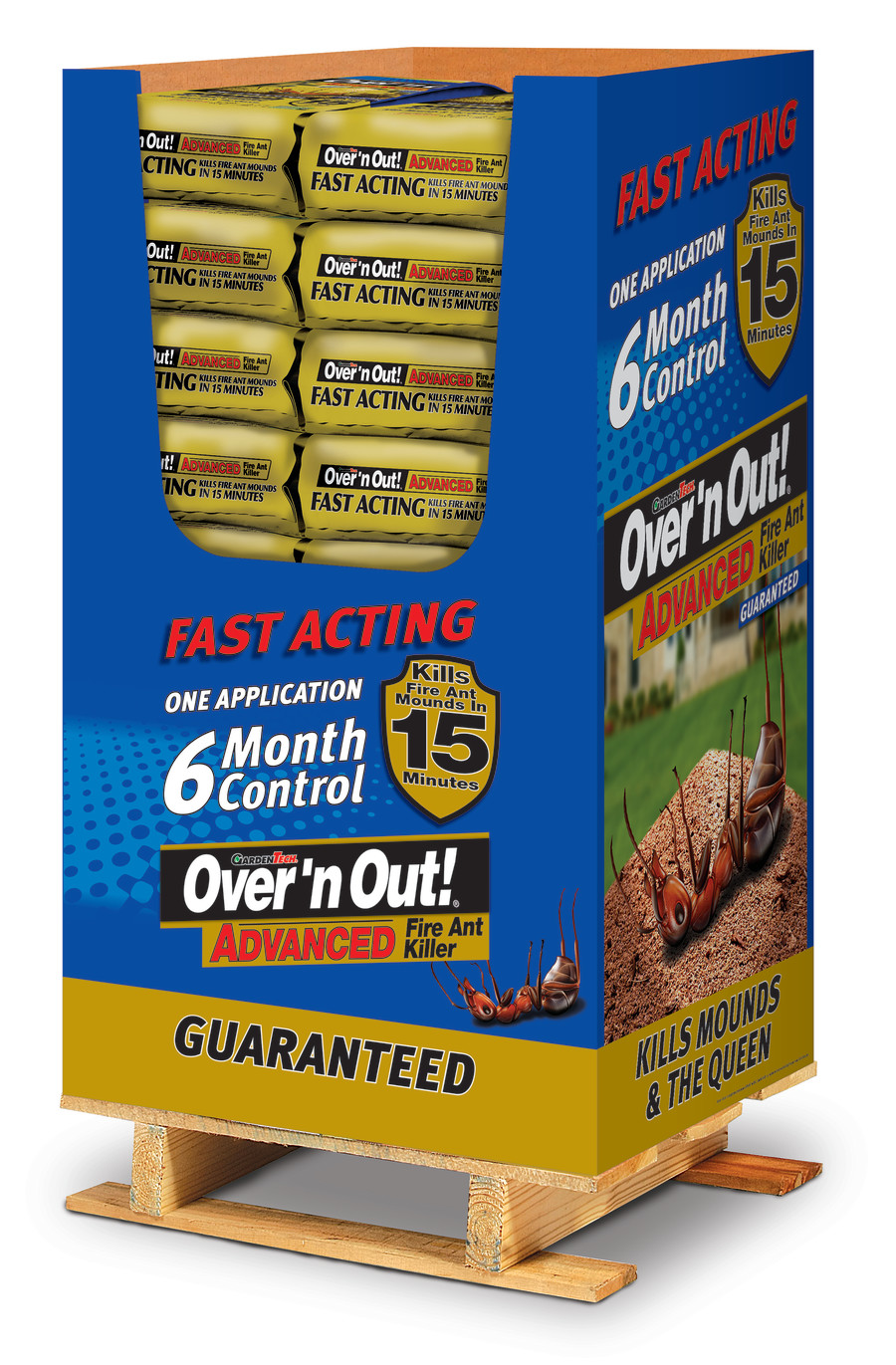 Form:

Granules

Manufacturer:

Central Garden and Pet

Max Coverage Area:

5000

Pet Safe:

No

Private Label:

No

Size:

11.5 Pounds

Target Pests:

Fire ants

Usage Sites:

Flower Garden, Lawn, Ornamentals
Fire Ants live in colonies, packed together like a 24-hour backyard party. So it's no wonder they're so eager to take a detour for some grub. Enter the best bouncer ever, Over'n Out!®Advanced Fire Ant Killer granules. Kill your fire ant mounds in 15 minutes by treating your visible mounds with Over'n Out! Advanced easy to use granules. If applied with a drop or broadcast spreader, these granules are carried back where the queen feeds on them, killing the entire colony. Then you've got six months of no fire ants, guaranteed.
Additional Features
Ingredients
Instructions
Safety
Product Gross Weight:

11.700 lb

Product Net Weight:

11.500 lb

Product Height:

18.000 in

Product Length:

3.250 in

Product Width:

10.000 in

Environment:

Outdoor

Packaging Type:

Bag

Recommended For:

Flowers; Lawn; Ornamentals
Ingredients:

Zeta Cypermethrin; Bifenthrin

Active Ingredients:

Bifenthrin; Zeta-Cypermethrin
Primary Usage:

Kills Fire Ants

Application Method:

Spreader

Use Instructions:

Apply during the morning or late evening when it is cool and the ants are most active. Treat the entire lawn area to prevent reinfestation of fire 'ants from neighboring areas using broadcast or drop spreader. For best control of foraging workers and newly mated fly-in queens, use both broadcast 'applications and mound treatments that will kill existing colonies. Control will be optimized by combining broadcast applications that will control foraging workers and newly mated fly-in queens with mound !treatments that will control existing colonies. For residential use only. Not for use in pasture or animal grazing areas.

Storage Instructions:

Store in original containers in a cool, dry place, preferably in a locked storage area and avoid excess heat.
Caution:

Keep out of the reach of children

First Aid Measures:

If in Eyes: Hold eye open and rinse slowly and gently with water for 15-20 minutes. Remove contact lenses, if present, after the first 5 minutes, then continue rinsing eye. Call a poison control center or doctor for treatment advice.If Swallowed: Call poison control center or doctor immediately for treatment advice. Have person sip a glass of water if able to swallow. Do not induce vomiting unless told to do to by the poison control center or doctor. Do not give anything by mouth to an unconscious person.

Safety Warnings:

Avoid contact with eyes or clothing. Harmful if swallowed. Causes moderate eye irritation. Prolonged or frequently repeated skin contact may cause allergic reactions in some individuals. Wear long-sleeved shirt and long pants, socks, shoes and gloves. Wash thoroughly with soap and water after handling and before eating, drinking, chewing gum, using tobacco or using the toilet.