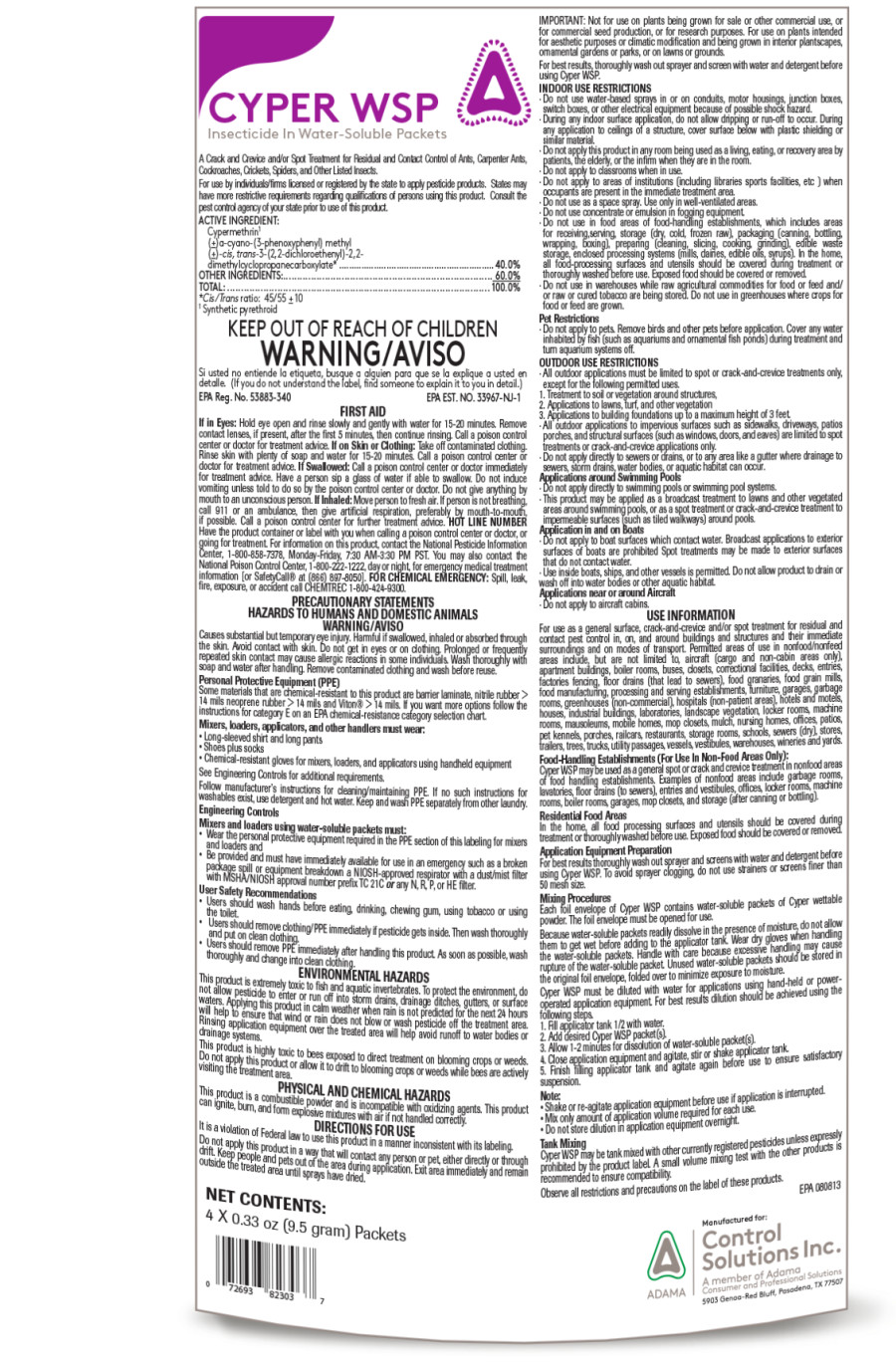 Form:

Powder

Manufacturer:

CONTROL SOLUTIONS INC

Max Coverage Area:

1600

Pet Safe:

No

Private Label:

No

Size:

4 Pack

Target Pests:

Ants, Aphids, Bees, Boxelder Bugs, Carpenter Ants, Chiggers, Cockroaches, Fleas, Flies, Mites, Mosquitoes, Silverfish, Spiders, Ticks, Wasps

Usage Sites:

Ornamentals
Cyper WSP is an economical pyrethroid that provides fast knockdown and residual control of more than 30 different pests. Control ants, spiders, cockroaches, and other insects using 40% Cypermethrin contained in 4 water soluble packets (WSP) per envelope.
Additional Features
Ingredients
Instructions
Safety
Warranty
Product Gross Weight:

0.094 lb

Product Net Weight:

0.083 lb

Product Height:

9.250 in

Product Length:

5.250 in

Product Width:

0.250 in

Environment:

Indoor; Outdoor

Packaging Type:

Packet

Recommended For:

Apartments; Cracks; Crevices; Factories; Garages; Hospitals; Hotels; Interior Plantscapes; Lawn; Kennels; Nursing Homes; Office Buildings; Ornamental Gardens; ParksRestaurants; Schools; Spot Treatments; Warehouses
Ingredients:

Cypermethin

Active Ingredients:

Cypermethrin
Primary Usage:

Kills Ant, Cockroaches, Spider

Application Method:

Spray

Use Instructions:

For use as a general surface, crack-and-crevice and/or spot treatment for residual and contact pest control in, on, and around buildings and structures and their immediate surroundings and on modes of transport. Permitted areas of use in nonfood/nonfeed areas include, but are not limited to, aircraft (cargo and non-cabin areas only), apartment buildings, boiler rooms, buses, closets, correctional facilities, decks, entries, factories fencing, floor drains (that lead to sewers), food granaries, food grain mills, food manufacturing, processing and serving establishments, furniture, garages, garbage rooms, greenhouses (non-commercial), hospitals (non-patient areas), hotels and motels, houses, industrial buildings, laboratories, landscape vegetation, locker rooms, machine rooms, mausoleums, mobile homes, mop closets, mulch, nursing homes, offices, patios, pet kennels, porches, railcars, restaurants, storage rooms, schools, sewers (dry), stores, trailers, trees, trucks, utility passages, vessels, vestibules, warehouses, wineries and yards.

Storage Instructions:

Store in cool, dry area
Caution:

Keep out of reach of children

First Aid Measures:

If in Eyes: Hold eye open and rinse slowly and gently with water for 15-20 minutes. Remove contact lenses, if present, after the first 5 minutes, then continue rinsing eye. Call a poison control center or doctor for treatment advice.If on Skin or Clothing: Take off contaminated clothing. Rinse skin immediately with plenty of water for 15-20 minutes. Call a poison control center or doctor for treatment advice.If Inhaled: Move person to fresh air. If person is not breathing, call 911 or an ambulance, then give artificial respiration, preferably by mouth-to-mouth, if possible. Call a poison control center or doctor for treatment advice.If Swallowed: Call a Poison Control Center or doctor immediately. Do not induce vomiting unless told to by a poison control center or doctor. Do not give any liquid to the person. Do not give anything to an unconscious person.

Safety Warnings:

Avoid contact with skin. Causes substantial but temporary eye injury. Harmful if swallowed, inhaled or absorbed through the skin. Wear protective eyewear (goggles, face shield, or safety glasses). Do not get in eyes or on clothing. Prolonged or frequently repeated skin contact may cause allergic reactions in some individuals. Wash thoroughly with soap and water after handling and before eating, drinking, chewing gum or using tobacco. Remove contaminated clothingand wash before reuse.
Warranty Description:

To the extent consistent with applicable law, Control Solutions, Inc. makes no other warranties, express or implied, of merchantability or of fitness for a particular purpose or otherwise, that extend beyond the statements made on this label. No agent of Control Solutions, Inc. is authorized to make any warranties beyond those contained herein or to modify the warranties contained herein. To the extent consistent with applicable law, Control Solutions, Inc. disclaims any liability whatsoever for special, incidental or consequential damages resulting from the use or handling of this product.