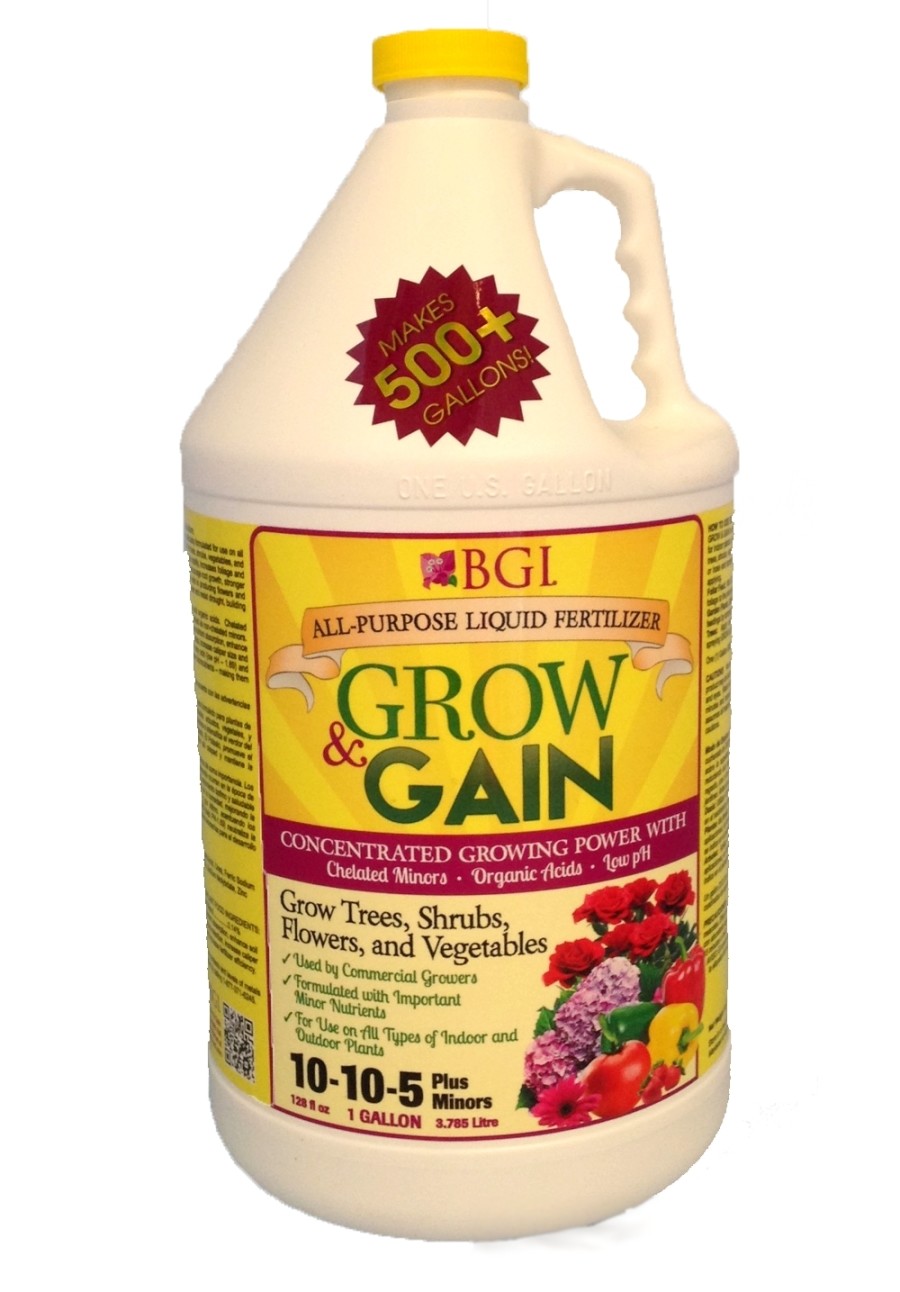 Form:

Liquid Concentrate

Made in USA?:

Yes

Manufacturer:

BOUGAINVILLEA GROWERS INTL

Private Label:

No

Size:

1 Gallon

Style:

10-10-5

Usage Sites:

Flower Garden, Shrubs, Trees, Vegetable Garden
GROW&GAIN is a concentrated all-purpose liquid fertilizer particularly formulated for use on all types of indoor and outdoor plants. It is an exceptional fertilizer for trees, shrubs, vegetables, flowering plants and lawns. The Nitrogen makes plants grow sturdily, mature rapidly, increases foliage and stem growth and produces rich, dark green foliage. Phosphates encourage root growth, stronger roots, hasten maturity and increase plant hardiness. Potassium aids in producing flowers and fruits, promotes healthy green lawn grass and helps plants use water and resist drought, building up plant resistance.
Additional Features
Ingredients
Instructions
Safety
SDS
Other Documents
Product Gross Weight:

8.880 lb

Product Net Weight:

8.680 lb

Product Height:

12.000 in

Product Length:

6.000 in

Product Width:

6.000 in

Packaging Type:

Bottle

Recommended For:

Flowers; Shrubs; Trees; Vegetables
Nitrogen (N) Content:

10

Phosphorus (P) Content:

10

Potassium (K) Content:

5
Application Method:

Spray

Application Season:

All-Season

Use Instructions:

For general home use, make a solution of one(1) Tablespoon GROW & GAIN to one(1) gallon water, and apply evenly over soil surface. Apply at half strength for indoor plants or plants with no drainage. Use GROW & GAIN as an all-purpose fertilizer on trees, shrubs, vegetables, flowering plants and lawns, applying once or twice monthly. Lawn guns or hose ends sprayers may also be used for applying.

Storage Instructions:

Do not store with water reactive materials.
Caution:

Keep out of the reach of children.

First Aid Measures:

If in Eyes: Immediately flush eyes with water for at least 15 minutes, holding eyelids open. If irritation develops, seek medical treatment.If on Skin: Wash affected area with soap and water. If irritation develops, seek medical treatment. Inhalation: Move to fresh air. If irritation develops, seek medical attention. If Swallowed: Immediate give large quantities of water to drink and induce vomiting. Seek immediate medical attention.

Safety Warnings:

Minimize contact with liquid. Use good personal hygiene and housekeeping measures.