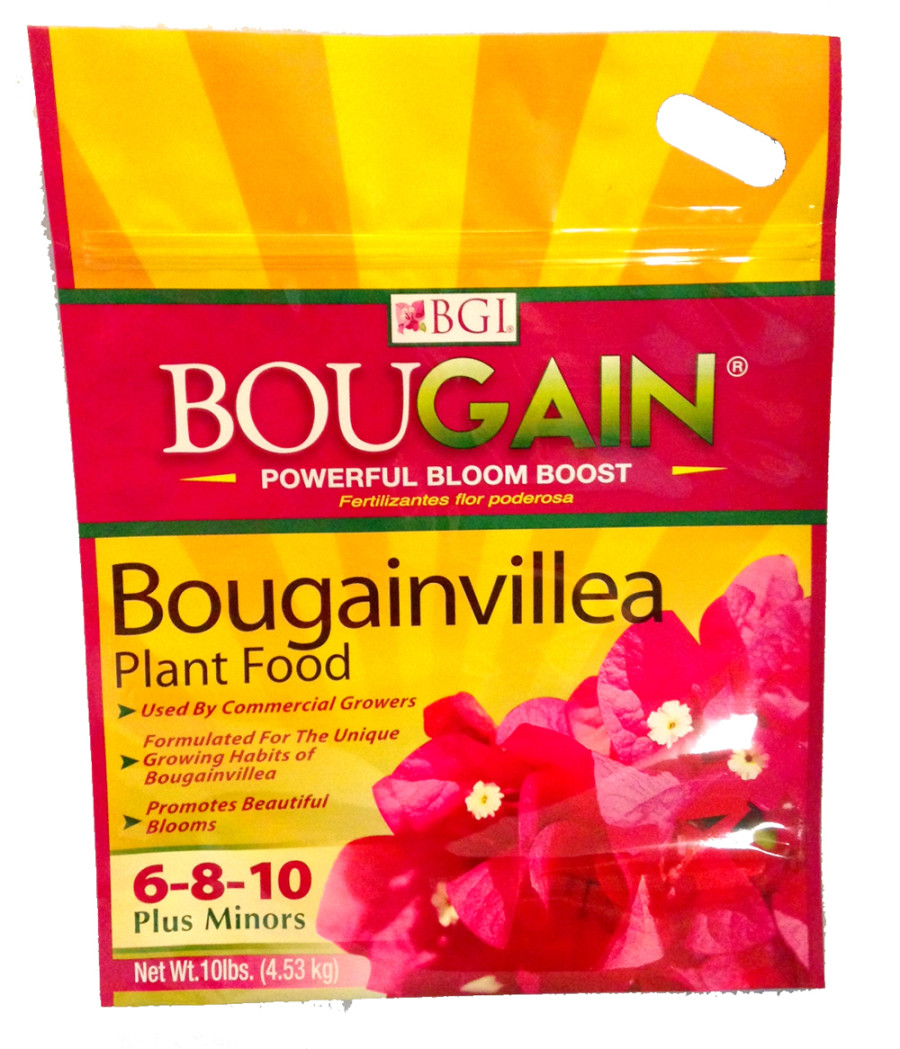 Form:

Granules

Hydroponic Use:

No

Made in USA?:

Yes

Manufacturer:

BOUGAINVILLEA GROWERS INTL

Natural:

No

Organic:

No

Pet Safe:

No

Private Label:

No

Size:

10 Pounds

Usage Sites:

Flower Garden
BOUGAIN 10 lb. Dry Bougainvillea Fertilizer helps you achieve optimum blooming for your bougainvillea. Its quick-release formula can be applied quickly, does not require mixing and continually nourishes your plants for up to 1 month. When used as directed, this fertilizer is guaranteed to be non-burning and helps protect surrounding vegetation. Its 6-8-10 analysis helps provide an ideal balance of nutrients to help produce vibrant bougainvillea.
Specially formulated for feeding Bougainvillea
Good for feeding tropical and flowering plants
Feeds for up to 4 weeks, so you don't have to constantly fertilize
6-8-10 fertilizer analysis plus micronutrients that Bougainvillea crave
Additional Features
Ingredients
Instructions
Safety
SDS
Other Documents
Product Gross Weight:

10.250 lb

Product Net Weight:

10.000 lb

Product Height:

16.000 in

Product Length:

4.000 in

Product Width:

12.500 in

Packaging Type:

Bag

Recommended For:

Blooming Plants
Active Ingredients:

Total Nitrogen (N) 6% (Ammonical Nitrogen 2%, Other Water Soluble Nitrogen 0.60%, Urea Nitrogen 1.00%, Water Insoluble Nitrogen 2.40%); Available Phosphate (P2O5) 8 %; Soluble Potash (K2O) 10 %; Magnesium (Mg) 1.50%; Boron (B) 0.06 %; Copper (Cu) 0.06%; Iron (Fe) 5%

Nitrogen (N) Content:

6

Phosphorus (P) Content:

8

Potassium (K) Content:

10
Application Method:

Sprinkle

Storage Instructions:

Store in a cool, dry area.
Caution:

Keep out of the reach of children and pets

First Aid Measures:

If in Eyes: Rinse cautiously with water for several minutes. Remove contact lenses, if present and easy to do. Continue rinsing. If eye irritation persists get medical advice / attention.If on Skin: Wash off immediately with soap and plenty of water for at least 15 minutes. Get medical attention if irritation develops and persists. If Inhaled: Remove person to fresh air and keep comfortable for breathing.If Swallowed: Rinse mouth immediately and drink plenty of water. Never give anything by mouth to an unconscious person. Do NOT induce vomiting. Call a physician.

Safety Warnings:

Avoid contact with eyes, skin and clothing. Follow good hygiene and housekeeping practices.