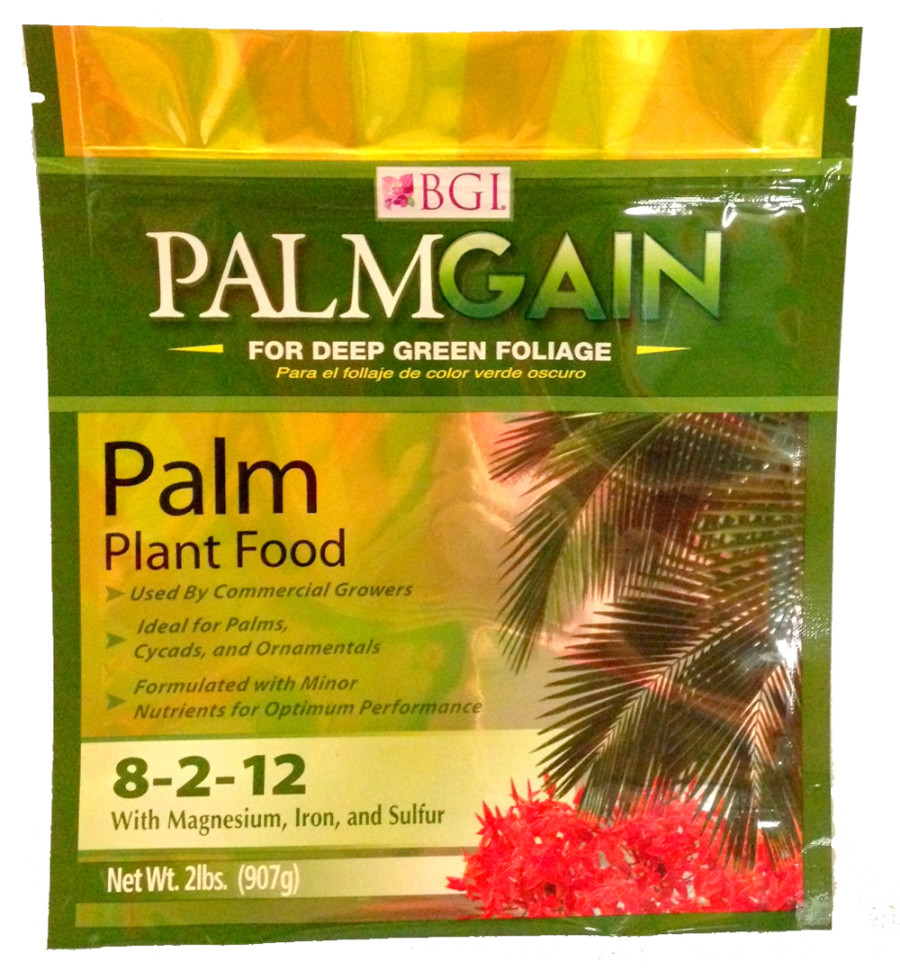 Form:

Granules

Hydroponic Use:

No

Made in USA?:

Yes

Manufacturer:

BOUGAINVILLEA GROWERS INTL

Natural:

No

Organic:

No

Pet Safe:

No

Private Label:

No

Size:

2 Pounds

Style:

8-2-12

Usage Sites:

Trees
PalmGain is specially formulated based on land grand university research to provide appropriate levels of nitrogen, phosphorus and potassium. Palmgain is fortified with 4% Magnesium and strategically blended with micronutrients to produce lush green growth and vibrant colors. A combination of slow and quick-release nitrogen promotes immediate visible results and provides long term feeding.
Ideal for palms, cycads, and ornamentals
Formulated with minor nutrients for optimum performance
Used by commercial growers
Slow-release nitrogen for extended feeding
Additional Features
Ingredients
Instructions
Safety
SDS
Other Documents
Product Gross Weight:

2.050 lb

Product Net Weight:

2.000 lb

Product Height:

8.000 in

Product Length:

3.000 in

Product Width:

7.000 in

Packaging Type:

Bag

Recommended For:

Cycads; Ferns; Palm Trees; Tropical Plants
Active Ingredients:

Total Nitrogen (N) 8% (3% Ammoniacal Nitrogen, 5% Urea Nitrogen); Available Phosphate 2%; Soluble Potash 12%; Magnesium 4%; Sulfur (S) 15.04% (15.04% combined sulfur); Boron 0.08%; Copper 0.06%; Iron (Fe) 2.12% (2.02% water soluble Iron, 0.10% Chelated Iron); Manganese 1%; Zinc 0.58%

Nitrogen (N) Content:

8

Phosphorus (P) Content:

2

Potassium (K) Content:

12
Application Method:

Spreader

Application Season:

All-Season

Storage Instructions:

Store in a cool, dry area.
Caution:

Keep out of the reach of children and pets

First Aid Measures:

If in Eyes: Flush eyes with water for at least 15 minutes, holding the eyelids apart. If irritation persists, seek medical attention.If Swallowed: If conscious, give 2 to 4 glasses of water to drink and then induce vomiting by touching back of throat with finger. Seek medical attention.If on Skin: Wash affected areas promptly with soap and water. Remove any contaminated clothing and launder before reuse.If Inhaled: Move to fresh air. If breathing is difficult, seek medical attention.

Safety Warnings:

Avoid contact with eyes, skin and clothing. Follow good hygiene and housekeeping practices.