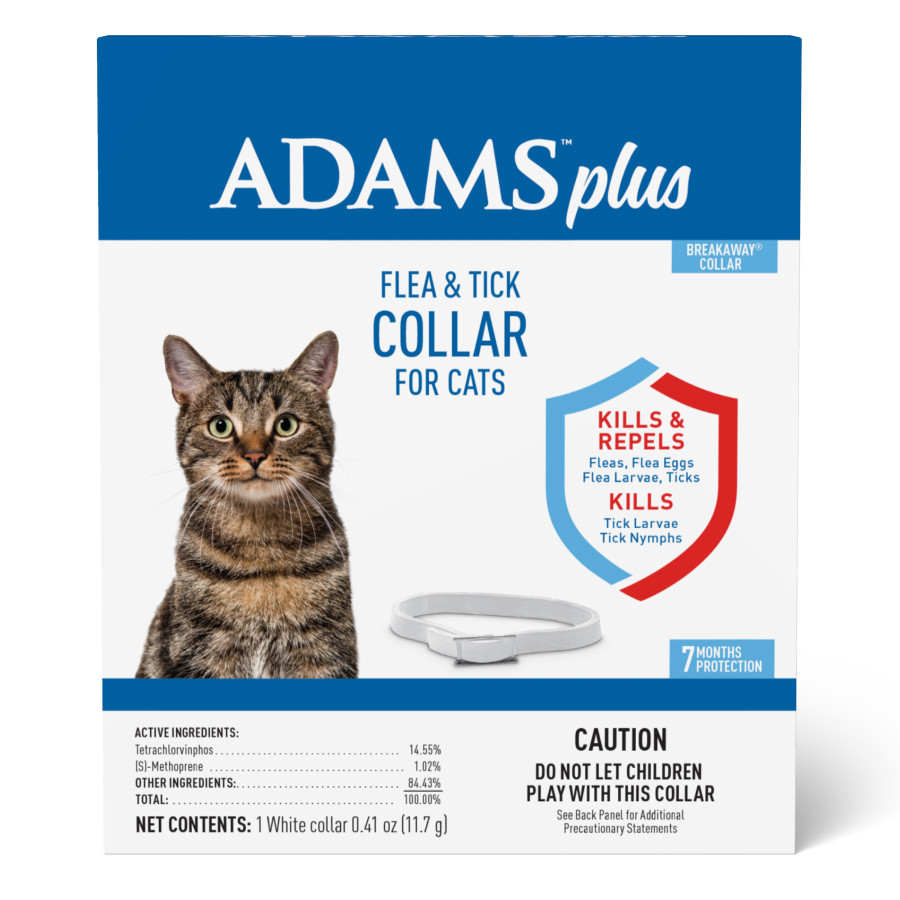 Animal Category:

Cat

Animal Life Stage:

Adult, Kitten, Senior

Made in USA?:

Yes

Manufacturer:

Central Garden and Pet

Private Label:

No

Professional:

No

Size:

1 Pack
Adams Flea & Tick Collar for Cats works from head to tail on cats of all sizes to kill fleas for up to 7 months
Protect Your Cat - This collar is designed to kill fleas, flea eggs, flea larvae and 3 stages of the tick life cycle: adult ticks, tick larvae and tick nymphs for up to 7 months.
7-Month Protection - Help your cat fight pesky pests. Your furry family member will get up to 7 months of continuous, long-lasting prevention and paw-tection.
Breakaway Collar - Breakaway collar features a unique easy release snap, so if your kitty accidentally gets caught on an object, the collar will break free to help keep your cat unharmed.
Odorless Prevention - Our collar is an odorless, non-greasy alternative to topical treatments.
One-Size-Fits-All - Completely adjustable, simply find the paw-fect fit for your cat or kitten and cut the excess length off. Our collar fits small, medium, and large cats that are 12 weeks and older.
Water-Resistant - This collar is water-resistant and remains effective following swimming or after exposure to rain. This collar can be worn with a regular collar.
Continuous Release of Active Ingredients - Each collar features an extended-release technology, which transfers the active ingredients to your cat's hair and skin over a 7-month period.
Pet, Home, and Yard: 5% of fleas live on your cat while the remaining 95% live in your home or yard. Complete your flea and tick control system with Adams Pet, Home, and Yard products.
Additional Features
Product Label
Ingredients
Instructions
Safety
Warranty
Specifications
Product Gross Weight:

0.070 lb

Product Net Weight:

0.033 lb

Product Height:

5.130 in

Product Length:

0.880 in

Product Width:

4.250 in

Packaging Type:

Box
Ingredients:

Tetrachlorvinphos: 14.55%, (S)-Methoprene: 1.02%, OTHER INGREDIENTS: 84.43%
Battery Required:

No

Batteries Included?:

No

Use Instructions:

Do not use on kittens under 12 weeks old and less than 5lbs. Do not unroll collar until ready to use. REMOVE THE COLLAR FROM PACKAGE, UNROLL AND STRETCH TO ACTIVATE THE INSECTICIDE.Place the collar around the cat or kitten's neck, adjust for proper fit, and buckle in place. The collar must be worn loosely to allow for growth of the cat and to permit the collar to move around the neck. A properly fitted collar is one that, when fastened, will snugly slide over the pet's head. Leave 2 or 3 inches on the collar for extra adjustment and cut off and dispose of the extra length. The collar will begin to kill fleas, ticks and flea eggs and larvae immediately. Its full protection against harder to kill ticks will be built up within a few days after being placed on the pet. For continuous flea and tick protection under normal conditions replace the collar every seven months. Under conditions where pets are exposed to severe flea and tick infestations, it may be necessary to replace the collar more frequently, however, do not replace the collar any earlier than 5 months. Wetting will not impair the collar's effectiveness or the pet's protection. If the pet goes swimming or is out in the rain it is not necessary to remove the collar. The collar may be worn with a regular collar.

Storage Instructions:

Store this product in a cool, dry place that is inaccessible to children.
Caution:

Harmful if swallowed or absorbed through skin. Causes moderate eye irritation. Avoid contact with eyes, skin, or clothing. Wash hands thoroughly with soap and water after handling and before eating, drinking, chewing gum, using tobacco or using the toilet.
Warranty Description:

Satisfaction guaranteed or your money back.
Occasion:

Flea & Tick Treatment