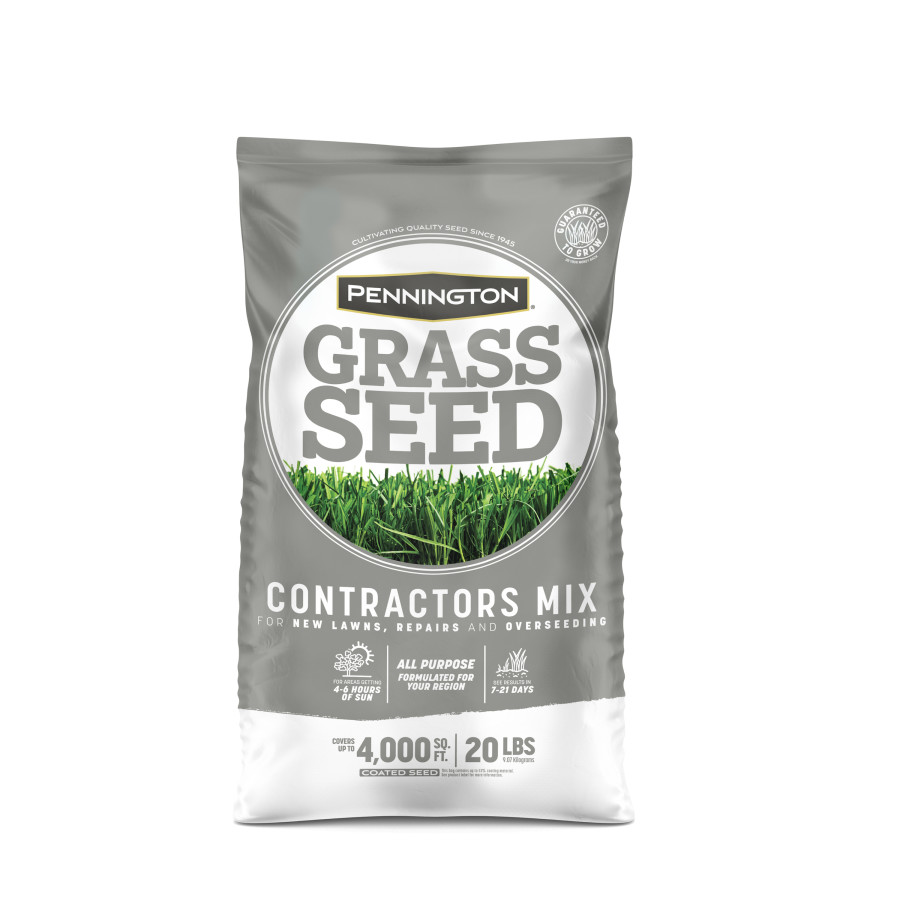 Grass Type:

Perennial Ryegrass, Spicer Annual Ryegrass

Manufacturer:

Central Garden and Pet

Max Coverage Area:

4000

Planting Climate Zones:

1, 10, 11, 12, 2, 3, 4, 5, 6, 7, 8, 9

Planting Region:

North, Northeast, Northwest

Planting Season:

Early Fall, Early Spring

Private Label:

No

Professional:

No

Size:

20 Pounds

Style:

North Contractors

Washable:

No
Set the course for a high-performance, professional-grade lawn with Pennington Contractors Mix. This bag contains varieties that are formulated for the Northern US, so you can rest easy knowing the seed mix you buy will provide quick, dense, professional-grade results.
Ideal for new lawns, overseeding and lawn repair
Provides quick, dense, professional-grade results
All-purpose grass seed mix formulated and mixed specifically for the region of the country where it is sold
Performs well in areas that receive 4 to 6 hours of sun daily
Pennington Contractors Grass Seed Mix is guaranteed to grow
See results in 7 to 21 days
This bag covers up to 4,000 sq. ft.
Additional Features
Ingredients
Instructions
Planting Specifications
Product Gross Weight:

20.437 lb

Product Net Weight:

20.000 lb

Product Height:

23.000 in

Product Length:

3.000 in

Product Width:

15.500 in

Insect Resistance:

Medium

Packaging Type:

Bag

Plant Life Cycle:

Mix

Seeding Depth:

1/4 in

Seeding Rate:

New Lawns: 12 lbs / 1,000 sq ft; Overseeding: 5 lbs / 1,000 sq ft
Battery Required:

No

Batteries Included?:

No

Use Instructions:

Prepare the Soil:Bare Spots and New Lawns:Remove all debris from planting area.Till or rake to loosen top 2 to 3 of soil. Rake smooth to create a flat, level planting area.Overseeding and Thin Areas:Mow the lawn as short as possible & remove clippings. Rake thoroughly removing thatch (dead grass) and debris to expose the soil.Aerate lawn if possible to allow better air and water penetration into the soil.Fertilize Planting Area:Apply a starter fertilizer at the manufacturer's recommended rate. Lime may need to be added in some areas to ensure proper soil pH levels.Plant the Seed:Using a drop-type, rotary or hand held spreader, apply the seed evenly to avoid skips, overlapping & streaking. Gently rake, working seed into soil about ¼.Water Seeded Area:Water daily to keep soil moist. Do not allow the top ½ of the soil to become dry until seedlings have completely emerged. Once grass becomes established, reduce watering to ½ twice a week.
Days to Maturity:

7-21 days

Disease Resistance:

Medium

Drought Tolerance:

Medium

Light Requirement:

4-6 Hours of Sun

Mowing Height:

3 in

Shade Tolerance:

Moderate

Sun Tolerance:

High

Traffic Tolerance:

Moderate