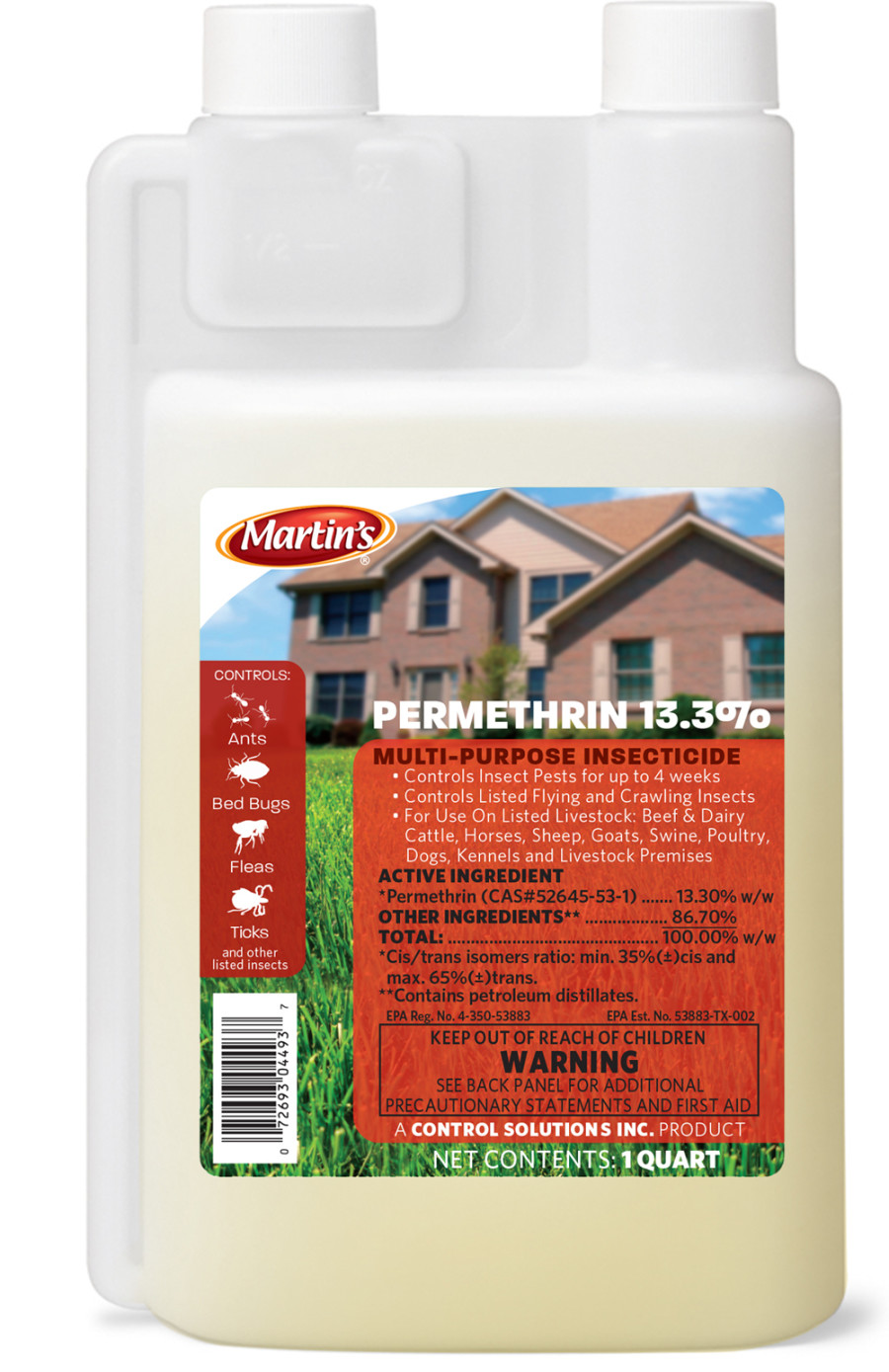 Form:

Liquid Concentrate

Manufacturer:

CONTROL SOLUTIONS INC

Private Label:

No

Size:

32 Ounces

Target Pests:

Ants, Face Flies, Fleas, Flies, Horn Flies, House Flies, Lice, Mites, Mosquitoes, Stable Flies, Ticks

Usage Sites:

Lawn
For use inside and outside. Controls insect pests for up to 4 weeks. Home uses include: pantries, bedding, kitchens, buildings, carpets and clothing. Can be used in handheld foggers or automatic misting systems. Onequart makes up to 48 gallons for contact and residual sprays, and up to 266 gallons for large animal sprays.
Additional Features
Ingredients
Instructions
Safety
Warranty
SDS
Product Gross Weight:

2.000 lb

Product Net Weight:

1.975 lb

Product Height:

9.000 in

Product Length:

5.500 in

Product Width:

2.000 in

Recommended For:

Animal Housing; Barns; Beef; Cattle; Chicken; Cows; Dairy; Dogs; Goats; Horse; Kennels; Lawns; Misting; Pigs; Poultry; Sheep; Stables; Swine; Yards
Application Method:

Spray-On

Use Instructions:

Indoor Pest Control: Spray thoroughly into hiding places such as cracks, crevices, moist areas, openings around pipes and sinks, under refrigerators, baseboards and storage areas. Spray directly on insects where possible.Outdoor Pest Control: Apply as an area spray using an automatic spray system. Refer to the system user manual for specific instructions. Direct nozzles toward target area and away from swimming pools, water bodies, or eating and cooking areas. Set nozzles to deliver a fine mist or fog at a delivery rate not to exceed 1¼ fl. oz. of diluted product per minute, with each nozzle covering 100 sq. ft. (approximately 1,000 cu. ft). This product may only be used in systems calibrated to apply no more than 0.69 fl. oz. of product (diluted 1 part concentrate with 21 parts of water) per 1,000 cu. ft. per day (equivalent to 0.25 grams of permethrin per 1,000 cu. ft. per day).

Storage Instructions:

Store and transport in an upright position. Store in a cool dry area.
Caution:

Keep out of the reach of children

First Aid Measures:

If in Eyes: Hold eye open and rinse slowly and gently with water for 15-20 minutes. Remove contact lenses, if present, after the first 5 minutes, then continue rinsing eye.Call a poison control center or doctor for treatment advice.If on Skin or Clothing: Take off contaminated clothing. Rinse skin immediately with plenty of water for 15-20 minutes. Call a poison control center or doctor for treatment advice.If Inhaled: Move person to fresh air. If person is not breathing, call 911 or an ambulance, then give artificial respiration, preferably by mouth to-mouth, if possible. Call a poison control center or doctor for further treatment advice.If Swallowed: Immediately call a poison control center or doctor. Do not induce vomiting unless told to do so by the poison control center or doctor. Do not give any liquid to the person. Do not give anything by mouth to an unconscious person.

Safety Warnings:

Avoid contact with skin or clothing. Causes substantial but temporary eye irritation. Do not get in eyes. Harmful if swallowed. Avoid breathing vapor. Wash thoroughly after handling.
Warranty Description:

Control Solutions, Inc. warrants that this Product conforms to the chemical description on the label and is reasonably fit for the purposes stated on the label when used in accordance with the directions for use. It is impossible to eliminate all risks inherently associated with the use of this product. Ineffectiveness, or other unintended consequences may result because of such factors as weather conditions, Presence of other Materials, or the Manner of Application, All of which are beyond the Control Of Control Solutions, Inc. In no case shall Control Solutions, Inc. Be Liable for Consequential, Special or Indirect Damages resulting from the use or handling of this Product. All such risks shall be assumed by the buyer.