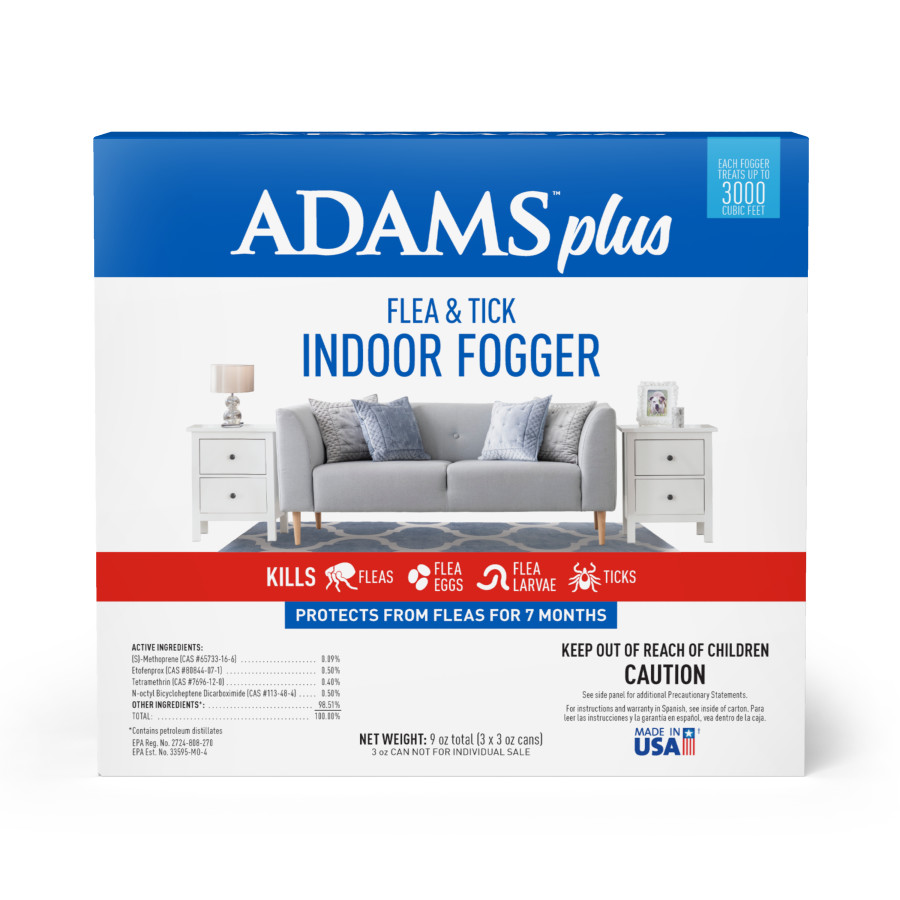 Animal Category:

Dog

Animal Life Stage:

All Life Stages

Form:

Fog

Made in USA?:

Yes

Manufacturer:

Central Garden and Pet

Max Coverage Area:

375

Pet Safe:

Yes

Private Label:

No

Professional:

No

Size:

3 Ounces, 3 Pack

Usage Sites:

Around The Home
Adams Plus Flea & Tick Indoor Fogger kills today's fleas and prevents tomorrow's fleas from growing up to bite. It effectively breaks the flea life cycle and inhibits flea reinfestation for up to 7 months. Kills adult fleas, hatching flea eggs, flea larvae, ticks, cockroaches, ants, spiders, mosquitoes, silverfish, and many other insects. Protects from fleas for 7 months. Non-staining, easy to apply.
Kills fleas, ticks, flea eggs, flea larvae, mosquitoes, ants, spiders, cockroaches, and silverfish
Protects from fleas and prevents reinfestation for up to 7 months
For use in homes, garages, and kennels; reaches fleas hidden in carpets, rugs, drapes, upholstery, pet bedding, and floor cracks
Each 3-oz fogger treats up to 375 square feet per room
Leaves no lingering odor or stains
5% of fleas live on your pet while the remaining 95% live in your home or yard. Adams provides a multi-step product solution to fight pests on every front – Complete your system with our Pet, Home, and Yard products.
Additional Features
Ingredients
Instructions
Warranty
Specifications
Product Gross Weight:

1.134 lb

Product Net Weight:

0.562 lb

Product Height:

5.870 in

Product Length:

6.415 in

Product Width:

2.165 in

Packaging Type:

Can
Ingredients:

S-Methoprene: 0.09%, Etofenprox: 0.50%, Tetramethrin: 0.40%, N-octyl Bicycloheptene Dicarboximide: 0.50%, Other Ingredients*: 98.51%* Contains petroleum distillates
Application Method:

N/A

Battery Required:

No

Batteries Included?:

No

Use Instructions:

SHAKE WELL BEFORE USING. Before activating, tilt sprayer AWAY from face (fogger sprays up). Press down firmly on edge of actuator tab until it locks into place. Do not inhale the spray mist. Set fogger on chair covered with newspapers or paper towels and leave the premises immediately. Vacate the treated house, individual apartment unit, or other structure immediately. KEEP TREATED AREA CLOSED. DO NOT RE-ENTER FOR AT LEAST TWO HOURS. Keeping treated area sealed for a longer period will enhance fogger performance. Use enclosed Door Hang Tag to mark the time when reentry is permitted (at least two hours after the start time).

Storage Instructions:

Do not store near heat or open flame. Store in a cool, dry (preferably locked) area that is inaccessible to children and animals.
Warranty Description:

Satisfaction 100% guaranteed or your money back
Effective Duration:

Up to 3 Months

Occasion:

Flea & Tick Treatment