Premium Seed, 36ea/8.3 lb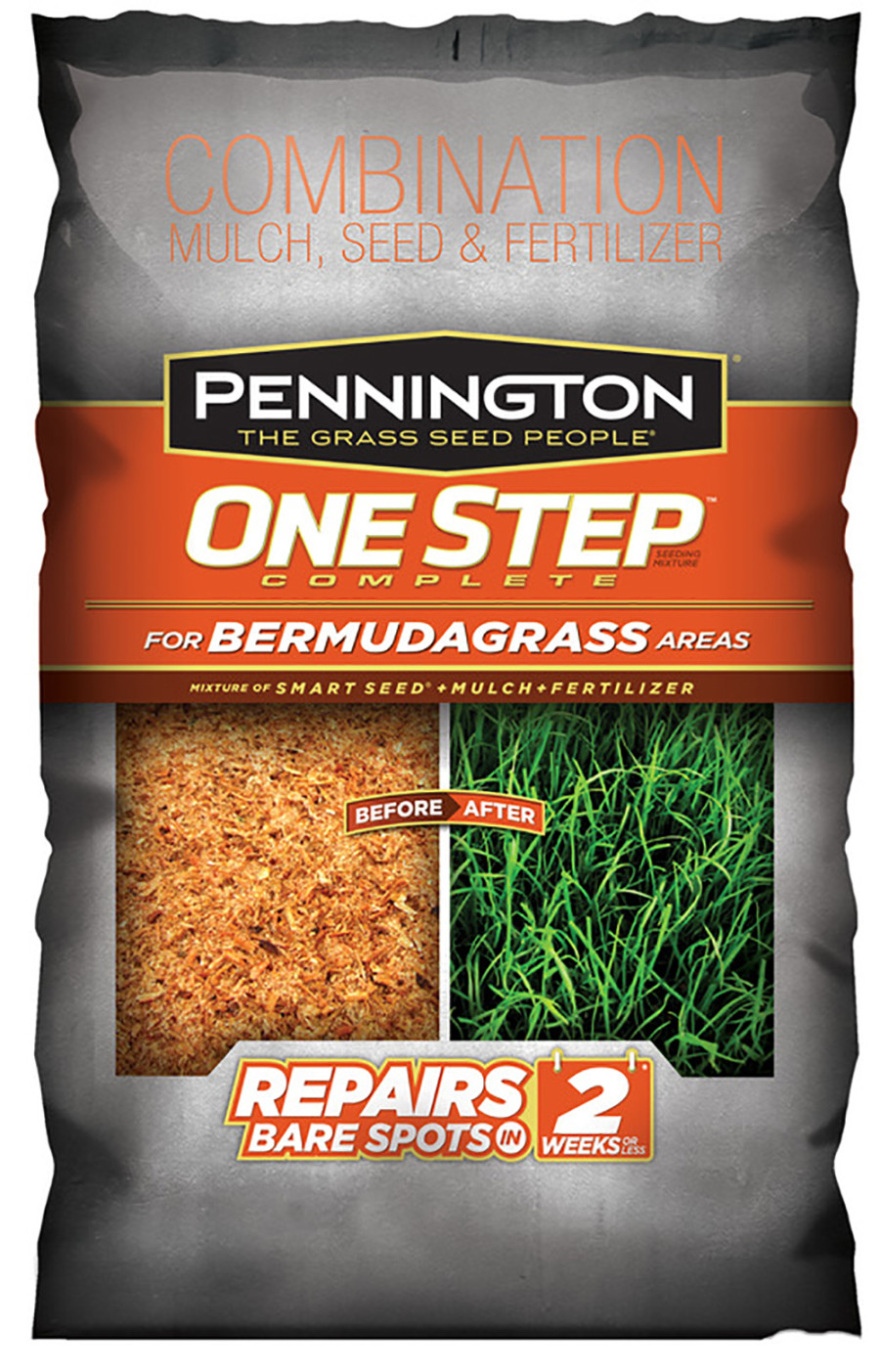 Grass Type:

Bermudagrass

Manufacturer:

Central Garden and Pet

Max Coverage Area:

125

Planting Climate Zones:

10, 11, 12, 2, 3, 5, 8, 9

Planting Region:

South, Southeast, Southwest

Planting Season:

Late Spring, Summer

Private Label:

No

Size:

8.3 Pounds

Style:

Premium Seed
Repair bare spots and thin or pet-damaged areas in your Bermudagrass lawn in just three weeks or less* with Pennington One Step Complete Bermudagrass. This easy-to-use, pre-mixed product provides everything you need for quick and simple lawn repairs. With One Step Complete Bermudagrass, you get premium Bermudagrass seed, professional-grade fertilizer and natural wood mulch in one product. Plus, Pennington's exclusive Penkoted seed technology protects seed from disease and ensures healthier, better seedling growth.
Repairs bare spots in three weeks or less
Combination wood mulch, premium Pennington grass seed and fertilizer
Grows beautiful, healthy, thick grass
If the bare spot was caused by dog urine, be sure to water thoroughly prior to planting. Flushing the area will dilute the concentrated salts and help the seed fully establish.
GUARANTEED TO GROW
Additional Features
Ingredients
Instructions
Planting Specifications
Product Gross Weight:

8.485 lb

Product Net Weight:

8.300 lb

Product Height:

14.000 in

Product Length:

3.500 in

Product Width:

9.500 in

Insect Resistance:

High

Seeding Depth:

No more than 1/8 in

Seeding Rate:

New Lawns: 1 lb/20 sq ftOverseeding: Extended Results (up to 25% damage): 1 lb/15 sq ft

Recommended For:

Bermudagrass
Ingredients:

Fertilizer; Mulch; Grass Seed
Battery Required:

No

Batteries Included?:

No

Use Instructions:

Prepare:Remove debris, then rake the soil to loosen and smooth the top layer.Apply:For optimal results: Spread seeding mix approximately 1 cup/sq.ft. everywhere healthy beautiful grass is desired.For extended results for grass up to 25% damage: Spread seeding mix approximately 1 cup/15 sq.ft. everywhere healthy beautiful grass is desired.Water:Keep the soil moist by watering daily (twice a day, if needed) until grass sprouts and reaches about 3" tall. The wood mulch turns a darker color when properly watered. Once it turns a lighter color, it's time to water again.
Days to Maturity:

7-21 days

Disease Resistance:

High

Drought Tolerance:

High

Light Requirement:

Full Sun (8+ hrs of daily sun)

Mowing Height:

1 in - 1 1/2 in

Shade Tolerance:

Low

Sun Tolerance:

High

Traffic Tolerance:

Excellent