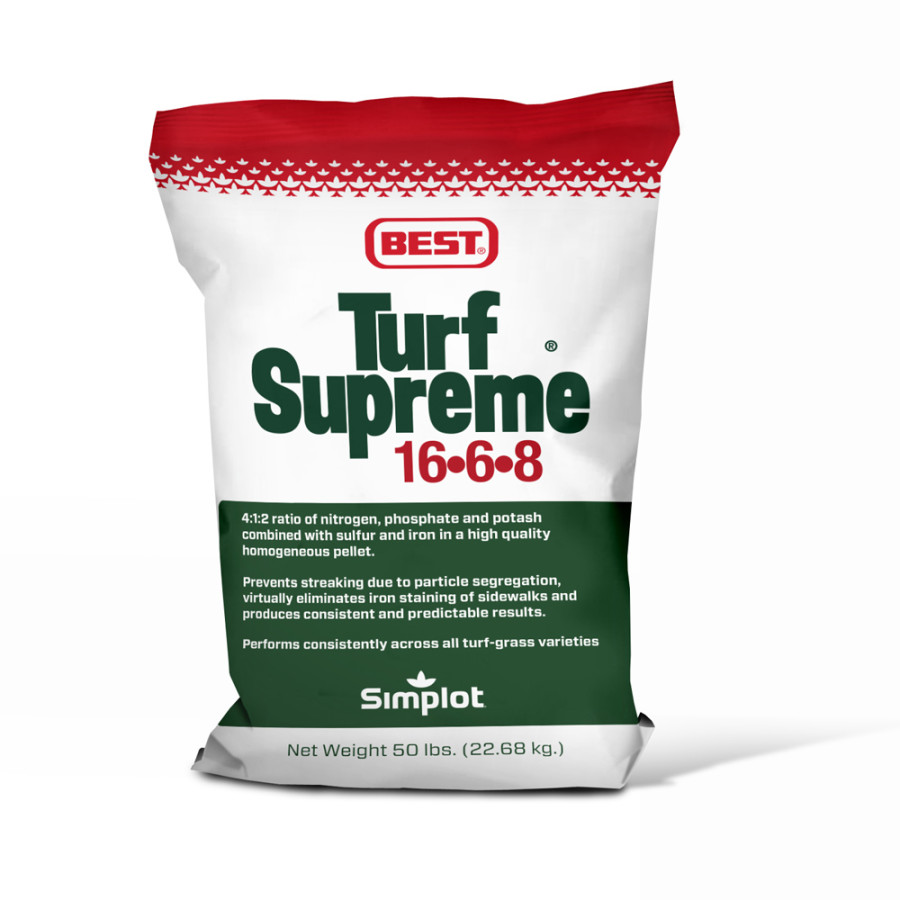 Form:

Granules

Made in USA?:

Yes

Manufacturer:

JR SIMPLOT COMPANY

Max Coverage Area:

8000

Private Label:

No

Size:

50 Pounds

Style:

Fertilizer
The ultimate dust-free, homogeneous pellet. Balanced as recommended by leading research authorities to an approximate 4:1:2 ratio plus 1.5% iron, 0.2% manganese and 16% sulfur. It's the professionals' choice for use on golf courses, landscaping, schools, parks, athletic fields, cemeteries and other green belt areas.
Additional Features
Ingredients
Instructions
Safety
Warranty
SDS
Product Gross Weight:

51.500 lb

Product Net Weight:

50.000 lb

Product Height:

22.000 in

Product Length:

4.000 in

Product Width:

15.000 in

Packaging Type:

Bag

Recommended For:

Turf
Ingredients:

Ammonium Sulfate; Iron Oxysulfate; Manganese Oxysulfate; Monoammonium Phosphate; Muriate of Potash

Nitrogen (N) Content:

16

Phosphorus (P) Content:

6

Potassium (K) Content:

8

Iron (Fe) Content:

1.5
Application Method:

Sprinkle

Battery Required:

No

Batteries Included?:

No

Use Instructions:

Preplant: Broadcast 7½ lbs. per 1,000 sq. ft. (325 lbs. per acre).Groundcover: Broadcast 3 lbs. per 500 sq. ft. (20' x 25') of planting area.Shrubs & Evergreens: Sprinkle ¼ cup evenly around dripline of plant and work into top 1 inch of soil.Trees: Apply ½ lb. per 1 inch of trunk diameter. Distribute evenly under branches out to dripline.

Storage Instructions:

Store in a well-ventilated place. Keep container tightly closed.
Caution:

Keep out of the reach of children

First Aid Measures:

If in Eyes: Rinse immediately with plenty of water. Obtain medical attention if pain, blinking or redness persist. If inhaled: Allow breathing of fresh air. Allow the victim to rest.If on Skin: Remove affected clothing and wash all exposed skin area with mild soap and water, followed by warm water rinse. If Ingested: Rinse mouth. Do not induce vomiting. Obtain emergency medical attention.

Safety Warnings:

Causes eye irritation. Avoid breathing dust. Wash thoroughly after handling. Use only outdoors or in a well-ventilated area.
Warranty Description:

Seller warrants that the composition of this product conforms to the description given on this label. This warranty is expressly in lieu of all other warranties and representations expressed, implied, or statutory, including warranties of merchantability and fitness for a particular use. Timing, rate and method of application, weather and crop conditions, mixtures not specifically recommended on this label or an accompanying written recommendation, are beyond the control of the seller. Buyer assumes all risks of use, storage and handling of this material not in strict accordance with directions given herewith. Buyer further agrees in the event of damages arising from the use of this product to accept a replacement of the product or a refund of the purchase price of the product, at buyer's option, as full discharge of seller's liability. No one is authorized to make any other warranty, guarantee or directions concerning this product, and no such warranties, guarantees or directions shall be valid or binding upon seller.