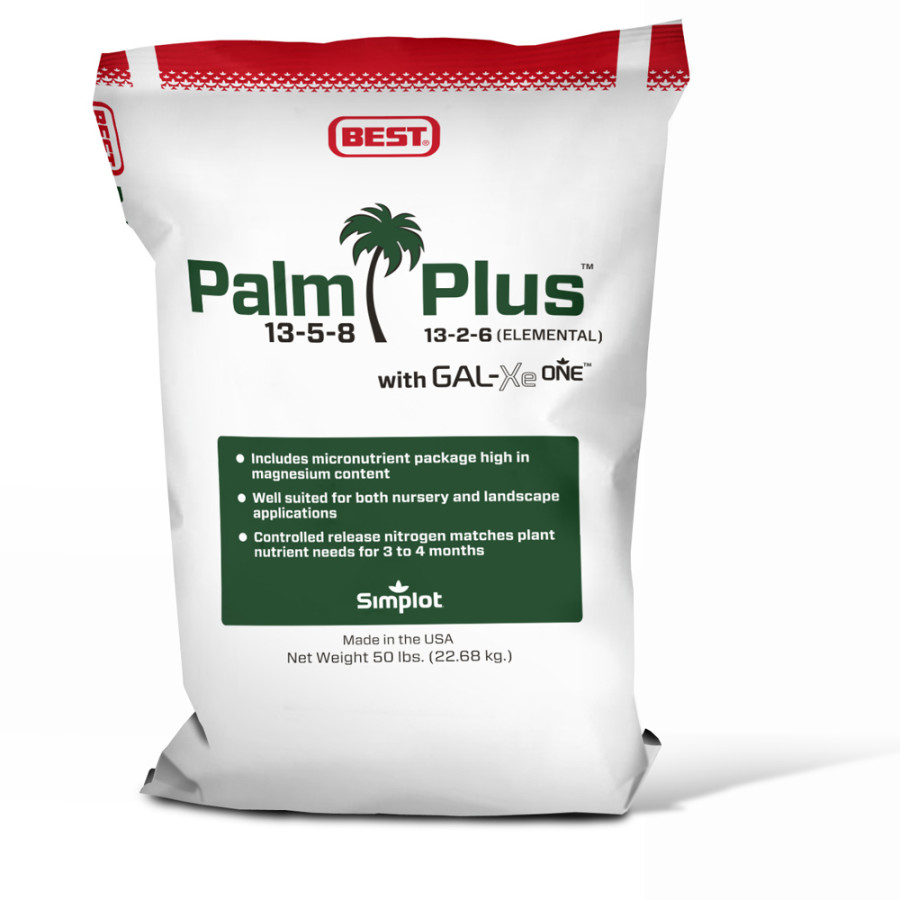 Form:

Powder

Hydroponic Use:

No

Made in USA?:

Yes

Manufacturer:

JR SIMPLOT COMPANY

Natural:

No

Organic:

No

Private Label:

No

Size:

50 Pounds

Usage Sites:

Landscape
A professional, high quality 3-4- month controlled release fertilizer containing GAL-XeONE™. Palm Plus, although equally effective on other plants, was specifically formulated for use on palms in nurseries and landscaped areas.
Additional Features
Ingredients
Instructions
Safety
Warranty
SDS
Product Gross Weight:

51.500 lb

Product Net Weight:

50.000 lb

Product Height:

21.000 in

Product Length:

4.000 in

Product Width:

15.000 in

Packaging Type:

Bag

Recommended For:

Nursery and Landscaped areas
Active Ingredients:

Total Nitogen (N) 13.00% (Ammoniacal Nitrogen 4.80%, Urea Nitrogen 8.20%); Available Phosphate (P2O5) 5.00%; Soluable Potash (K2 O) 8.00%; Calcium (Ca) 4.50%; Magnesium (Mg) 2.80%; Sulfur (S) 7.00%; Copper (Cu) 0.05%; Iron (Fe) 1.50%; Manganee (Mn) 2.30%; Molybdenum (Mo)0.001%; Zinc (Zn) 0.05%

Nitrogen (N) Content:

13

Phosphorus (P) Content:

5

Potassium (K) Content:

8
Application Season:

All-Season

Use Instructions:

Use low rate for low feeding, sensitive plants or under high soil temperatures. Use medium rate for medium to moderately heavy feeding plants. Use high rate for heavy feeding plants.

Storage Instructions:

Keep only in the original container in a cool, well ventilated place.
Caution:

Keep out of the reach of children

First Aid Measures:

If in Eyes: Rinse cautiously with water for several minutes. Remove contact lenses, if present and easy to do. Continue rinsing. If eye irritation persists get medical attention.

Safety Warnings:

Wash hands, forearms and face thoroughly after handling.
Warranty Description:

J.R. Simplot Company warrants that the composition of this product conforms to the description and is reasonably fit for the purpose as stated on the label only when used in accordance with label directions under normal conditions of use. This warranty is expressly in lieu of all other warranties and representations expressed, implied, or statutory, including warranties of merchantability and fitness for a particular use. Timing, rate and method of application, weather and crop conditions, and mixtures not specifically recommended on this label or an accompanying written recommendation, are beyond the control of the seller. Buyer assumes all risks of use, storage and handling of this material not in strict accordance with directions given herewith. Buyer further agrees in the event of damages resulting from, but not limited to, weather or soil conditions, presence of other materials, or failure to follow label directions will be assumed by the Buyer or User; and to accept a replacement of the product or a refund of the purchase price of the product, at buyer's option, as full discharge of seller's liability. No one is authorized to make any other warranty, guarantee or directions concerning this product, and no such warranties, guarantees or directions shall be valid or binding upon seller.