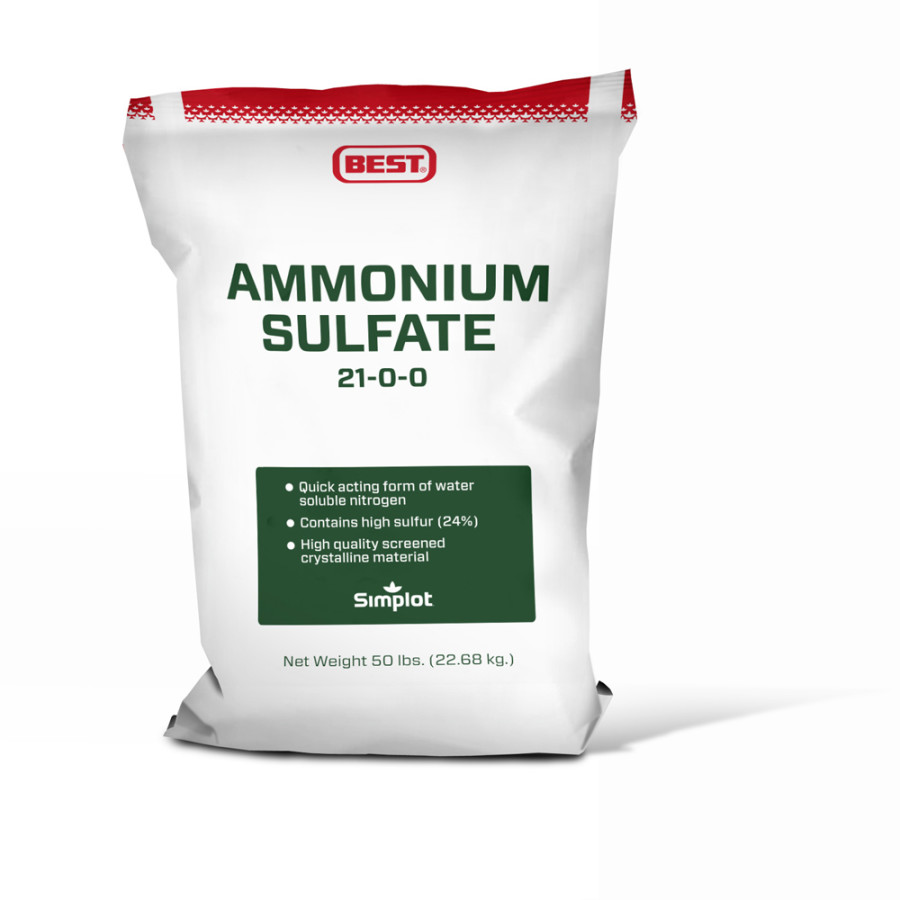 Form:

Powder

Hydroponic Use:

No

Made in USA?:

Yes

Manufacturer:

JR SIMPLOT COMPANY

Max Coverage Area:

10400

Natural:

No

Organic:

No

Private Label:

No

Size:

50 Pounds

Style:

21-0-0

Usage Sites:

Ground Covers, Shrubs, Trees
As its name, and chemical formula denote, Simplot's Ammonium Sulfate, is a two-in-one fertilizer. Its crystal form, and 21-0-0 analysis, are one of agriculture's oldest solid forms of fertilizer.
Additional Features
Ingredients
Instructions
Safety
Warranty
SDS
Product Gross Weight:

51.300 lb

Product Net Weight:

50.000 lb

Product Height:

20.000 in

Product Length:

4.000 in

Product Width:

14.000 in

Environment:

Outdoor

Packaging Type:

Bag

Recommended For:

Evergreens; Ground Covers; Shrubs; Trees
Ingredients:

Ammonium Sulfate

Active Ingredients:

Total Nitrogen(N) 21%; Sulfur(S) 24%

Nitrogen (N) Content:

21

Phosphorus (P) Content:

0

Potassium (K) Content:

0
Application Method:

Sprinkle

Use Instructions:

Groundcover: Broadcast at 5 lbs. per 1,000 sq. ft. (½ lb. per 100 sq. ft.).Shrubs & Evergreens: Sprinkle ¼ cup evenly around dripline of plant and work into top 1 inch of soil.Trees: Apply ½ lb. per 1 inch of trunk diameter. Distribute evenly under branches out to dripline.

Storage Instructions:

Store in a cool area
First Aid Measures:

If in Eyes: Rinse immediately with plenty of water. Obtain medical attention if pain, blinking or redness persist.If on Skin: Remove affected clothing and wash all exposed skin area with mild soap and water, followed by warm water rinse.If Inhaled: Allow breathing of fresh air. Allow the victim to rest.If Ingested: Rinse mouth. Do not induce vomiting. Obtain emergency medical attention.

Safety Warnings:

Wash hands and other exposed areas with mild soap and water before eating, drinking or smoking and when leaving work. Provide good ventilation in process area to prevent formation of vapour.
Warranty Description:

J.R. Simplot Company warrants that the composition of this product conforms to the description and is reasonably fit for the purpose as stated on the label only whenused in accordance with label directions under normal conditions of use. This warranty is expressly in lieu of all other warranties and representations expressed, implied, or statutory, including warranties of merchantability and fitness for a particular use. Timing, rate and method of application, weather and crop conditions, and mixtures not specifically recommended on this label or an accompanying written recommendation, are beyond the control of the seller. Buyer assumes all risks of use, storage and handling of this material not in strict accordance with directions given herewith. Buyer further agrees in the event of damages resulting from, but not limited to, weather or soil conditions, presence of other materials, or failure to follow label directions will be assumed by the Buyer or User; and to accept a replacement of the product or a refund of the purchase price of the product, at buyer's option, as full discharge of seller's liability. No one is authorized to make any other warranty, guarantee or directions concerning this product, and no such warranties, guarantees or directions shall be valid or binding upon seller.