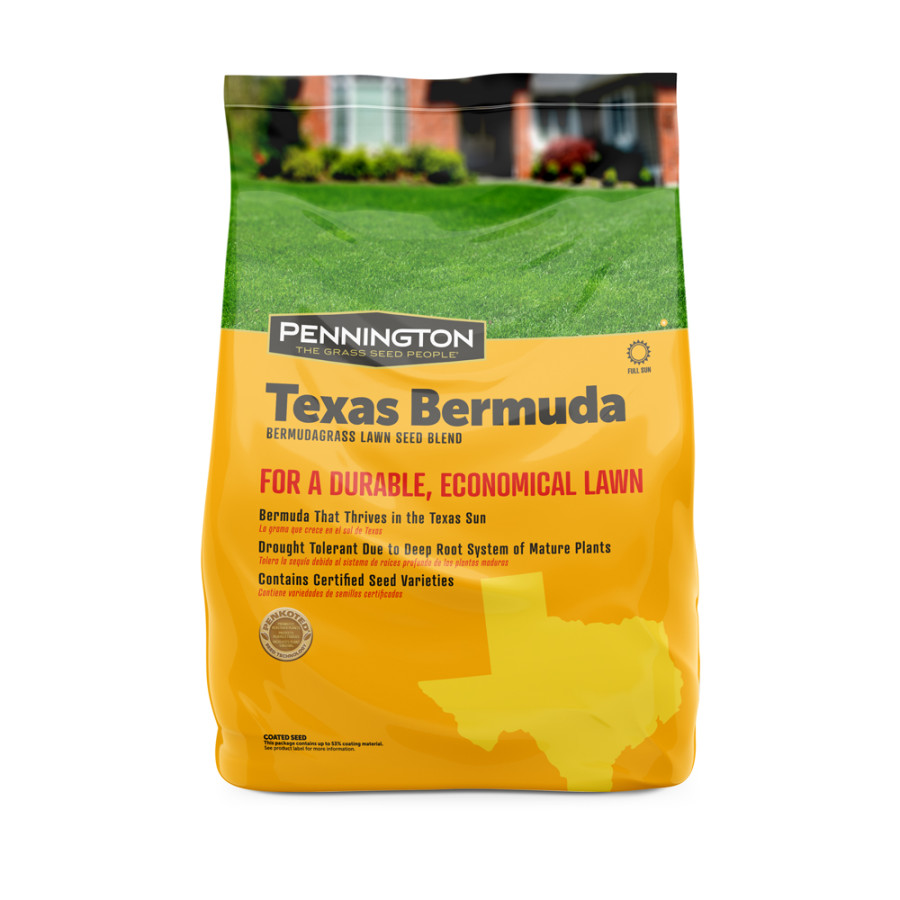 Grass Type:

Bermudagrass

Manufacturer:

Central Garden and Pet

Max Coverage Area:

10000

Planting Climate Zones:

11, 5, 8, 9

Planting Season:

Early Fall, Early Spring

Private Label:

No

Size:

10 Pounds
Ideal for sunny, Texas lawns. Drought-tolerant, low growing grass seed.
Additional Features
Ingredients
Instructions
Planting Specifications
Product Gross Weight:

10.198 lb

Product Net Weight:

10.0 lb

Product Height:

16.0 in

Product Length:

3.55 in

Product Width:

7.5 in

Insect Resistance:

Medium

Seeding Depth:

No more than 1/4 in

Seeding Rate:

New Lawns: 1 lb/100 sq ft
Ingredients:

Bermudagrass
Use Instructions:

Improving Bare Spots Mow your lawn closely, then remove leaves, dead grass, etc. Rake, harrow lightly or aerate the bare spots to prepare the seedbed. Conduct a soil test to be sure the soil has the proper balance of nutrients. Fertilize and lime if needed. Sow the seed and gently rake to cover. Keep the area well-watered until the seeds germinate and the seedlings have grown sufficiently to cover bare spots, then water as needed. Care & Maintenance Fertilize in the fall and early spring with a balanced fertilizer. Once the lawn is established, apply pre-emerge crabgrass preventer in early spring and weed and feed in midspring. Use lime when pH is low. Water twice weekly when established.
Days to Maturity:

7-21 days

Disease Resistance:

High

Drought Tolerance:

Medium

Light Requirement:

Full Sun to Medium Shade (4-8 hrs sun)

Mowing Height:

2 in - 3 in

Shade Tolerance:

Moderate

Sun Tolerance:

Moderate

Traffic Tolerance:

Excellent