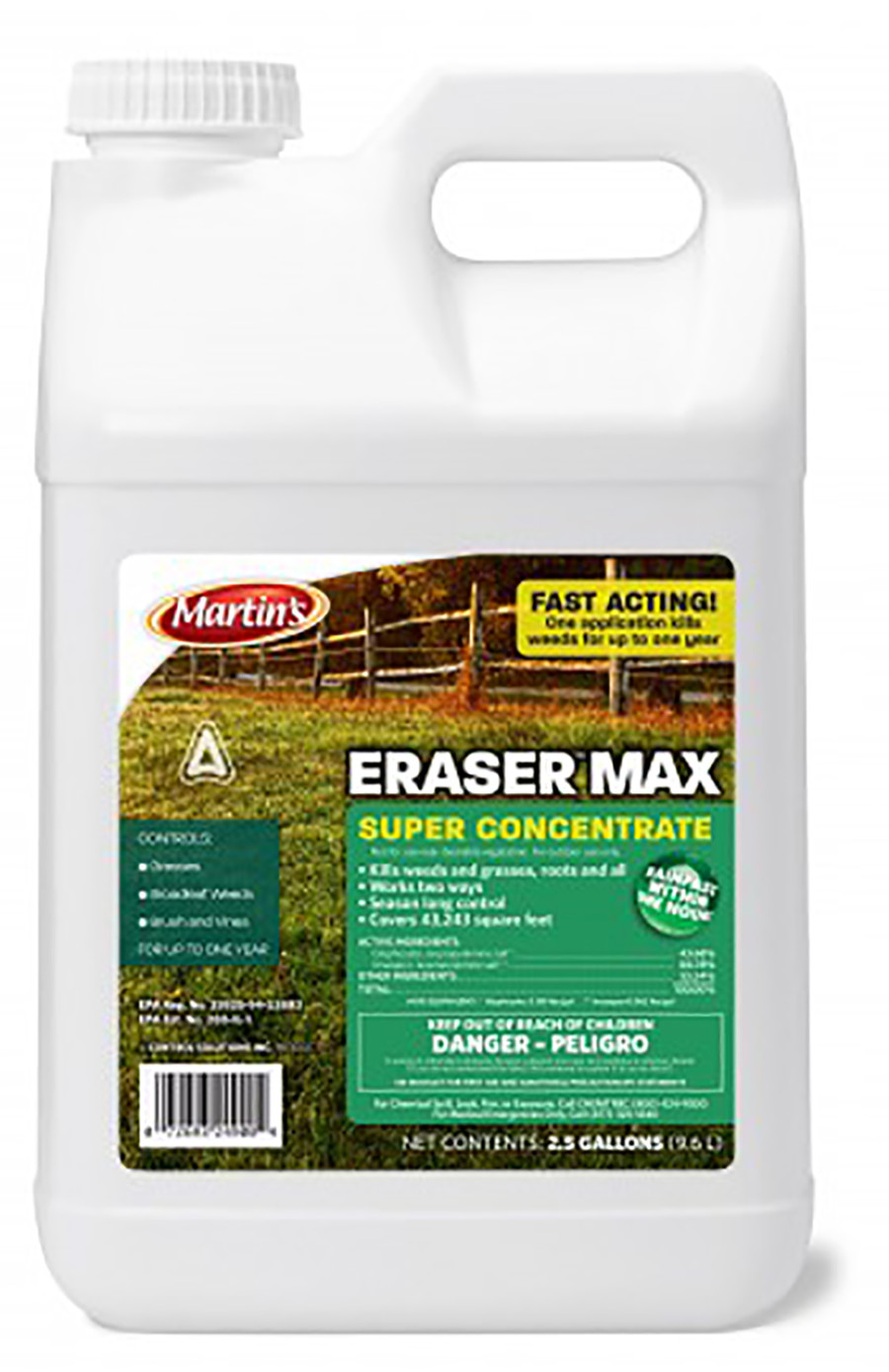 Form:

Liquid Concentrate

Grass Type:

Bahiagrass, Bermudagrass, Perennial Ryegrass

Manufacturer:

CONTROL SOLUTIONS INC

Pet Safe:

No

Private Label:

No

Size:

2.5 Gallons

Weed Type:

Alfalfa, Alligatorweed, Anise (Fennel), Annual, Artichoke, Bassia, Bindweed, Blueweed, Bracken Fern, Bursage, Canada, Clover, Common, Curly, Dandelion, Dock, Dogbane, Fiddleneck, Field, Fivehook, Fleabane, Giant, Hairy, Hemp, Horsenettle, Horseradish, Ice Plant, Jerusalem, KnapWeed, Kochia, Lantana, Leafy, Lespedeza, Lettuce, Milkweed, Mullein, Nightshade, Pennsylvania, Poison Hemlock, Prickly, Ragweed, Red, Russian, Silverleaf, Smartweed, Sowthistle, Spurge, Starthistle, Sunflower, Swamp, Texas, Thistle, Velvetleaf, White, woollyleaf, Yellow
Eraser Max is ideal for fence rows, gravel paths, sidewalks, driveways, parking areas and around farm buildings and barns. One application kills weeds for up to one year. The concentrated formula of glyphosate and imazapyr is effective against most weeds, grasses, vines, brush and trees. For use on non-crop areas as a spot treatment for brush, vines and weeds or on bare ground for total vegetation control. One gallon treats 17,297 square feet.
Additional Features
Product Label
Ingredients
Instructions
Safety
SDS
Product Gross Weight:

25.25 lb

Product Net Weight:

25.0 lb

Product Height:

13.75 in

Product Length:

8.5 in

Product Width:

10.0 in

Packaging Type:

Can

Recommended For:

Bahiagrass; Bentgrass; Bermudagrass; Bluegrass, Kentucky Poa spp; Bromegrass; Canarygrass; Cattail; Cogongrass; Dallisgrass; Fescue Grass; Fescue, tall; Guineagrass; Johnsongrass; Kikuyugrass; Knotgrass; Napier grass; Orchardgrass; Pampas grass; Para grass; Quackgrass; Perennial Ryegrass; Torpedograss; Vaseygrass; Velvetgrass; Wheat grass
Ingredients:

Glyphosate; Imazapyr

Active Ingredients:

Imazapyr, isopropylamine salt; Glyphosate, isopropylamine salt
Primary Usage:

Kills Grass, Roots, Weed

Application Method:

Spray

Use Instructions:

Use hand operated spray equipment such as backpack sprayers, pump-up sprayers or sprinkling cans, or ATV/Tractor mounted sprayers. Mix 6 oz. of product per 1 gallon of spray solution. Thoroughly and uniformly spray foliage of woody plants to wet. For optimum performance: Apply to actively growing brush, vines and weeds. Woody brush and vines are controlled better in late summer and fall after fruit formation. If woody vines and brush are mowed or cut, wait until full leaf formation before treatment. Do not cut or mow brush, vines or perennial weeds for 2 months following treatment.

Storage Instructions:

Store product in original container in a safe place and protect from freezing
First Aid Measures:

If in Eyes: Hold eye open and rinse slowly and gently with water for 15 to 20 minutes. Remove contact lenses, if present, after the first 5 minutes, then continue rinsing eye. Call a poison control center or doctor for treatment adviceIf Swallowed: Call a poison control center or doctor immediately for treatment advice. Have person sip a glass of water if able to swallow. Do not induce vomiting unless told to by a poison control center or doctor. Do not give anything to an unconscious person.

Safety Warnings:

Harmful if swallowed. Causes irreversible eye damage. Do not get in eyes or on clothing. Wash hands with plenty of soap and water before eating, drinking, chewing gum, using tobacco, or using the toilet. Remove clothing/PPE immediately if pesticide gets inside. Then wash thoroughly and put on clean clothing. Remove PPE immediately after handling this product. Wash the outside of gloves before removing. As soon as possible, wash thoroughly and change into clean clothing.