Blacksmith Bioscience Nitryx Nitrogen Fixing Bacteria 12ea/16 oz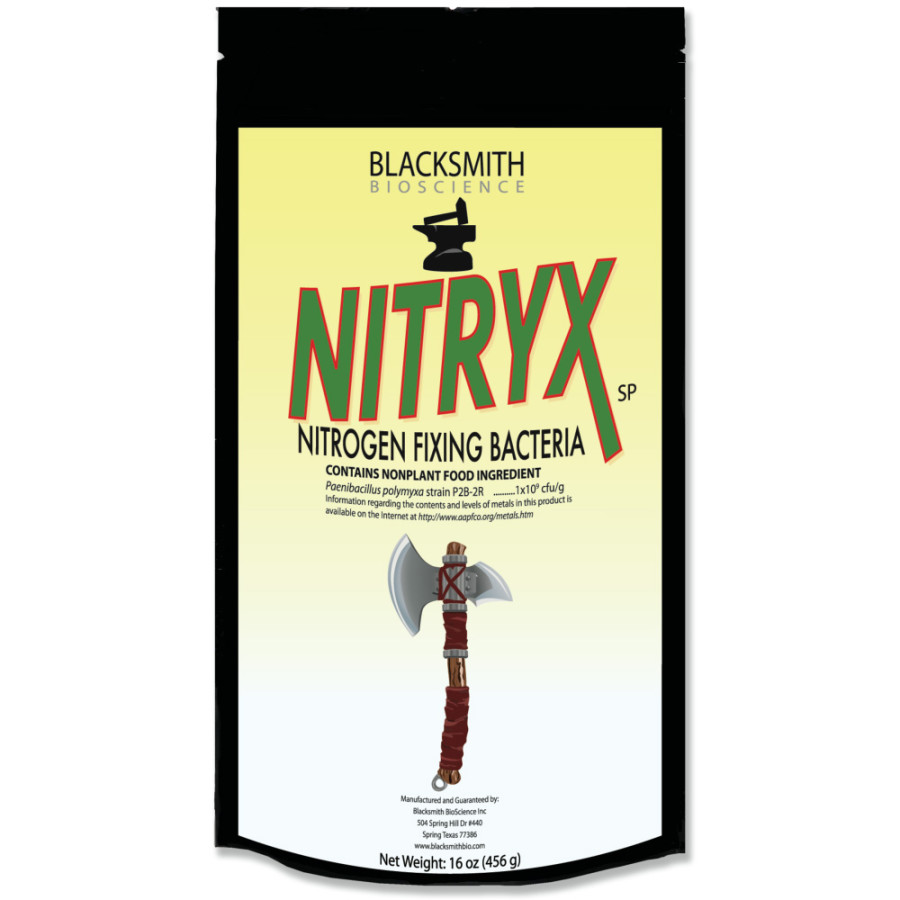 Form:

Powder

Hydroponic Use:

Yes

Manufacturer:

BLACKSMITH BIOSCIENCE

Natural:

No

Organic:

No

Private Label:

No

Size:

16 Ounces

Usage Sites:

Fruit Trees, Trees, Vegetable Garden
A beneficial bacteria that helps the plant produce its own nitrogen.
Additional Features
Ingredients
Instructions
Safety
Warranty
SDS
Product Gross Weight:

1.125 lb

Product Net Weight:

1.000 lb

Product Height:

11.000 in

Product Length:

1.500 in

Product Width:

6.000 in

Packaging Type:

Bag

Recommended For:

Fruit; Nuts; Plants; Trees; Vegetables
Ingredients:

Paenibacillus Polymyxa P2B-2R
Application Method:

Spray

Battery Required:

No

Batteries Included?:

No

Use Instructions:

For Residential Use or Smaller Quantities.Foliar Spray and Soil Drench: Use 1-2 teaspoons of product per gallon of water as general dilution. Apply as a foliar spray or soil drench applications.Reservoir Application: Use ½-2 teaspoons per gallon of reservoir. Reapply each time reservoir water is changed.
Caution:

Keep out of the reach of children

First Aid Measures:

If in Eyes: Rinse cautiously with water for several minutes. Remove contact lenses, if present and easy to do. Continue rinsing.If on Skin or Clothing: In case of contact with substance, immediately flush skin with running water for at least 20 minutes. Wash skin with soap and water. Take off contaminated clothing and was before reuse.If Inhaled: Move victim to fresh air. Administer oxygen if breathing is difficult. Give artificial respiration if victim is not breathing.If Ingested: Do not induce vomiting. If person is drowsy or unconscious and vomiting, place on the left side with head down. Seek medical attention.

Safety Warnings:

Avoid contact with skin, eyes or clothing. Avoid breathing vapors or spray mist. Causes moderate eye irritation. Harmful if swallowed or inhaled. Wash thoroughly with soap and water after handling and before eating, drinking, chewing gum or using tobacco. Remove contaminated clothing and wash clothing before reuse.
Warranty Description:

Manufacture warrants that this product is suited for the labeled use when applied according to label directions. Manufacturer makes no warranty of merchantability. There are no warranties that extend beyond the description on the face hereof and in no event shall manufacturer be liable for any consequential damages.