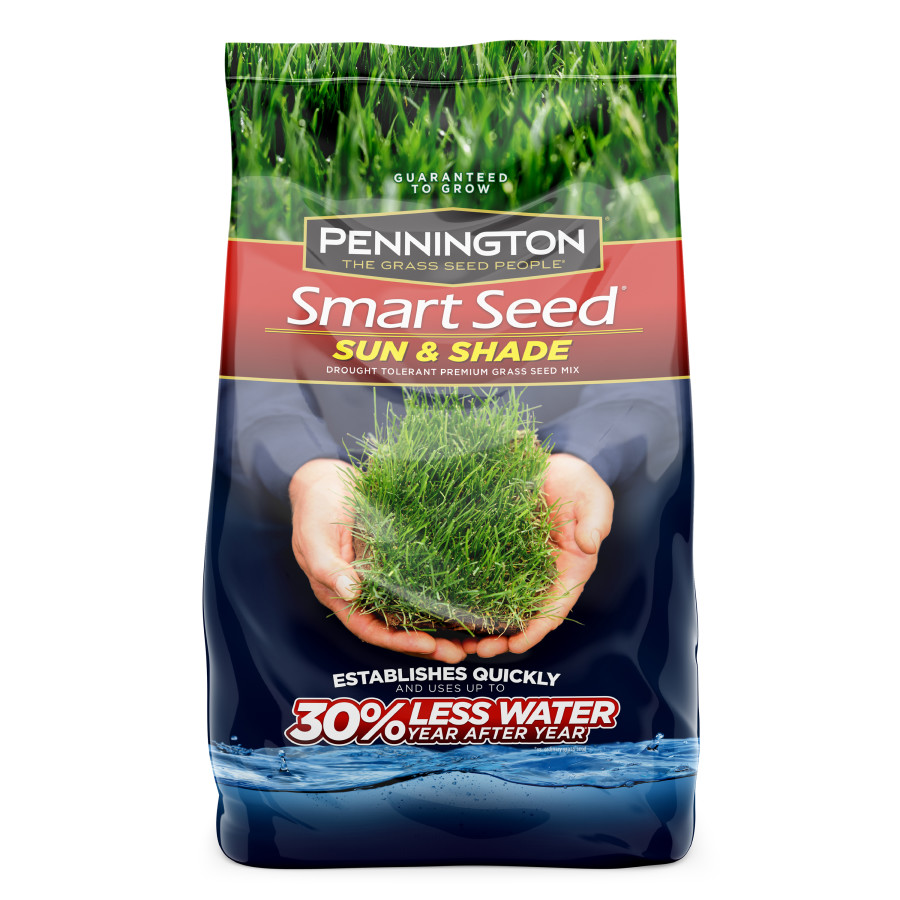 Grass Type:

Sun & Shade

Manufacturer:

Central Garden and Pet

Max Coverage Area:

1000

Planting Climate Zones:

1, 10, 11, 12, 2, 3, 4, 5, 6, 7, 8, 9

Planting Region:

Midwest, Northeast, Northwest, Pacific Northwest, Southeast, Southwest

Planting Season:

Early Spring, Fall

Private Label:

No

Professional:

Yes

Size:

3 Pounds
Ideal for sunny to moderately shady areas. Smart Seed will use 30% less water year after year. Covers up to 1,000 sq. ft. with 7-14 day seed germination.
Provides the most versatile lawn in sunny to moderately shady areas
Produces a thick, fine bladed, dark blue green lawn
Very good drought tolerance
Good disease and insect resistance
Contains improved seed varieties that thrive in sun and shade
Seed mix changes for different regions of the country, providing a grass seed specifically formulated for the different climatic zones
Contains Pennington's exclusive Penkoted technology
Additional Features
Ingredients
Instructions
Planting Specifications
Product Gross Weight:

3.142 lb

Product Net Weight:

3.0 lb

Product Height:

11.0 in

Product Length:

3.0 in

Product Width:

7.5 in

Insect Resistance:

Medium

Packaging Type:

Bag

Plant Life Cycle:

Perennial

Seeding Depth:

No more than ¼"

Seeding Rate:

New Lawns: 6 lbs/1,000 sq ft; Overseeding: 3 lbs/1,000 sq ft
Use Instructions:

BARE SPOTS/NEW GRASS: Remove debris, then rake the soil to loosen and smooth the top layer. OVERSEEDING/THIN AREAS: Same instructions as above but start by mowing existing grass as short as possible. APPLY: Spread the seed evenly using a drop, rotary or hand-held spreader according to the settings below. Lay down a starter fertilizer to help the seedlings grow healthy and strong. Rake gently to work your seed & fertilizer into the soil. WATER: Keep the soil moist! Water daily (twice a day if you have to) until grass sprouts and reaches about 3" tall. After establishment, Smart Seed premium grade grass seed will require up to 30% less water year after year vs. ordinary seed.
Days to Maturity:

7-14 days

Disease Resistance:

High

Drought Tolerance:

High

Light Requirement:

Full sun to med shade (4-8 hrs of sun)

Mowing Height:

3"

Shade Tolerance:

Good

Sun Tolerance:

Moderate

Traffic Tolerance:

Good