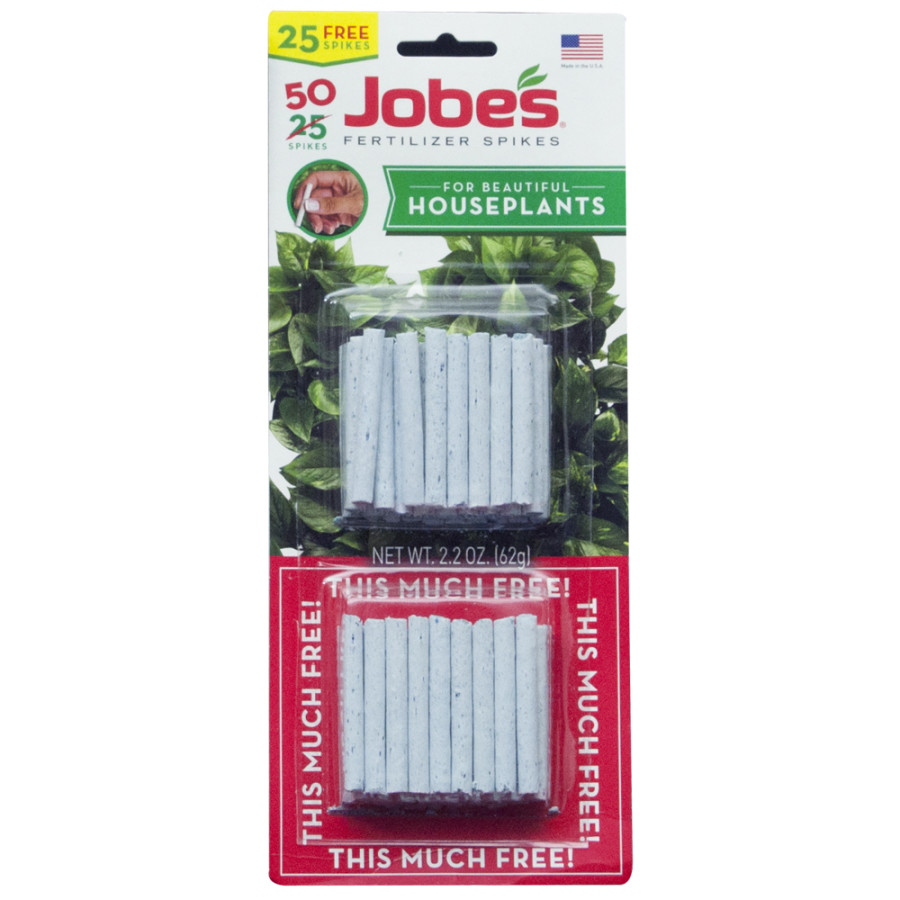 Form:

Spikes

Manufacturer:

EASY GARDENER PRODUCTS INC

Private Label:

No

Size:

50 Pack
Jobe's Fertilizer Spikes are specially designed to feed all varieties of houseplants where they need it most, at the roots. Unlike other types of fertilizers, Jobe's spikes are pre-measured, giving your plants just the right dosage of nutrients so you won't overfeed or burn them. And, by feeding underground, away from the soil surface, Jobe's slow release formula prevents waste and chemical runoff.
Additional Features
Product Label
Ingredients
Instructions
Safety
SDS
Product Gross Weight:

0.220 lb

Product Net Weight:

0.220 lb

Product Height:

9.750 in

Product Length:

0.825 in

Product Width:

4.130 in

Recommended For:

Philodendrons; Peace Lilies; Zebra Plants; Dieffenbachia; Houseplants
Ingredients:

Nitrogen; Phosphorous; Potassium

Nitrogen (N) Content:

13

Phosphorus (P) Content:

4

Potassium (K) Content:

5
Application Method:

Insert

Application Season:

All-Season

Storage Instructions:

Store in a cool, dry, well ventilated environment. Keep container closed when not in use
Caution:

Keep out of the reach of children and pets

First Aid Measures:

If in Eyes: Flush eyes thoroughly with clean water or eye wash solution.Remove contact lenses and continue flushing.If on Skin: Wash with soap and water following skin contact.If Inhaled: Move the exposed individual to fresh air.If Ingested: Rinse mouth immediately and drink plenty of water. Never give anything bymouth to an unconscious person.

Safety Warnings:

Avoid contact with skin and eyes. Do not ingest.