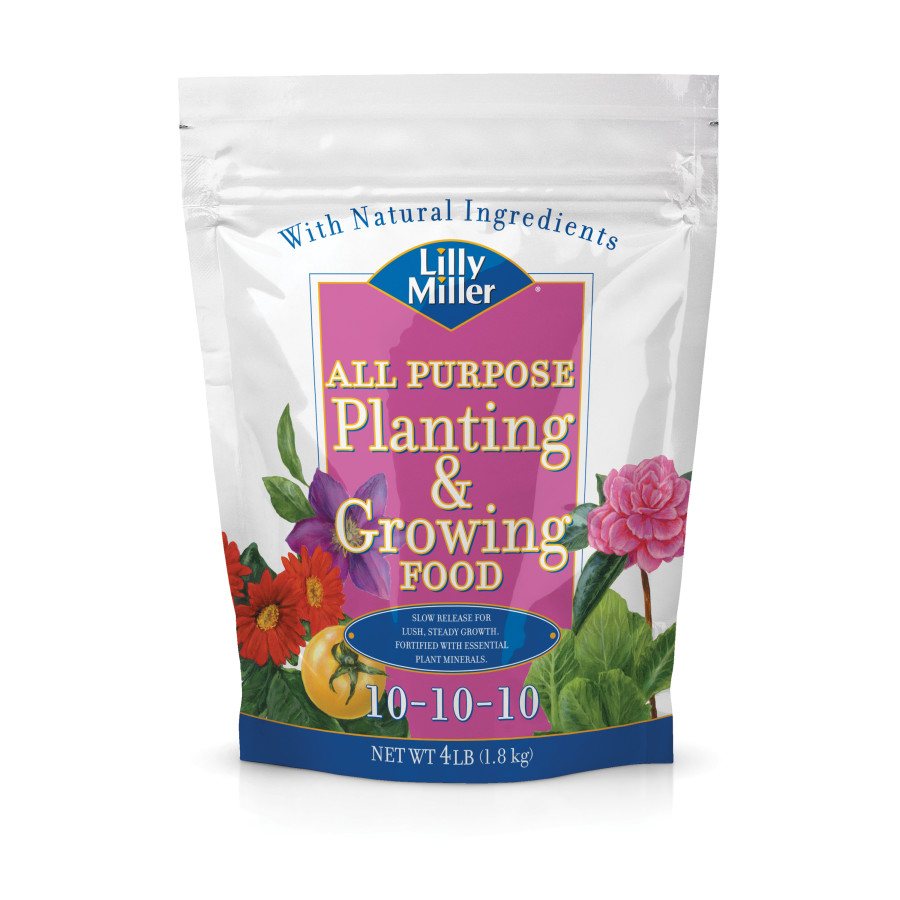 Form:

Granules

Manufacturer:

Central Garden and Pet

Private Label:

No

Professional:

No

Size:

4 Pounds

Usage Sites:

Flower Garden, Shrubs, Vegetable Garden
We've blended natural ingredients with traditional plant foods to produce a unique fertilizer that provides nitrogen from 4 different sources. We've added a mix of nutrients that are available to plants quickly to help get them off to a great start, Other ingredients last longer to keep feeding your garden for up to six weeks. Lilly Miller All Purpose Planting & Growing Food makes it easy to give your plants the right combination of nutrients to grow lush foliage, colorful blooms and delicious vegetables.
Additional Features
Ingredients
Instructions
Safety
SDS
Product Gross Weight:

4.105 lb

Product Net Weight:

4.000 lb

Product Height:

12.000 in

Product Length:

1.500 in

Product Width:

9.000 in

Packaging Type:

Bag
Ingredients:

See label.

Nitrogen (N) Content:

10

Phosphorus (P) Content:

10

Potassium (K) Content:

10
Use Instructions:

Use at time planting and every 6 weeks throughout the growing season. It is ready to use and does not need to be mixed with water. After putting fertilizer down, mix it lightly into the surface of the soil, where possible. Be careful not to damage roots. Always water plants and soil after adding fertilizer.

Storage Instructions:

Store in a cool/low-temperature, well-ventilated dry place away from heat and ignition sources. Keep out of reach of children. Keep container tightly closed. Store covered away from exposure to rain and snow. Avoid humid, wet or moist conditions. Keep away from incompatible materials such as reducing agents. Do not blend or store in contact with ammonium nitrate.
Caution:

Keep out of reach of children and pets. Consumption of this product may make animals sick. To minimize potential problems: 1) Store away from pets.2) Thoroughly mix into soil to eliminate large clods or surface exposure of product.3) Do not apply this product along with pesticides.Pease wash hands and exposed skin with soap and water after using this product.

Safety Warnings:

Keep out of the reach of children and domestic animals. Avoid breathing dust. Avoid contact with eyes, skin and clothing. Do not use or store near heat or open flame.