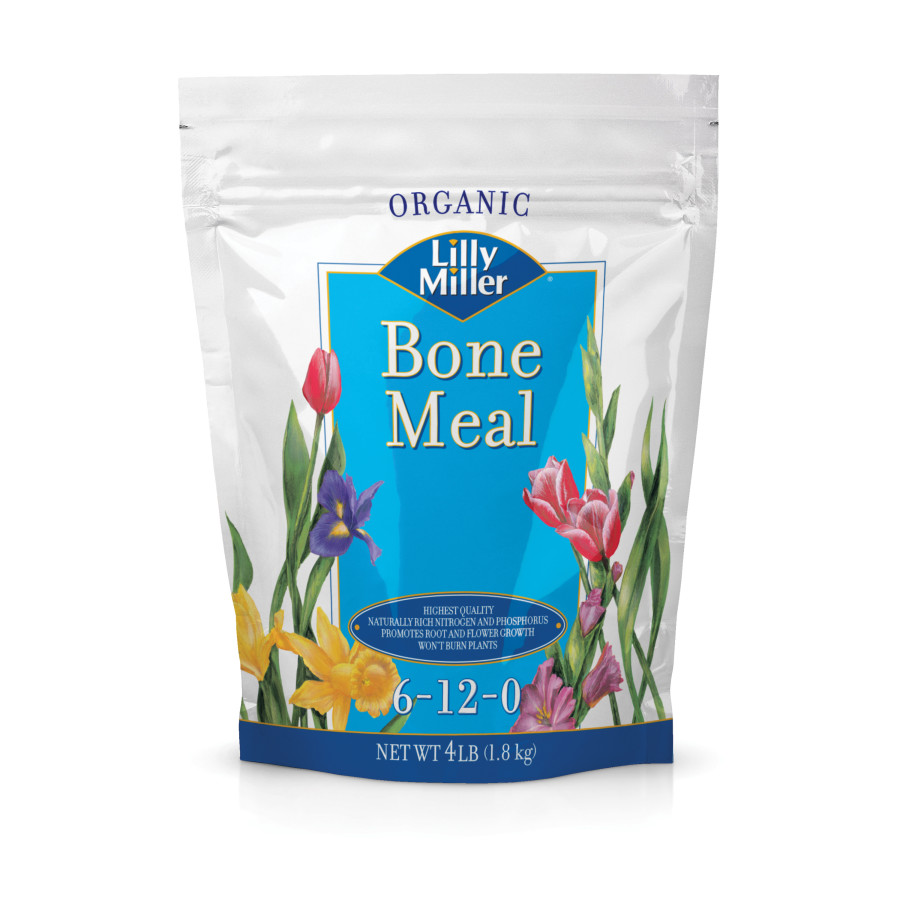 Manufacturer:

Central Garden and Pet

Natural:

Yes

Organic:

Yes

Private Label:

No

Professional:

No

Retail Display:

None

Size:

4 Pounds
Lilly Miller Bone Meal is the easy, natural way to add phosphorus whenever your garden plants need it. It's the traditional plant food used when planting tulips, daffodils, freesia, crocus, anemones, gladiolus and other bulbs. Use it anywhere plants need phosphorus for strong roots, abundant fruit and colorful flowers. This high-grade, all organic plant food is particularly rich in phosphorus and calcium. And because itis not highly processed, Lilly Miller Bone Meal retains much of its original nitrogen for added plant nutrition
Additional Features
Ingredients
Instructions
Safety
SDS
Product Gross Weight:

4.105 lb

Product Net Weight:

4.000 lb

Product Height:

12.000 in

Product Length:

1.500 in

Product Width:

9.000 in

Packaging Type:

Bag
Ingredients:

6-12-0 GUARANTEED ANALYSIS:Total Nitrogen (N) . . . . . . . . . . . . . . . . . . . . . . . . . . . . 6% 6% Water Insoluble Nitrogen*Available Phosphate (P2O5) . . . . . . . . . . . . . . . . . . . 12%Calcium (Ca) . . . . . . . . . . . . . . . . . . . . . . . . . . . . . . . . . 15%Derived from Bone Meal.*6% slowly available nitrogen from bone meal.6% organic nitrogen

Nitrogen (N) Content:

6

Phosphorus (P) Content:

12

Potassium (K) Content:

0
Application Method:

Sprinkle

Use Instructions:

See label for instructions.

Storage Instructions:

Store in a cool, dry place inaccessible to children and pets.
Caution:

Keep out of reach of children.

Safety Warnings:

This product contains animal byproducts that may attract dogs or other pets. Consumption of this product may make animals sick. To minimize potential problems:1) Store away from pets, 2) Thoroughly mix into soil to eliminate large clods or surface exposure of product, 3) Do not apply this product along with pesticides.; Wash hands and exposed skin with soap and water after using this product.