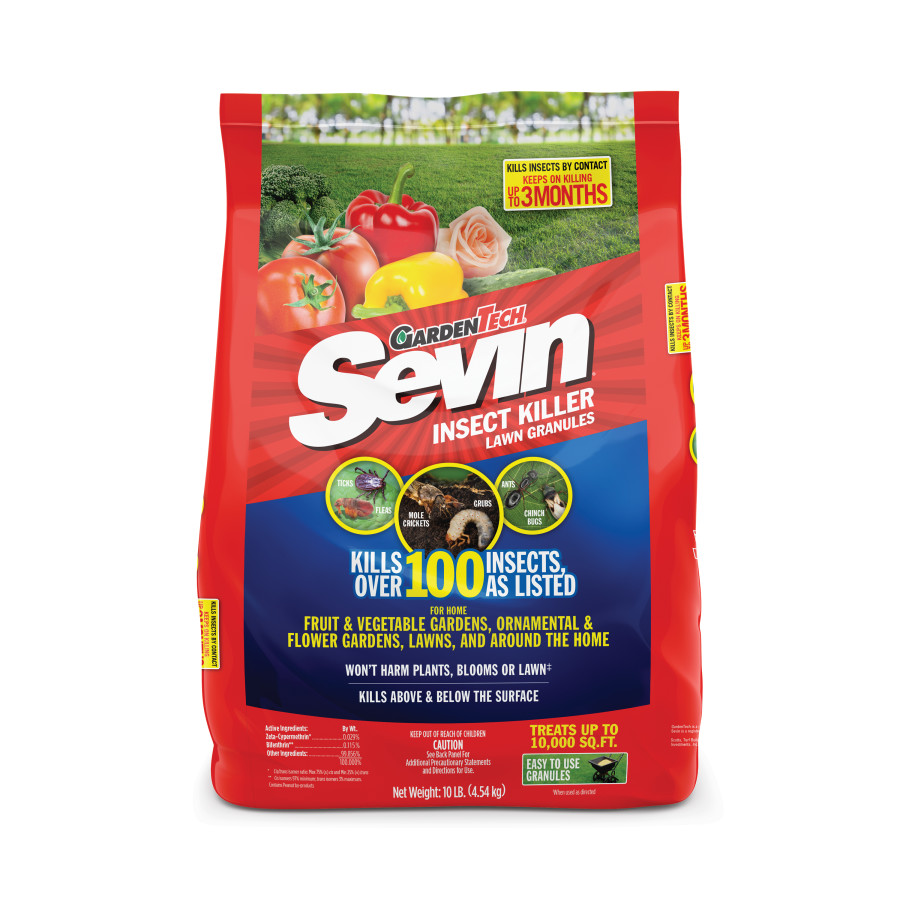 Form:

Granules

Made in USA?:

Yes

Manufacturer:

Central Garden and Pet

Max Coverage Area:

10000

Private Label:

No

Professional:

No

Retail Display:

None

Size:

10 Pounds

Usage Sites:

Fruit Garden, Lawn, Ornamentals, Shrubs, Vegetable Garden
Sevin Insect Killer Lawn Granules kills over 100 listed insects on lawns, home perimeter, fruit and vegetable gardens, flower and ornamentals. Sevin Insect Killer Lawn Granules can be used to form a protective perimeter treatment around the foundation of your home. Best of all, it kills lawn damaging insects that cause your lawn to thin and turn brown. This product starts killing immediately after watering in and provides 3 month long control. Guaranteed to kill or your money back. Reclaim your garden and outdoor areas from damaging insects today with Sevin Insect Killer products.
Kills over 100 listed insects
Kills above and below the surface insects
Use on lawns, fruit & vegetable gardens, ornamental plants & shrubs, flowers and home perimeter
Fast acting and protects up to 3 months
Additional Features
Product Label
Allergen Information
Ingredients
Instructions
Safety
Warranty
SDS
Specifications
Product Gross Weight:

10.300 lb

Product Net Weight:

10.000 lb

Product Height:

17.000 in

Product Length:

5.000 in

Product Width:

11.500 in

Packaging Type:

Bag
Allergen Information:

Contains peanuts and/or tree nuts
Active Ingredients:

Zeta-Cypermethrin, Bifenthrin, Other Ingredients
Application Method:

Granular

Application Season:

All-Season

Battery Required:

No

Batteries Included?:

No

Assembly Required?:

No
Caution:

Caution: See back panel for additional precautionary statements and directions for use. Environmental Hazards: This pesticide is extremely toxic to fish, aquatic invertebrates, oysters and shrimp. To protect the environment, do not allow pesticide to enter or run off into storm drains, drainage ditches, gutters or surface waters. Applying this product in calm weather when rain is not predicted for the next 24 hours will help to ensure that wind or rain does not blow or wash pesticide off the treatment area. Sweeping any product that lands on a driveway, sidewalk, or street, back onto the treated area of the lawn or garden will help to prevent run off to water bodies or drainage systems.

First Aid Measures:

See Label

Safety Warnings:

Precautionary statements: Hazards to humans (and domestic animals). ; Caution: Harmful if swallowed. Causes moderate eye irritation. Avoid contact with eyes or clothing. Prolonged or frequently repeated skin contact may cause allergic reactions in some individuals. Wear long-sleeved shirt and long pants, socks, shoes and gloves. Wash thoroughly with soap and water after handling and before eating, drinking, chewing gum, using tobacco or using the toilet.
Warranty Description:

1 year
Effective Duration:

Up to 3 Months