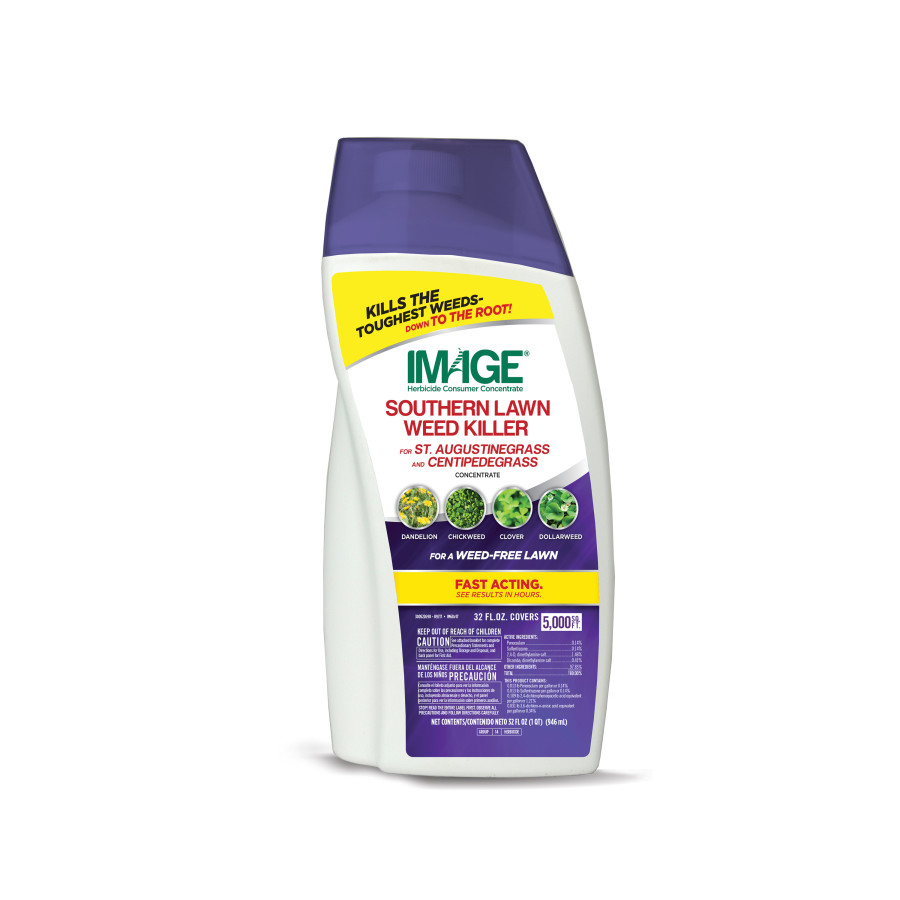 Form:

Liquid Concentrate

Grass Type:

Centipede Grass

Lawn Type:

Centipedegrass, St. Augustinegrass

Manufacturer:

Central Garden and Pet

Max Coverage Area:

5000

Private Label:

No

Professional:

No

Size:

32 Ounces

Weed Type:

ChickWeed, Clover, Dandelion, Dollar Weed, Spurge
Kills the Toughest Weeds Down to the Root! Dandelion, Chickweed, Clover, Dollarweed, Spurge, more. Fast acting. See results in hours.
Additional Features
Product Label
Ingredients
Instructions
Safety
SDS
Product Gross Weight:

2.350 lb

Product Net Weight:

2.000 lb

Product Height:

10.375 in

Product Length:

2.375 in

Product Width:

5.000 in

Packaging Type:

Bottle
Ingredients:

Penoxsulam; Sulfentrazone; Dimethylamine salt; Dicamba
Primary Usage:

Broadleaf weed control in established warm-season and cool-season turfgrasses.

Application Method:

Spray

Use Instructions:

Apply when daytime temperatures are between 45° F and 90° F*.For hand-operated sprayers (backpack, knapsack, tank-type or pump-up):Measure the total lawn area to be sprayed. For rectangular areas, multiply the length by the width to obtain total square feet. Mix 2 2/3 fl. oz. per gallon of water for every 500 sq.ft. Spray evenly over the lawn. Spray coverage should be uniform and complete.

Storage Instructions:

Store in the original container in a locked storage area. Keep from freezing.
Caution:

Wash face, hands and any exposed skin thoroughly after handling. Avoid breathing dust/fume/gas/mist/vapors/sprays. Contaminated work clothing must not be allowed out of the workplace. Wear protective gloves/eye protection/face protection.

First Aid Measures:

Eye contact:Rinse immediately with plenty of water, also under the eyelids, for at least 15 minutes. Remove contact lenses, if present and easy to do. Continue rinsing. Keep eye wide open while rinsing. Do not rub affected area. Get medical attention if irritation develops and persists.; Skin contact:Wash with soap and water. May cause an allergic skin reaction. In the case of skin irritation or allergic reactions see a physician.; Ingestion:Clean mouth with water and drink afterwards plenty of water. Never give anything by mouth to an unconscious person. Do NOT induce vomiting. Call a physician.

Safety Warnings:

• For residential use only.• Do not apply with nozzles that produce a fine-droplet spray. Do not apply when the wind is blowing toward desirable plants. Do not spray exposed roots of ornamentals and trees.• Do not broadcast apply to bare ground or paved surfaces.• Do not use clippings from the treated areas as mulch or compost around flowers, ornamentals, trees, or in vegetable gardens.• Do not use on or around vegetables, fruits or ornamentals (flowers, trees, groundcovers, hedges, landscape/flower beds and shrubs).• Measuring utensils such as measuring cups or measuring spoons should not be used for any food or drinking water purposes after use with this product.