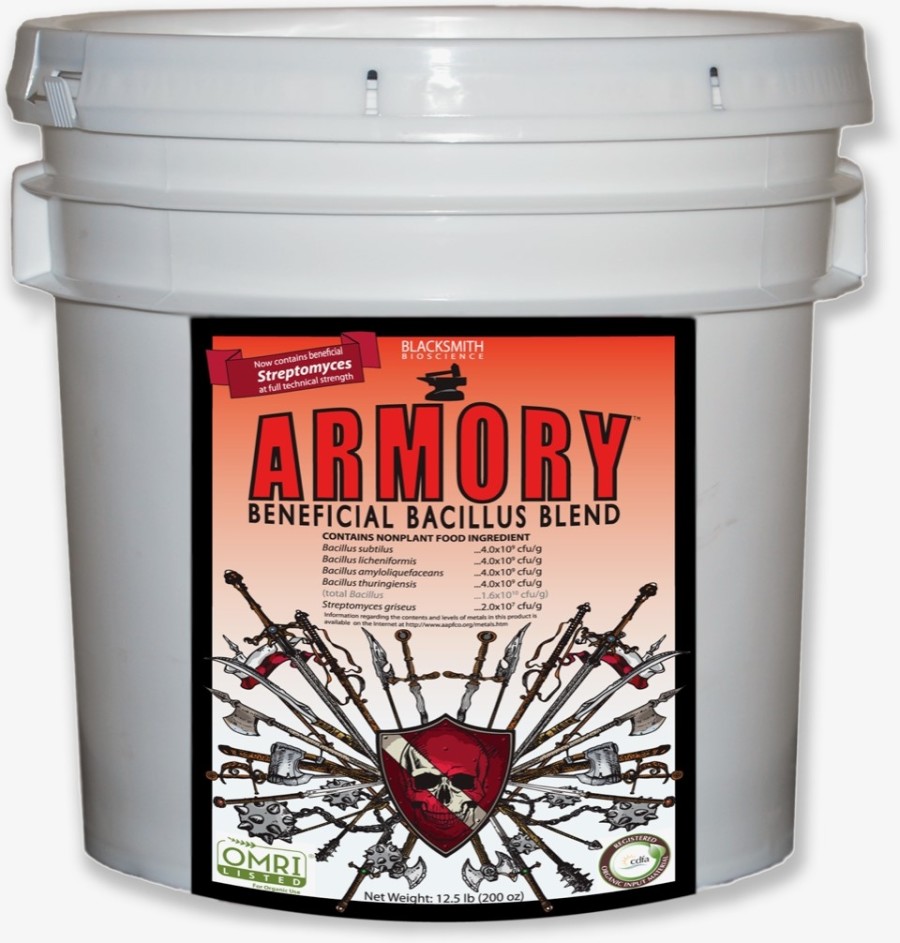 Form:

Powder

Hydroponic Use:

Yes

Manufacturer:

BLACKSMITH BIOSCIENCE

Natural:

Yes

Organic:

Yes

Private Label:

No

Size:

12.5 Pounds

Usage Sites:

Fruit Garden, Fruit Trees, Vegetable Garden
Armory is a watersoluble product that contans a blend of beneficial bacillus and Streptomyces Bacteria. Use of Armory will increase plant growth, size, vogor and yeild increase of crops.
Additional Features
Ingredients
Instructions
Safety
Warranty
SDS
Product Gross Weight:

14.000 lb

Product Net Weight:

12.500 lb

Product Height:

10.000 in

Product Length:

10.000 in

Product Width:

10.000 in

OMRI Certified:

Yes

Packaging Type:

Bucket

Recommended For:

Citrus; Grapes; Vegetables
Ingredients:

Bacillus subtillus; Bacillus amylioliquefaciens; Bacillus thuringiensis; Streptomyces griseus
Use Instructions:

For Residential Use or Smaller Quantities: Foliar Spray and Soil Drench: Use 0.25 -1 teaspoons of product per gallon of water as general dilution. Apply as a foliar spray orsoil drench applications.Reservoir Application: Use 0.25 - 2 teaspoons per gallon of reservoir. Reapply each time reservoir water is changed.Greenhouse/Nursery Use:Soil Drench: Dissolve 1-8 oz per 100 gallons of water and apply to soil as a normal drench (soak pot until growing media is saturated without creating runoff).Foliar Spray: Dilute 1-8 oz per 100 gallons and apply as a heavy spray allowing for initial run-off. Reapply every 2-12 weeksSoil Incorporation: Use 1-2 oz per cubic yard of soil or growing media. Blend evenly into growing media via spray, dry blender, or any other appropriate method.Outdoor Agriculture Use:Soil Application: Apply 1-6 ounces per acre. Apply Armory to the soil as a drench, through irrigation, at transplant or other means to move the product to the plants root system. Reapply every 1-8 weeks.Foliar Application: Use 1-6 ounces per acre. Dissolve in appropriate amount of water and apply as a foliar spray to plants leaves until wet to run o. Reapply every 7-28 days.In Furrow Application: Use 0.5 -6 oz of Armory per acre applied over the seed or as a side dressing during furrow application.Hydroponic Systems: Use 1-6 oz per 100 gallons of tank water. Dissolve into reservoir before, with or after adding nutrients. Reapply Armory each time reservoir water is changed.Turf: Apply 8-16/acre, dissolved in water, for the initial application. Apply as a foliar spray or soil application. Repeat at 8-oz per acre every 4 weeks throughout the growing season.Composting: Dissolve 1-2 oz of Armory into 100 gallons of water to create solution. Apply solution to compost at a rate of 100 gallons per 40 cubic yards of soil.Compost Teas: Add 0.25 – 1.00 tsp (1-4 g) of Armory per gallon of final compost tea solution. If creating compost tea, add Armory after the process is complete and just prior to application. Bed, Field or Row Preparation: Apply 1-4 ounces per acre. Apply Armory to the soil during tilling, bed preparation or at anytime before, during or after planting or harvesting. Apply so the product is moved into the area of the soil where decomposition is needed by tilling in or spraying in heavy.Post Fumigation Application: To rebuild the microbial population in fumigated soils, apply 4-16 oz of Armory per acre through irrigation directly to the area fumigated. Apply product during or just after transplant. Reapply every 2-8 weeks as needed throughout the growing season.

Storage Instructions:

Store in a original container.
First Aid Measures:

If in Eyes: Flush with water for five minutes.If Inhaled: Flush nose with water.If Ingested: Induce vomiting; consult physician.If on Skin: Wash with soap and water.

Safety Warnings:

Safety glasses and gloves may be worn.
Warranty Description:

Blacksmith BioSciences LLC warrants that the material contained herein conforms to the description on the label and is reasonably fit for the purpose referred to in the directions for use, timing and method of application, weather, watering practices, nature of soil, condition of the crop, incompatibility with other influencing factors in the use of this product are beyond the control of the seller. To the extent consistent with applicable law, buyer assumes all risks of use, storage, or handling of this material not in strict accordance with directions given herein. No other express or implied warranty of the fitness or merchantability is made.