Zip Instant Light Disposable Grill Black 18ea/1.19 lb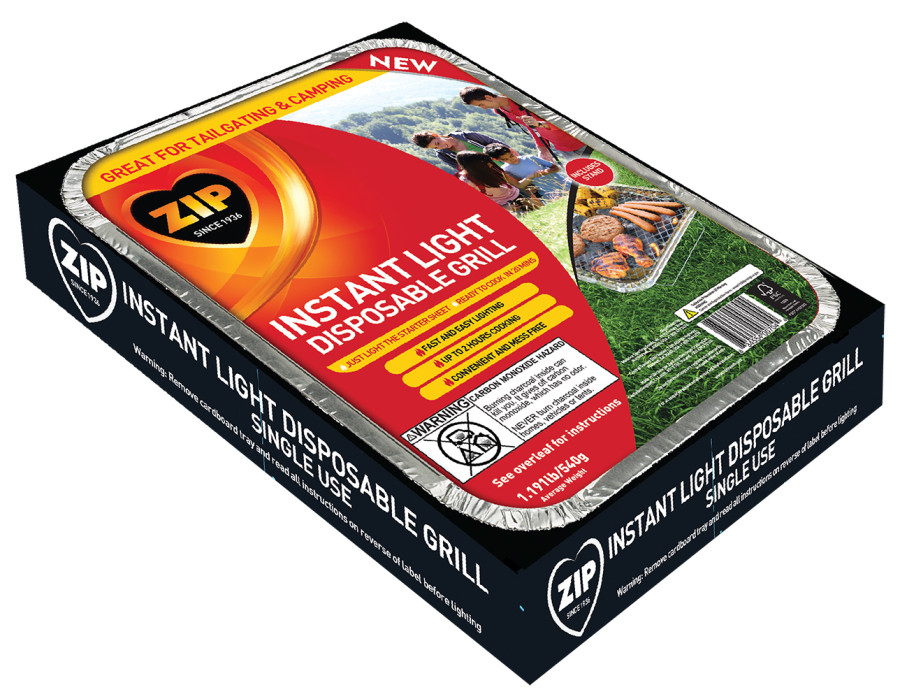 Color:

Black

Fuel Type:

Charcoal

Grill Type:

Freestanding

Manufacturer:

STANDARD BRANDS

Primary Materials:

Aluminum

Private Label:

No

Retail Display:

None

Size:

1.19 Pounds
The Disposable Grill is instant lighting and uses premium hardwood briquettes to give your food that authentic flame grilled flavor. Just light the starter sheet and its ready to cook on in 20 minutes. Fast, convenient and easy to use, this disposable grill is perfect for tailgating, camping, in the city or on the beach.
Additional Features
Instructions
Safety
SDS
Product Gross Weight:

1.820 lb

Product Net Weight:

1.190 lb

Product Height:

1.970 in

Product Length:

10.230 in

Product Width:

12.600 in
Use Instructions:

Place the instant light BBQ tray and stand onto a steady, level, non-flammable heat resistant surface sheltered from the wind. Leave the starter paper under the grill. To light the barbecue: without removing the grill surface, insert a lighted match through the grill holes, under one corner of the starter paper. The charcoal will be ready to cook in approx. 20 minutes depending on outdoor wind conditions. Once the flames have died down & the charcoal has ashed over, cooking can begin. If desired, to maintain even heat distribution during cooking, agitate the charcoal by tapping the grill tray with a cooking utensil.
Safety Warnings:

This product generates extreme heat: care must be taken when using, handling and disposing of the product after use. Never use in an area where disposable BBQs are prohibited. Never use lighter fluid or other flammable liquids or solids on the barbecue. Never leave the barbecue unattended. Always keep children and pets away from the barbecue and barbecue area. Never touch, attempt to lift or move the barbecue once lit, whilst in use, as it quickly becomes very hot. If food sticks to the grill use an appropriate utensil to remove. Do not use your hands. To extinguish use drinking water only.