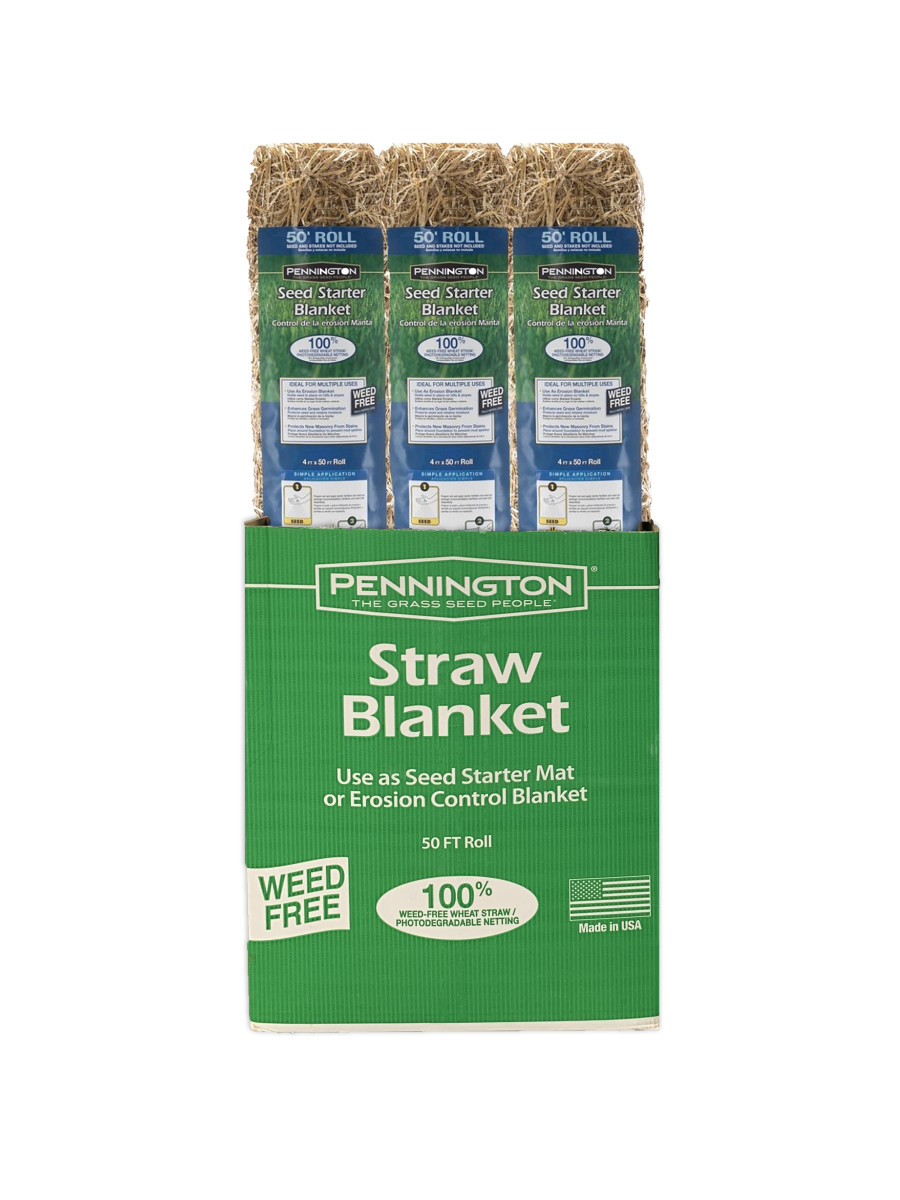 Manufacturer:

WATER WIND AND SOIL LLC

Max Coverage Area:

200

Primary Materials:

Straw

Private Label:

No

Product Type:

Erosion Control

Professional:

No, Yes

Size:

4 Feet X 50 Feet
Use as an erosion blanket to hold seed in placed on hills and slopes. Use as seed starter mat. Enhances grass germination by protecting seed and retaining moisture. Protects new masonry from stains by placing around foundation to prevent mud splatter. Weed Free Wheat Straw/Photodegradable Netting.
Enhances grass germination in a new lawn by protecting seed and retaining moisture
Use as an erosion blanket to hold seed in placed on hills and slopes
Netless blanket won't trap animals or tangle in lawn mowers
Mat naturally degrades - no clean up
Starter mat only (grass seed sold separately)
Stakes not included
Additional Features
Product Label
Instructions
Warranty
Specifications
Product Gross Weight:

13.000 lb

Product Net Weight:

13.000 lb

Product Height:

48.000 in

Product Length:

8.000 in

Product Width:

8.000 in

Environment:

Outdoor
Application Season:

All-Season

Battery Required:

No

Batteries Included?:

No

Assembly Required?:

No

Use Instructions:

Step 1: Prepare soil and apply starter fertilizer and seed per package recommendations (fertilizer and seed sold separately).; Step 2: Unroll blanket over the prepared seed bed, white netting side up. Use sharp scissors to trim blanket to size.; Step 3: Biodegradable stakes are recommended. Use every 2 ft to secure blanket to the ground.; Step 4: Water the blanket thoroughly after installation. Continue to water twice per day at least 15 minutes until all seeds have begun to grow.; Step 5: Mow within the first month after seeds grow, cutting no more than 1/3 of the grass height. Blanket will naturally degrade.
Warranty Description:

EXCLUSIVE MONEY BACK LIMITED WARRANTY: The STRAW BLANKET warranty is simple. If, in your judgment, Straw Blanket has failed to perform as desired, the purchase price of up to four 4' x 50' rolls will be refunded.To file a warranty claim, simply send a letter explaining your dissatisfaction with a dated sales receipt (purchase price circled) to: Erosion Tech Products, LLC, 1280 Atlanta Hwy Madison GA 30650. Retail stores cannot process this claim. This warranty gives you certain legal rights and you may also have other rights which vary from state to state.PENNINGTON WITH DESIGN AND THE GRASS SEED PEOPLE ARE REGISTERED TRADEMARKS OF PENNINGTON SEED, INC.
Biodegradable Status:

Yes