Bayer Natria Lawn Weed & Disease Control Concentrate 4ea/24 fl oz
Bayer Natria Lawn Weed & Disease Control Concentrate 4ea/24 fl oz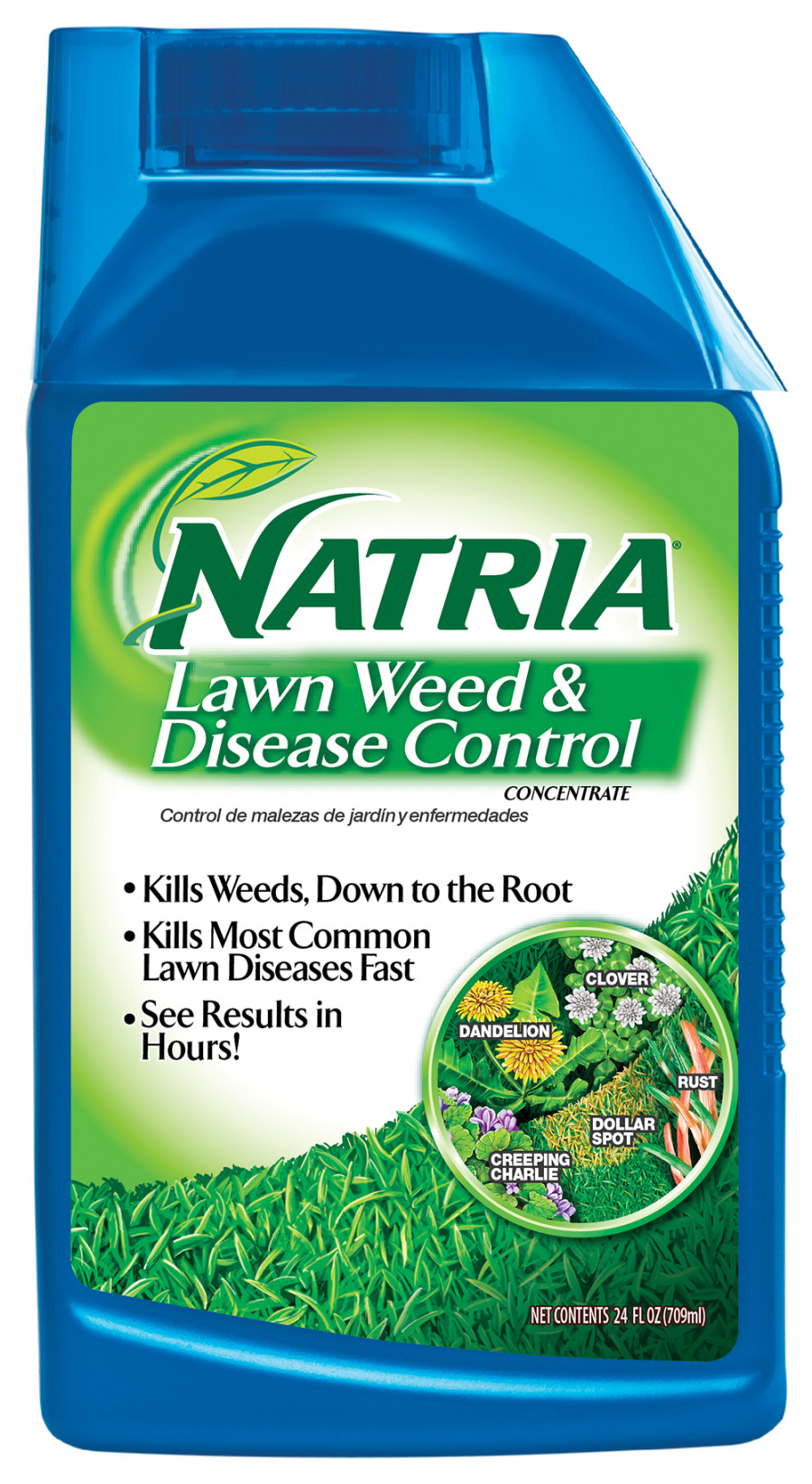 Form:

Liquid

Manufacturer:

SBM LIFE SCIENCE CORP

Max Coverage Area:

1875

Natural:

Yes

Organic:

Yes

Pet Safe:

No

Private Label:

No

Size:

24 Fluid Ounces

Style:

Concentrate

Target Pests:

Algae, Dandelion, Lichens, Liverworts, Moss, Weeds

Usage Sites:

Lawn

Weed Type:

Clover, Common Chickweed, Creeping Charlie, Dandelion
This product is a broad-spectrum, preventative biofungicide recommended for the control or suppression of many important plant diseases. It may be used on lawns, roses, vegetables, fruits, flowers, trees and shrubs. Always read and follow label directions.
Additional Features
Product Label
Ingredients
Instructions
Safety
Warranty
Product Gross Weight:

1.92 lb

Product Net Weight:

1.4 lb

Product Height:

8.72 in

Product Length:

4.71 in

Product Width:

2.65 in

Packaging Type:

Bottle
Active Ingredients:

Iron HEDTA (FeHEDTA) 26.52%
Primary Usage:

Kills Lawn Weeds & Diseases

Application Method:

Spray

Application Season:

All Season

Use Instructions:

Shake well before use. Mix one part of this product with 24 parts water (5 oz. in 1 gallon of water). Apply the mixed solution at a rate of 2.5-10 gallons/1000 ft² (2.8-11.5 fluid oz/yard²), using the chart to determine how much diluted spray to use per area. Any standard hand-held or backpack sprayer can be used. Thoroughly spray weeds. Use a coarse nozzle setting to reduce drift. Uniform coverage is important. Repeat treatment in 3 to 4 weeks for best results.

Storage Instructions:

Store this product in its original container. Store unused material, tightly closed, in original container only, away from open flame.
Caution:

Keep out of the reach of children

First Aid Measures:

If in Eyes: Hold eye open and rinse slowly and gently with water for 15-20 minutes. Remove contact lenses, if present, after the first 5 minutes, then continue rinsing eye. Call a poison control center or doctor for treatment advice.

Safety Warnings:

Avoid contact with eyes or clothing. Causes slight eye irritation. Wash thoroughly with soap and water after handling and before eating, drinking, chewing gum, using tobacco or using the toilet.
Warranty Description:

To the extent consistent with applicable law, seller warrants that this product conforms to the chemical description on this label and is reasonably fit for purposes stated on this label only when used in accordance with directions under normal use conditions. This warranty does not extend to use of this product contrary to label directions, or under abnormal use conditions, or under conditions not reasonably foreseeable to seller. Buyer assumes all risk of any such use. To the extent consistent with applicable law, seller makes no other warranties, either expressed or implied.