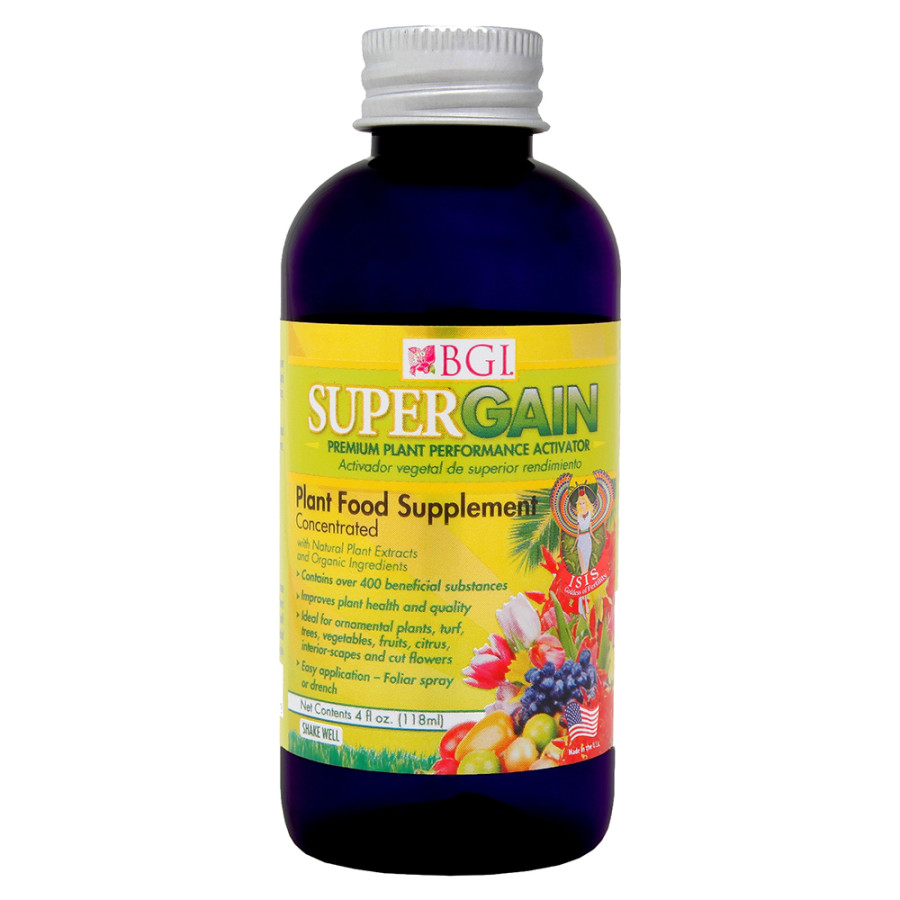 Form:

Liquid

Hydroponic Use:

Yes

Made in USA?:

Yes

Manufacturer:

BOUGAINVILLEA GROWERS INTL

Natural:

Yes

Organic:

Yes

Private Label:

No

Size:

4 Ounces

Usage Sites:

Shrubs, Trees, Vegetable Garden
SUPERGAIN® is an organic, premium, plant performance activator that enhances physiological capabilities like root development, flowering, chlorophyll production, disease resistance, salt tolerance, etc. Brought to the consumer through 21st century Gene chip technology, bioinformatics and the ability to measure biological activity on a molecular level. SUPERGAIN® contains over 400 plant-derived nutritional substances that activate as they become needed by your plant.
Additional Features
Instructions
Product Gross Weight:

0.360 lb

Product Net Weight:

0.350 lb

Product Height:

4.500 in

Product Length:

1.750 in

Product Width:

1.750 in

Environment:

Indoor; Outdoor

Packaging Type:

Bottle

Recommended For:

Drench Feed; Foliar Feed; Garden; shrubs; Trees; Vegetables
Use Instructions:

Drench Feed: Mix (1) tablespoon supergain with one (1) gallon water, and apply evenly over soil surface. For indoor plants or plants with no drainage, Apply at half strength.Foliar Feed: Mix one-half (1/2) tablespoon supergain with one (1) gallon water. Hold 6-8 inches away from the plant and mist foliage (leaves) until all have leaves have been sprayed; avoid run-off (solution dripping off leaves) and avoid spraying flowers directly.Garden plants, shrubs, and vegetables: Apply every 2 weeks (14 days).Trees: apply monthly during growing season (30 days).