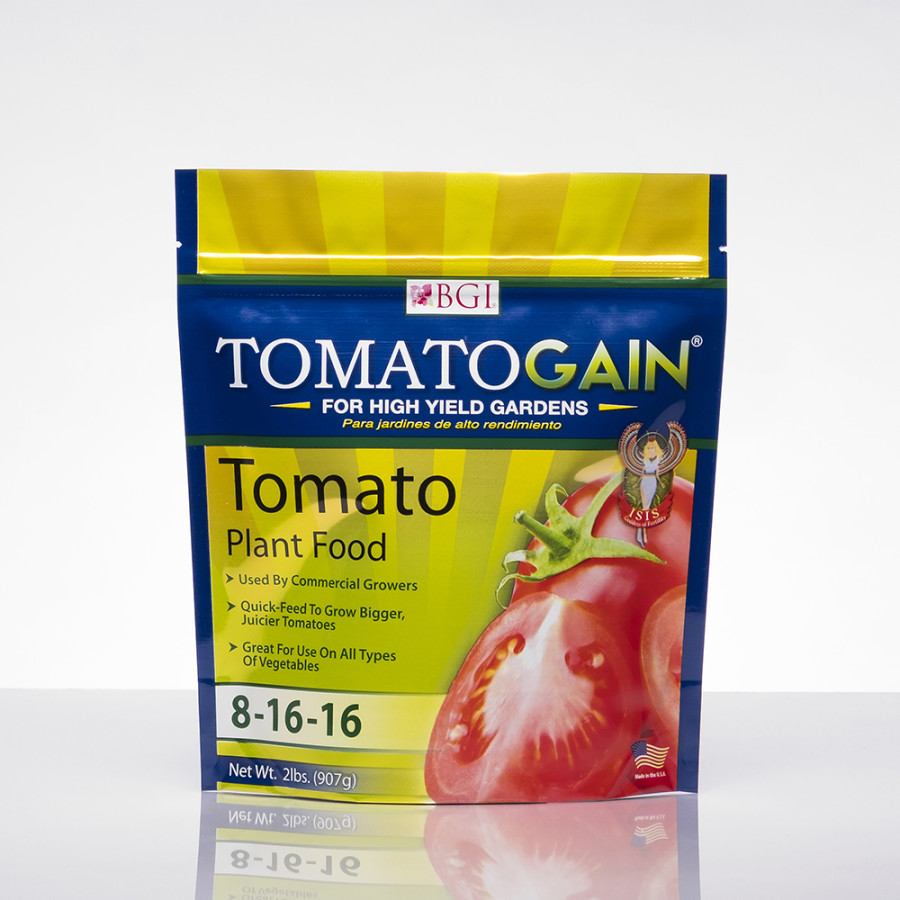 Form:

Granules

Hydroponic Use:

No

Manufacturer:

BOUGAINVILLEA GROWERS INTL

Natural:

No

Organic:

No

Pet Safe:

No

Private Label:

No

Size:

2 Pounds

Style:

8-16-16

Usage Sites:

Fruit Garden, Vegetable Garden
TomatoGain granular plant food is easy to use and formulated to provide immediately available nutrients to promote vigorous growth and high yields while preventing blossom-end rot and splitting. Works well on all vegetables and some fruits, such as but not limited to: tomatoes, peppers, eggplant, cucumbers, melons and strawberries.
Additional Features
Ingredients
Instructions
Safety
Product Gross Weight:

2.050 lb

Product Net Weight:

2.000 lb

Product Height:

8.000 in

Product Length:

3.000 in

Product Width:

8.000 in

Packaging Type:

Bag

Recommended For:

Tomatoes; Peppers; Egg Plant; Cucumbers; Melons; Strawberries; Fruit; Vegetable Garden
Active Ingredients:

Total Nitrogen (N) 8.0%; Available Phosphate (P2O5) 16.0%; Soluble Potash (K2O) 16.0%

Nitrogen (N) Content:

8

Phosphorus (P) Content:

16

Potassium (K) Content:

16
Application Method:

Sprinkle

Use Instructions:

First Application: Planted in Ground: 2 lb. per 100 sq. ft.0In Container: 3 Tbsp. per plant (-per 14-inch container, adjust amount accordingly for smaller or larger plants. Before planting, work (mix) the first application into the soil about 3-4 inches below the base of the plant.Second Application: Planted in Ground or In Container: 2 Tbsp. per plant. At first fruit set, apply the second application by mixing well into the soil.Application Thereafter:Planted In Ground or In Container: 1 Tbsp. per plant. Apply every 10-14 days throughout the growing season. When fertilizing, be sure to keep granules about 3-4 inches away from the stem of the plant and water in thoroughly after each application. Take care to brush or wash fertilizer granules off leaves to prevent leaf injury. (Foliar feeding) or applying to the soil (drenching) are excellent ways to supplement secondary and micronutrients.

Storage Instructions:

Store in a cool area.
Caution:

Keep out of the reach of children and pets

First Aid Measures:

If in Eyes: Rinse thoroughly with plenty of water, also under the eyelids. If symptoms persist, call a physician.If on Skin: Wash with soap and water.If Inhaled: Remove to fresh air.If Ingested: Rinse mouth immediately and drink plenty of water. Never give anything by mouth to an unconscious person.

Safety Warnings:

Do not eat, drink or smoke when using this product. Wash hands before breaks and immediately after handling the product.