Pennington Fairway Supreme Perennial Ryegrass Seed Blend Powder Coated 6ea/5 lb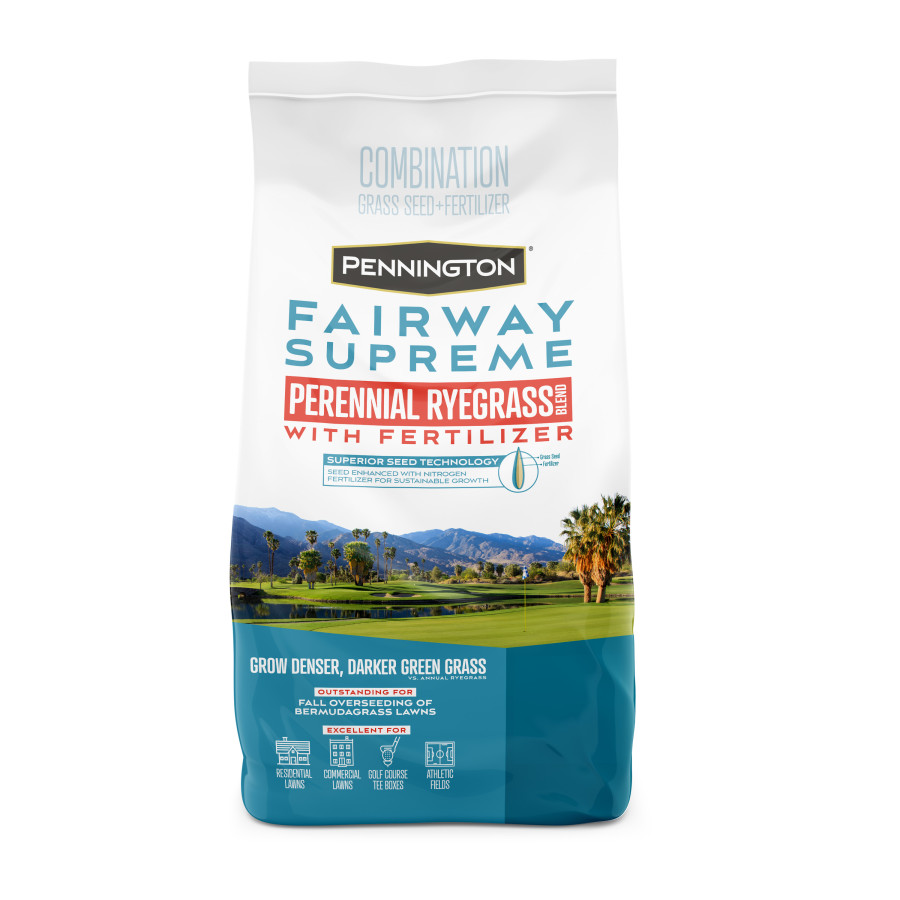 Grass Type:

Perennial Ryegrass

Manufacturer:

Central Garden and Pet

Max Coverage Area:

500

Planting Climate Zones:

1, 3, 4, 5, 6, 7

Planting Region:

North, South

Planting Season:

Early Fall, Early Spring

Private Label:

No

Size:

5 Pounds
Streamline your plans for a durable, fast-growing, premium lawn with Pennington Fairway Supreme Perennial Ryegrass Blend with Fertilizer. Enhanced with nitrogen fertilizer for sustainable growth, this professional-grade turfgrass seed blend is perfect for establishing permanent northern lawns or providing warm-season lawns with outstanding temporary winter color. It's a premium choice for residential and commercial lawns, golf course tee boxes and athletic fields. Pennington Fairway Supreme Perennial Ryegrass Blend with Fertilizer germinates quickly to create a lush, resilient lawn that tolerates drought and heavy traffic. Ideal for fall overseeding of Bermudagrass, this premium perennial blend grows denser, darker and lower than annual ryegrass, so you enjoy a beautiful lawn with less mowing and less watering. It's superior seed technology, backed by the Pennington Guarantee.
Additional Features
Ingredients
Instructions
Planting Specifications
SDS
Product Gross Weight:

5.155 lb

Product Net Weight:

5.000 lb

Product Height:

13.000 in

Product Length:

3.550 in

Product Width:

7.500 in

Plant Life Cycle:

Perennial

Seeding Depth:

No more than 1/4 in

Seeding Rate:

New Lawns / Southern Overseeding: 10 lbs/1,000 sq ft

Recommended For:

Perennial Ryegrass
Use Instructions:

Prepare by mowing the existing grass as short as possible, rake to remove debris and loosen the soil. Apply by spreading the seed evenly using a drop, rotary or hand-held spreader according to the settings listed. Rake gently to work your seed and fertilizer into the soil. Keep the soil moist! Water daily (twice a day if needed) until grass sprouts reach about 2 tall.
Days to Maturity:

7-21 days

Disease Resistance:

High

Drought Tolerance:

Medium

Light Requirement:

Full Sun to Light Shade

Mowing Height:

2 in

Shade Tolerance:

Moderate

Sun Tolerance:

High

Traffic Tolerance:

Excellent