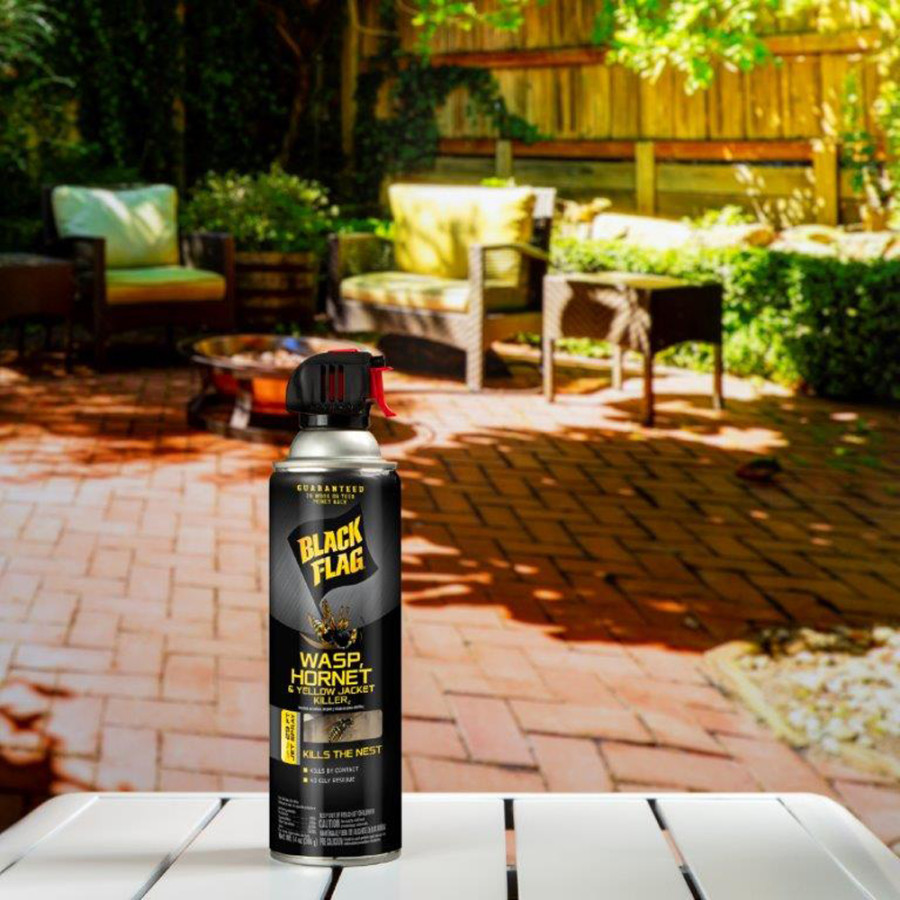 Form:

Liquid

Manufacturer:

UNITED INDUSTRIES CORPORATION

Pet Safe:

No

Private Label:

No

Size:

14 Ounces

Target Pests:

Hornets, Scorpions, Tent Caterpillars, Wasps, Yellow Jackets

Usage Sites:

Lawn
Kills the nest. Kills by contact. Designed to kill wasps, hornets and yellow jackets. This product also kills mud daubers, scorpions, spiders (including Black widow & brown recluse) and tent caterpillars. Up to 29 ft jet spray. No oily residue.
Additional Features
Product Label
Ingredients
Instructions
Safety
Warranty
SDS
Product Gross Weight:

1.160 lb

Product Net Weight:

1.160 lb

Product Height:

10.060 in

Product Length:

2.620 in

Product Width:

2.620 in

Packaging Type:

Bottle

Recommended For:

Lawn; Turf; Other Vegetation
Ingredients:

Prallethrin; Cypermethrin

Active Ingredients:

Cypermethrin; Prallethrin
Primary Usage:

Kills Hornets, Wasps, Yellow Jackets

Application Method:

Spray

Use Instructions:

Apply at sunset when insects are least active. To avoid contact with pesticide, apply with wind at your back. Shake can well before each use. Stand up to 29 feet away from nest. Aim at nest and push button to begin spraying. Slowly walk towards the nest while continuing to spray until nest is soaked. Do not stand directly underneath nest. Focus spray on the nest. Do not target individual wasps, hornets, mud daubers or yellow jackets. Wait at least 24 hours before removing the nest.

Storage Instructions:

Store in cool, dry area
Caution:

Keep out of the reach of children

First Aid Measures:

If in Eyes: In case of contact, flush Eyes with plenty of water. Remove contact lenses, if worn. If irritation persists, get medical attention.If on Skin: In case of contact, wash skin with plenty of water. If skin irritation or redness develops, seek medical attention.If Inhaled: If breathing is difficult, remove victim to fresh air and keep at rest in a position comfortable for breathing. Get medical advice/attention if you feel unwell.If Swallowed: Do not induce vomiting unless directed to do so by medical personnel. Never give anything by mouth to an unconscious person. Get medical advice/attention.

Safety Warnings:

Avoid contact with skin and eyes. Avoid breathing mist. Do not swallow. Handle and open container with care. When using do not eat, drink or smoke.
Warranty Description:

Money Back Guarantee